TODAY CQN brings you the eleventh EXCLUSIVE extract from Alex Gordon's book, 'CELTIC: The Awakening', which was published by Mainstream in 2013.
The book covers the most amazing decade in the club's history, the Sixties, an extraordinary period when the team were transformed from east end misfits to European masters.
AMID the euphoric aftermath of an epic triumph, among the most joyous of celebrations ever witnessed in the away dressing room of the Estadio Nacional stadium in Lisbon, Jimmy Johnstone apologised to his team-mates. 'Ah'm sorry,' said Celtic's endearing little character. 'Ah let youse doon.'
Bertie Auld exclaimed, 'I could hardly believe my ears. There was so much going on around me that I thought I had picked up the Wee Man wrong. "What are you saying, Jinky?" I asked. He was an emotional guy and was close to tears as he repeated, "Ah'm really sorry. Ah let youse doon." Celtic had just beaten the famed Inter Milan 2-1 to win the European Cup, the biggest club football prize of them all, and there was Jinky apologising.
'I knew him better than most and I realised he wasn't joking, that this was no act. He really meant it. He thought he had failed his colleagues on the day we turned on an illuminating, devastating ninety minutes that blew away the defensive-minded Italians, the same team that had won the European Cup in two out of the previous three years and had been crowned world club champions on two occasions during the same period.
'I should have been whooping it up, celebrating with my team-mates and here I was consoling Jinky. "What are you talking about?" I said. "You were one of the best players on the pitch. You and Bobby Murdoch were just brilliant.' " Jinky looked up, "Do ye really mean that, Bert? Ye're no' just sayin' that?" I assured him I meant every word and, even years later, when Jinky and I were on our own, he would still ask,"Me and Bobby, best men on the pitch in Lisbon, Bert? Ye huvnae changed yer mind?"
HIGH JINKS…Jimmy Johnstone puts pressure on the Inter Milan defence.
'For goodness sake, we had both been out of football for decades and he was still seeking reassurance! That Wee Man was different class, on and off the field. That day in Lisbon is undoubtedly well remembered for my big pal Tommy Gemmell's spectacular equaliser and Stevie Chalmers' winner five minutes from time, but I thought Jinky was immense in a thoroughly unselfish, totally professional performance. We were all aware of what he could do with a ball. He could take it for a stroll in his early years at the club and no-one else would get a kick for about five minutes. Then he would lose possession and leave everyone sucking out their fillings.
'Against Inter Milan, he put in a wonderfully disciplined display against one of the toughest defenders in the world at the time, a guy called Tarsico Burgnich, who was also an experienced international. Big Jock had told Jinky to take Burgnich for a walk and drag him all over the place. That would unsettle their defence because he was undoubtedly the rock in their backline. Giacinto Facchetti was supposed to be the greatest attacking left-back on earth back then, but I think we all knew who was the real deal, the genuine article after Lisbon – Big TG, Tommy Gemmell.
'What a game he had; simply mind-blowing. Cairney, Jim Craig, was like TG, a complete athlete and he was getting up and down that right wing as often as possible as we pounded the Italians. Jinky deserved every accolade and so, too, did my mate Bobby Murdoch. He was a big guy, with that barrel chest of his, but he had the touch of an angel. He didn't kick the ball, he caressed it. He was immense, but, to be honest, we won and lost as a team and we all played our part that day.'
NINETY MINUTES FROM HISTORY…Celtic skipper Billy McNeill shakes hands with his Inter Milan counterpart Armando Picchi before the European Cup Final in Lisbon. West German referee Kurt Tschenscher looks on.
Jim Craig said, 'I don't think Jinky ever received the credit he deserved for his performance against Inter. He didn't appear to be involved in the key points of the game, but, believe me, he pulled their player, Burgnich, all around the pitch to make openings for others. I'm sure if Jinky had hopped on a bus to take him into Lisbon town centre, the Italian would have gone with him! We, the players, knew what he contributed against the Italians. Wee Jinky was discipline personified and we all realised he was at his happiest skipping down the wing on one of those unbelievable, hip-swerving runs, leaving distraught defenders tackling fresh air.
'The European Cup Final was his stage, it was his platform to produce another glorious performance of stunning variety that would have undoubtedly mesmerised watching millions on the many TV sets tuned into the game throughout the globe. Without any debate, he possessed the individual skills to take the spotlight in the biggest game of his life. However, he sacrificed all that in Lisbon for the cause of the team. No-one will ever forget that. Nor will we ever forget him.'
Tommy Gemmell observed, 'I agree with Bertie and Cairney. Jinky really couldn't fathom what he had given the team against Inter. Their manager, Helenio Herrera, was acclaimed as possessing one of the most tactically astute minds in the game. Unfortunately, it was built mainly on defence. He would have plotted and planned for this game as soon as he knew who his team would be facing in that final. There's little doubt that he believed Jinky would have played throughout the match wide on the right in his usual position.
'No doubt he would still have stuck Burgnich on him and that would have given Facchetti a bit of freedom to gallop up their left side. But Facchetti wasn't afforded the cover his team-mate would have given him and he was pinned back in his own half for virtually the entire game. He might have looked for some help from the other central defenders, but they were getting tied up by the movement and interchanging of Willie Wallace, Stevie Chalmers and Bobby Lennox. Jinky was totally unselfish, but so, too, were those three guys. They were all noted goalscorers, but, like Jinky, they were asked to perform against the Italians in a different manner to confuse the opposition.
'Jock wanted them to make openings for Bertie and Bobby, supporting from the midfield, and for me and Cairney coming down the flanks. The four of us would pass the ball to feet, take the return and put the pressure on their goalkeeper. Looking at the statistics tells you all you need to know. Believe it or not, we had thirty-five attempts at the inter goal with nineteen on the button. I had nine shots on target, Bertie had two, including one that struck the bar, Jinky had two, including a header, and Bobby had four efforts saved by Guiliano Sarti who was having the game of the life.
THE WATCHFUL GAZE…Jimmy Johnstone is put through his paces as Jock Stein takes a close interest. Assistant boss Sean Fallon is in the background.
'And what about the three guys up front, Wispy, Stevie and Lemon, who had scored nine of our sixteen goals in the competition prior to the final? Stevie had claimed five while Wispy and Lemon had two to their name. As you might expect, I've watched that European Cup Final several times now – if I'm being honest, I think I've worn out about a couple of hundred pairs of specs! –  and even I have been surprised to discover that Stevie only had one shot on target – the winner! – Wispy drew one save and, astonishingly, Wee Lemon didn't work the keeper at all! So, if we are just judging the final through statistics, then Jock's tactics were absolutely spot-on.
'I'll tell you something now that might make you want to ask me to go and lie down in a darkened room for a wee while, like a week or so. It actually helped our cause that day that they were awarded a penalty-kick in the seventh minute and Sandro Mazzola scored from it. Before the guys with the white coats arrive, let me hastily explain. With that early goal, Inter were given the licence to retreat into defence and that was something they relished.
'Their horrible style of defensive football was strangling the game because it was successful and other managers all over the planet were copying it. Somebody needed to change this dire situation and Celtic were just the club to achieve that while the rest of Europe looked on. I believe we managed that quite successfully and, almost overnight, the entire philosophy of football changed. Other teams started to copy us and that was surely good for the game. Inter were on the back foot for about ninety-nine per cent of the match and I have to admit it was one of my easiest – if not THE easiest – European ties of the season.
'I really mean that. They had a very talented player on the right wing called Angelo Domenghini who was fine going forward, but one of those porcelain performers who didn't really want to know about getting back to put in tackles. I don't think he came near me all day.'
German referee Kurt Tschenscher pointed to the penalty spot early on after Inter frontman Renato Cappelini went down following a challenge from Craig and the right-back to this day is adamant that it was never a foul. He says, 'I had been assured Cappelini was all left foot so, when he ran in on goal coming in from the left, I assumed that at some point he would want to put the ball to his stronger foot. I decided I would block any attempt to do so, but when the challenge came in, he went down rather like an ageing actor and I believe the referee was completely conned by it.
JIM CRAIG…his superb pass from the right brought about Tommy Gemmell's spectacular equaliser.
'Actually, I still laugh at the recollection of Big Jock at half-time. He came over and threw an arm around my shoulder and said sympathetically, "Don't worry, Cairney, that was never a penalty. Never in a million years. Don't worry. Don't blame yourself. Put it behind you. Show them what you can do in the second-half." At the end of the game, though, with the trophy safely won, he sidled up to me and said, "What on earth were you thinking about at that penalty? What a stupid challenge. You almost cost us the European Cup with that daft tackle!" That was Big Jock.'
Celtic, thereafter, pummelled the Inter goal, but Sarti, playing in his fourth European final, but, surprisingly, thought to be a weak link, was beginning to look unbeatable. A quick turn and a deft touch from Auld sent the ball soaring over the keeper's flapping arm, but, unfortunately, it smacked against the face of the crossbar and was thumped to safety. Johnstone had a header pushed over after having a low shot turned away. Murdoch fired in a couple and Gemmell might have levelled ten minutes from the break.
'I thought that was in,' admitted Gemmell. 'It was one of those shots that leaves your boot and it feels good; you know you have hit it sweetly. It was a curling volley that was heading for the bottom left-hand corner of Sarti's net and I was astonished he got down at lightning speed to push it round the post. I thought it was an excellent save at the time, but when I saw it later on television I had to admit it was world class. It's still one of the best I have ever witnessed. That guy didn't deserve to be on the losing team that day although I confess that wasn't my train of thought at the time!
'As I recall, we were all pretty calm at the interval. Och, there had been the usual shouting and bawling as we went down the tunnel, saying things like, "Imagine a German referee giving an Italian team a penalty-kick." Or "That will you be fixed up for holidays in Lake Como for the rest of your life, ref." Mind you, it might not have been put so politely. Big Billy was giving him pelters. We were all pretty much incensed, but, inside the dressing room, Big Jock calmed us down. By the time we had to go out we were ready to go again and give the Italians some of the same.
'I believe we all thought something had to give. Big Jock made a couple of small adjustments, asking myself and Cairney to pull the ball across, say, the eighteen-yard line when we were crossing into their box and keeping it away from the dense, congested area just in front of Sarti. How important that simple, little instruction was to prove.'
The one-way traffic resumed with Jinky wandering here and waltzing there with Burgnich, making little or no contribution to the actual football-playing aspect of the game, still on his tail. Shots and headers rained in and Sarti stood firm. The black-clad keeper made an unbelievable save from a Gemmell drive that had actually managed to elude him. Somehow, with gravity-defying athleticism any Olympian gymnast would be proud to possess, he somersaulted backwards to hold the ball right on the line as Chalmers raced in.
Then came another outstanding effort when it looked as though Murdoch must score with a six-yard header. Incredibly, Sarti threw out his left arm and held the ball one-handed. It was an extraordinary act of solitary defiance. Gemmell then floated in cross from the left wing that swirled high and bounced on top of the crossbar and off to safety. Even when Sarti was beaten it appeared the angels were on his side. It was obvious it was going to take something special to force this guy to surrender. Thankfully, in the sixty-third minute that something special arrived.
Celtic forced a shy thirty yards from the goal-line on the left. Wallace shaped to throw it inside, but, confronted by the giant obstruction that was Facchetti, changed his mind and lobbed it back to the ever-available Gemmell, who switched play inside to Clark. The defender thrust it forward to Murdoch in the old inside-left channel some thirty yards from goal. Celtic's patience was commendable as was the methodical defensive patterns woven by their rivals as they attempted to regroup, cover, pick up an opponent. Murdoch slipped a simple pass out to Craig, galloping in from the right. He took it in his stride as he raced towards the danger zone. Craig took three touches in all before nonchalantly rolling the ball into the tracks of full-back partner Gemmell, the man who had been defied more often than any other by Sarti.
As he headed for the edge of the box at full pelt, there was only one intention in Gemmell's mind. 'I was going to hit that ball like it had never been hit before,' said the raiding defender. 'Everything was perfect, it was a sweet cutback from Cairney. I was aware of one of their players breaking out to confront me. He wasn't going to put me off my stride. I pulled back my right foot, the guy stopped in his tracks and turned his back. If he had kept going he might well have charged down the shot. I wasn't complaining, though. I gave it a ferocious dunt and it just took off and blasted high into the net. God bless Sarti, he did his best to keep it out. Not this time, son!'
Years later, far from the madding crowd, Tommy, my wife Gerda and I were enjoying lunch on a quiet August afternoon in 2011 in a little, rustic restaurant off the beaten track somewhere in Stirling. Tommy, sixty-seven years young and still the possessor of that wonderfully mischievous twinkle in his eyes, looked up from his sumptuous seabass and said, 'You know, Alex, the Celtic Supporters' Association voted that the club's Greatest-Ever Goal in their official Millennium Poll.' He smiled, rightly proud of the achievement over forty-four years after he had almost ripped away the net in Lisbon. Personally, I didn't believe the Celtic supporters would have had to deliberate too long before coming to that conclusion. Tommy looked chuffed when I told him so.
Gemmell laughed, too, when he reminisced at instructions from Jock Stein as the ball was re-centred after his stunning goal. 'I heard Big Jock shouting, "Take it easy, lads, we'll get them in extra-time." There were twenty-seven minutes left for play and I looked over my shoulder and uttered a very uncomplimentary oath. "Eff off, Boss," I yelled without thinking of the consequences. "It's eighty-five degrees out here and we're going to finish it here and now." Thankfully, Big Jock was too preoccupied after the game to mention our little bit of touchline verbals!
'Actually, when you are facing opponents you can sense how they feel and the Inter players were on their knees. They had been run ragged for over a hour and I'm fairly certain they hadn't encountered this sort of sustained pressure in their domestic league games where most teams cancelled each other and bored one or the other into submission. No, we had them on the ropes and it would have been daft not to apply the killer punch.'
Celtic could even absorb the denial of a stonewall penalty-kick award when Gemmell fired over a cross from the left and Sarti and one of his defenders found themselves on different wavelengths. They got in a terrible mix-up at the far post and the ball broke to Wallace. He was just about to stroke the ball into the empty net when the keeper, on the ground, wrapped his arms around one of his legs and quite deliberately brought him down. There were no ifs or maybes about this one. There was no need for slow motion replays. It was a legitimate penalty-kick and only Herr Tsechensher will ever know why it was not awarded.
Frankly, it was a nonsensical decision when you remember how swiftly he pointed to the spot when Cappelini went down after the merest of touches from Craig. Sarti, after bowling the ball out, had the good grace to look at the protesting Wallace and shrug his shoulders in that exaggerated Latin fashion that suggested, 'No, I don't know why it wasn't a penalty-kick, either!'
No matter. Five minutes from time there was no argument about the goal that catapulted Celtic into legendary status and gave birth to the Lisbon Lions. Gemmell, still going strong after eighty-five minutes of perpetual motion, pushed a pass inside for Murdoch who let fly from the edge of the box. The seemingly inexhaustible Chalmers materialised six yards in front of goal to sidefoot the ball past Sarti, motionless by now, and the European Cup was won. Inter's tired-looking defenders half-heartedly appealed for offside, it's was obviously second nature to them, but even this referee couldn't help them out on this occasion. Chalmers was onside, the goal stood and the trophy was heading home to Glasgow.
'How did I feel when I scored with five minutes to go? Shattered!' said matchwinner Chalmers. 'Cramp was coming on, but that disappeared as soon as the ball hit the back of that net. Okay, it may not have been as eye-catching as Tommy's effort, but, for me, it was special because it was part of a routine we worked on day in, day out at training at Barrowfield. Big Jock would get Joe McBride, Willie Wallace, Bobby Lennox, John Hughes and me to line up along the six-yard line and then he would get Big Tommy, Bobby Murdoch, Bertie Auld, Jim Craig and Charlie Gallagher to hammer over crosses from the left and, after that, from the right.
'Then he would vary the routine with Big Tommy playing the ball back from the line to, say, Bobby to hit the ball diagonally across the face of the goal from the edge of the box. Then he would do the same on the right with Cairney laying the ball back for someone else to hit a similar effort into the penalty box. This would go on for hours until you knew off by heart where you were expected to be in the penalty box whenever a move was developing. It was no fluke, believe me, that I just happened to be standing there when Big Tommy pulled the ball back to Bobby to thump in his shot. All that hard work certainly paid off in Lisbon.'
Gemmell recalled an amusing incident a minute from the end. 'We were awarded a free-kick and I grabbed the ball. Bertie asked me what I was going to do with it. I laughed, "See that seat away up in the back row behind the goal? That's where I'm going to put it!" I wasn't taking the chance of Inter getting the ball back and possibly fluking an equaliser. I have to say my aim wasn't too bad. I just about got the ball out of the stadium.
'Moments later came the final whistle and, within seconds, it seemed half of Glasgow had emptied onto the Lisbon pitch. I remember Bobby Lennox shouting to our keeper, "Ronnie, remember my teeth!" Bobby had a couple of false teeth and he always gave them to Ronnie to put in his hat inside the goal, so he could retrieve them immediately after a game and look his best for the inevitable photographs. Me? I think I was on the pitch for about another half-an-hour after exchanging shirts with Sandro Mazzola. As I eventually got close to the tunnel, I spied a vendor still selling ice cream cones. I had to have one. Thankfully, he had the good grace not to ask me to pay for it!'
Even minutes before the players left the dressing room for the kick-off, Stein had implored them to remain loyal to their natural instincts. 'We have a duty to play the game our way and our way is to attack. Win or lose, let's make this a game worth remembering. It's a tremendous honour just to be involved in an occasion like this. You've done all the hard work just getting here, so go out there and enjoy yourselves. We want to win this Cup, but we want to do it by playing the sort of football that is associated with Celtic. We want to make the neutrals glad we won it and glad to remember how we did it ' The players must have been hanging on his every word.
Liam Brady has the distinction of being the only individual to serve both Celtic and Inter Milan and the former Parkhead boss said, 'It would have been a tragedy if Celtic hadn't won. I have never seen a team dominate a match so much. It could have been 5-1 or 6-1 at the end and no-one could have complained. Justice was done. It was a victory for the good guys. It was a victory for football.
'Everything that Inter stood for was wrong. Jock Stein versus Helenio Herrera was an intriguing contest on a coaching level. Thankfully, Jock's philosophy won the day. Celtic really stopped the domination of European football by these stifling, frustrating, unattractive and unimaginative tactics. They did Europe and football a real favour in Lisbon.'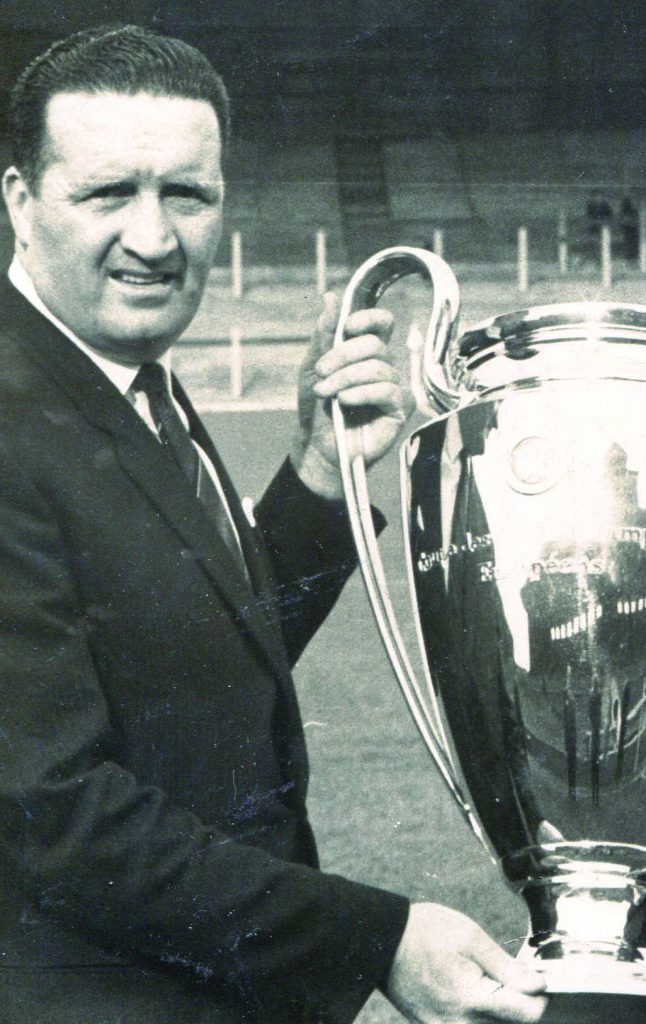 EUROPEAN MASTER…Celtic manager Jock Stein with the glittering prize, the reward for his team's remarkable success in Lisbon on May 25, 1967.
Bill Shankly, the legendary Liverpool manager, hugged his good friend Stein in the melee around the dressing room and rasped, 'John (he never called him Jock) you're immortal.' It was a poignant moment between two individuals who had started their working lives digging for coal to make a living.
The Celtic team that will be forever remembered for their glorious impact on football that day was: Ronnie Simpson; Jim Craig, Billy McNeill, John Clark and Tommy Gemmell; Bobby Murdoch and Bertie Auld; Jimmy Johnstone, Willie Wallace, Stevie Chalmers and Bobby Lennox.
* TOMORROW: The aftermath of Lisbon and the second Battle of the River Plate in another dramatic and exclusive instalment from Alex Gordon's 'CELTIC: The Awakening', published by Mainstream in 2013, and only in your champion CQN.
Click Here for Comments >