'DONDE esta, Johnstone?' Alfredo di Stefano was clearly perplexed. 'Donde est, Johnstone?' he repeated, raising the decibel level slightly. The iconic Real Madrid forward, once rated by Pele as 'the most complete footballer in the history of the game', was in a bit of a tizzy.
Di Stefano had assembled a spectacular line-up of legends following the banquet to celebrate his years with the team that conquered Europe five years in succession. Ferenc Puskas, Francisco Gento, Luis del Sol and Jose Santamaria were among a glittering collection of superstars from yesteryear – Cristiano Ronaldo would have struggled for a place on the substitutes' bench – who were booted and suited while the official club photographer checked once again to make sure there was film in his Pentax.
THE LEGEND'S LAST FAREWELL…Alfredo di Stefano leads out the Spaniards for his testimonial match against Celtic on June 7 1967.
But there was no sign of Jimmy Johnstone. And Alfredo di Stefano was determined the diminutive Celtic winger would take pride of place in the photograph. He insisted the Wee Man's presence was urgently required to grace the image. 'Donde esta, Johnstone?' There was a crisp edge to Di Stefano's tone now.
Puskas and his exalted former team-mates were beginning to get a bit fidgety. Di Stefano intstructed them to calm down; the picture would go ahead as soon as the Celtic player had been located.
At that precise moment, Jimmy Johnstone was propping up the bar in the players' lounge at the Bernabeu Stadium, sipping his favourite tipple of vodka and Coke only an hour or so after spectacularly entertaining an audience of 120,000 in the Testimonial Match for Di Stefano, the sporting artiste who had been a boyhood hero of the football-crazy kid with the explosion of red curls who perfected his art of driving defenders towards a nervous breakdown by dancing round milk bottles on the streets of Uddingston with a ball seemingly glued to his toes.
As he relaxed, he knew his work for the season was done; the following day he and his wife Agnes would be heading for a relaxing fortnight on the beaches of Benidorm.
After wandering around the labyrinthine corridors of the famous old ground, Di Stefano was eventually pointed in the direction of Johnstone and persuaded him to join him and his former Real Madrid colleagues for the historic snap.
THE MAESTRO…Alfredo di Stefano in his sixties hey day with the all-conquering Real Madrid. To his left is magical Hungarian Fernc Puskas and beside him is flying left winger Ghento.
Tommy Gemmell, speaking to friend and author Alex Gordon, for his autobiography, 'All The Best', recalled, 'At first, Jinky thought it was a wind-up. I think he said something to Alfredo like, "Ach, away ye go." Can you imagine it? An assembled company of some of the greatest players the world has ever seen, players who had ruled football for years, and there was Wee Jinky telling the great Alfredo di Stefano to leave him alone?
'When Alfredo managed to convince Wee Jinky he was deadly serious only then he agreed to go and join in for the snap. He was walking on air when he came back to the bar some fifteen or so minutes later.
'"I've just got ma picture taken with Alfredo and his mates," he said. Then he laughed, "That'll be something for them to tell their grandweans!"
"But that was Jinky and nothing fazed him. He had just turned in the performance of a lifetime, had the Real Madrid fans yelling "Ole!" every time he touched the ball and had stolen the spotlight from the fabulous Di Stefano on his big night. Basically, he gatecrashed a legend's party.'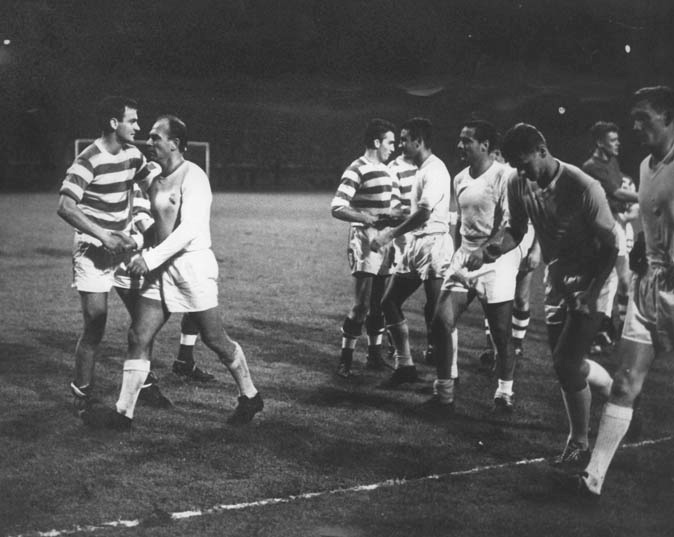 GLASGOW BELONGS TO US…Alfredo di Stefano and his Real Madrid team-mates leave the Celtic Park pitch after the wonderful exhibition match in 1962 which they won 3-1.
Jimmy Johnstone's illuminating display in the Spanish capital on the evening of June 7 1967 bordered on the magical, eclipsing everyone else on show. Di Stefano, a month before his forty-first birthday, chose the newly-crowned European champions as his preferred opponents for the grand occasion.
He had travelled to Lisbon to witness the European Cup Final and turned up at Celtic's hotel in Estoril to ask them to play for him.
Thankfully, the Celtic Board accepted his request.
Click Here for Comments >