CELTIC were on the cusp of something special when they prepared to take on Aberdeen in the Scottish Cup Final on Saturday April 29 1967.
The players had returned from Czechosloavkia following a midweek goalless draw with Dukla Prague which claimed a place in the European Cup Final against Inter Milan in Lisbon on May 25. The team were sitting on top of the First Division and heading for their second successive title and the League Cup had already been annexed with a Bobby Lennox winner against Rangers in October.
Now the Pittodrie side stood in their way of even more silverware success at the national stadium.
In another CQN EXCLUSIVE, author Alex Gordon opens the files on his book, 'That Season In Paradise', which takes us through the months that were the most momentous in Celtic's proud history.
This is the story of how the Cup was won. Please enjoy.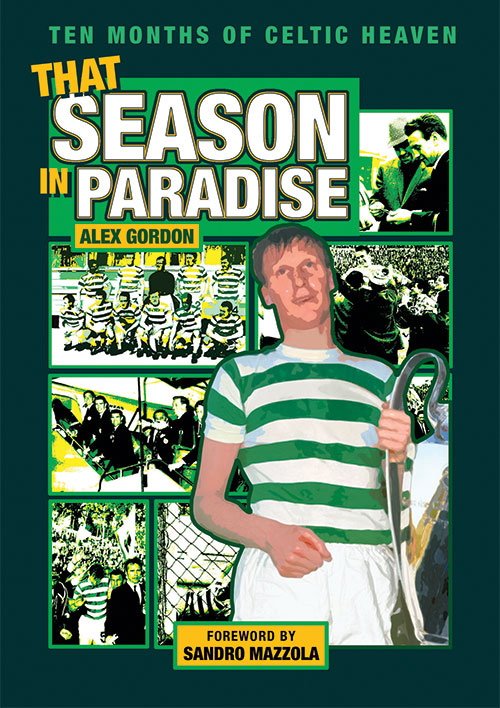 WELCOMING sunshine greeted Billy McNeill and Harry Melrose as they led out their Celtic and Aberdeen teams for the Scottish Cup Final at Hampden on Saturday April 29 1967. Jock Stein had shackled the players in order to grind out a safe result in midweek in Prague and promised never to again adopt rigid, soul-destroying, safety-first tactics.
'He was as good as his word,' recalled Bertie Auld. 'He must have agonised over ordering us to suffocate the game as we did against Dukla. But this was a different day, a trophy was there to be won and Big Jock was only too happy to tell us we would be reverting to the style that had earned us so much applause among neutral observers. You should have seen the smiles on some of my pals' faces.
'Wee Jinky wasn't really cut out to be an auxiliary right-back and Stevie Chalmers looked delighted to hear there would be some colleagues beside him to keep him company in the Aberdeen half. There was an extra bounce in every Celtic player's step that afternoon. And that of the Boss, too, I hasten to add.'
HAMPDEN BELONGS TO ME…Bertie Auld patrols the midfield.
A crowd of 126,102 was in place, but there was no sign of Stein's sparring partner Eddie Turnbull, known simply throughout the footballing fraternity as Ned. The gruff Dons manager, with the voracious appetite for upsetting people, had been an adversary of Stein dating back to their playing days.
Twelve years before this Cup Final, Celtic, skippered by Stein, had unexpectedly beaten Hibs, with Turnbull in the team, 2-0 to lift the Coronation Cup. The Easter Road side, with their 'Famous Five' forward line of Smith, Johnstone, Reilly, Turnbull and Ormond, were expected to stroll off with the silverware against a side which finished a poor eighth in a sixteen-team league.
Stein, though, was absolutely resolute in nullifying the main goal threat of Lawrie Reilly while goalkeeper Johnny Bonnar produced the performance of a lifetime to take the one-off trophy to the east end of Glasgow with goals from Neilly Mochan and Jimmy Walsh.
Turnbull, obviously, wasn't the type to forgive and forget. However, he was taken ill on the morning of the Scottish Cup Final and doctors persuaded him to stay away from the south side of Glasgow. It's doubtful if the presence of the brusque Pittodrie gaffer would have changed the outcome of the game.
Stein had meticulously plotted a surprise for his arch nemesis; Jimmy Johnstone was instructed to take up a place just off the centre with Stevie Chalmers pushed wide on the right and Willie Wallace leading the attack. It worked a treat.
NUMBER ONE…Willie Wallace (second right) strokes in the opening goal against Aberdeen in the 1967 Scottish Cup Final. Stevie Chalmers gets a good view of his team-mate's finishing skills.
NUMBER TWO…Willie Wallace rifles the killer second behind helpless keeper Bobby Clark with centre-half Tommy McMillan and right-back Jim Whyte looking on.
Wallace scored the goals – one in each half only seven minutes' worth of playing time apart – in the 2-0 triumph while Johnstone skipped and cavorted throughout his ninety minutes of freedom and Chalmers rolled back the years with a tireless, selfless, stamina-sapping exhibition on the touchline. Thirty-six-year-old Ronnie Simpson, picking up his first Scottish Cup medal to place alongside the two FA Cup honours he won with Newcastle United in 1952 and 1955, was unbeatable on the rare occasions the Dons broke through.
Jim Craig, Wallace and Johnstone also lifted their first Scottish Cup medals on a thoroughly pleasurable and satisfying afternoon for those of a Celtic persuasion at the national stadium. All eleven players would go on to even greater heights in Portugal in twenty-six days' time.
The opening goal arrived in the forty-second minute and, surprisingly, it came from a raid on the left. Up until then, Celtic's best work had been done on the opposite flank with Johnstone bamboozling Tommy McMillan, in the middle of the opposition's rearguard, and Chalmers doing likewise to left-back Ally Shewan. Bertie Auld switched play with his educated left foot and placed a diagonal pass into the tracks of Bobby Lennox, coming in from the left.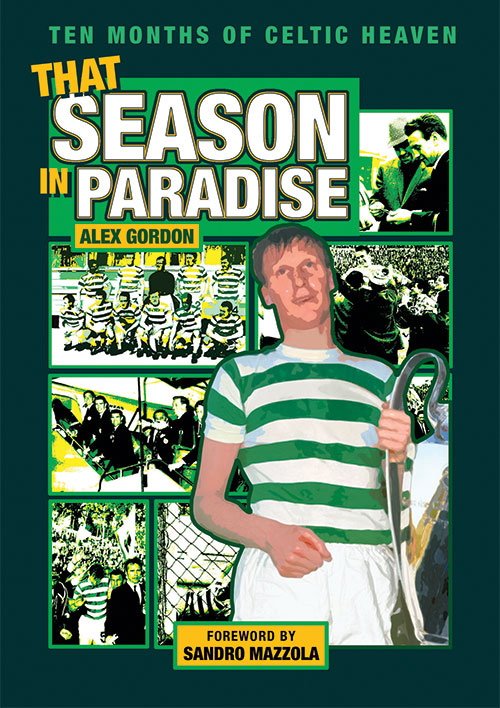 Dons skipper Melrose, who had scored for Dunfermline against Celtic in the 1965 Cup Final but still finished on the losing team, was never going to win any first prizes for his tackling ability or his pace. Lennox whipped away from the midfielder, sized up the situation in the penalty box and, with Bobby Clark lured to his near post, zipped over a cross which Wallace, on the six-yard line, first-timed into the vacuum that was left exposed by the rashness of the keeper.
Four minutes into the second-half, Johnstone, perpetual motion itself, chased what could have been a lost cause to the bye-line before hooking over an inviting cross to Wallace, acknowledged by many at Parkhead as one of the finest strikers of the ball, and he didn't disappoint with a half-volley from eight yards that ripped high past the motionless Clark.
The organisers could have placed the green and white ribbons on the trophy there and then. Lennox came within inches of a third goal when he burst into the box from the left and sizzled in a vicious drive that gave the Dons keeper no chance, but, unfortunately, his elevation was just out and the ball carried mere inches over the bar.
UNORTHODOX…Ronnie Simpson kicks an effort from Dons midfielder Jens Petersen (No.6) off the line in the fading moments.
At the other end, Simpson made athletic diving saves from Jimmy Wilson and Jim Storrie and, with only three minutes remaining, showed his extrovert goalkeeping qualities when it looked as though Aberdeen would surely collect at least a consolation goal. Jens Petersen, the Dons' Danish defender, had been thrown into attack in a vain attempt to unsettle Billy McNeill and John Clark.
With time running out, he found himself isolated with an open goal after Wilson had played a ball in from the right. He stabbed an effort towards the vacant net and Simpson, who had been at the opposite post, ran along his goal-line to boot the ball away at the last moment. It wasn't the sort of save that would figure in any goalkeeping manual, but that would have meant little to the remarkable veteran.
He would often say, 'Who remembers how you keep the ball out of the net? In years to come, someone will look at the result and see Celtic have had another shut-out and that's all that matters. I'm happy to keep the ball out of my net by any means necessary.
ROARING SUCCESS…Ronnie Simpson shouts instructions to his Celtic colleagues.
'If it hits my backside, my knees or my elbows and bounces to safety you won't hear me complaining. It's my job and I'll do whatever it takes to make sure I've got a clean sheet and our opponents have a duck egg.'
Of course, Simpson's story was the most romantic among the Celtic players, the football fable to beat them all. Celtic's version of Peter Pan might have expected to finish the 1966/67 season playing for Berwick Rangers in the old Scottish Second Division where they finished tenth in a league of twenty.
Instead, as the history books show, he picked up a European Cup medal, played his first game for the Scotland international side and was voted the Football Writers' Player of the Year. Take into consideration the fact he also won medals in the league, the Scottish Cup, the League Cup and the Glasgow Cup.
Not bad for someone whose next birthday would see him turn thirty-seven.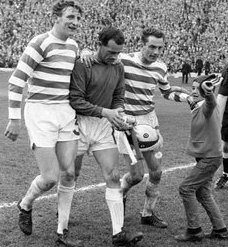 FAN-TASTIC…a young supporter gets in on the act as Tommy Gemmell, Ronnie Simpson and Stevie Chalmers leave the field.
Yet things could have been so vastly different for Simpson, who was adored by his Celtic colleagues. Jock Stein had dropped him from the Hibs first team with Willie Wilson taking over the No.1 spot. His Easter Road career looked as good as obliterated and Berwick Rangers were searching for a new goalkeeper.
They turned their attention to Simpson and they were confident of landing the experienced professional. Hibs would hardly have proved difficult to deal with as far as the transfer fee was concerned.
That was when fate stepped in to so rudely interrupt Berwick Rangers' progress in their pursuit of Simpson. Celtic, too, were in the market for another keeper. John Fallon was the man in possession, but they did not have reliable cover. The unpredictable Frank Haffey, who had conceded nine goals to England at Wembley in 1961, had just been sold to Swindon Town for £8,000 in 1964. That opened the door for Simpson and he decided 'it was worth a chance.'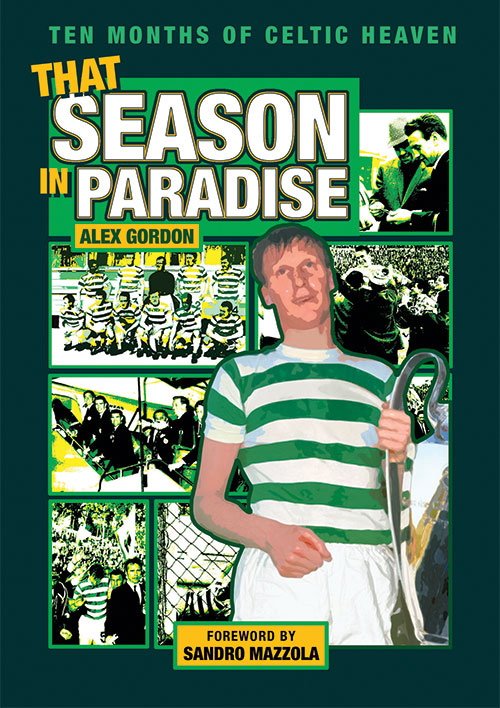 However, he couldn't have been best pleased when he was told, a year later in March 1965, that Jock Stein was about to take over as manager of Celtic. After hearing the news about the impending arrival of Stein, Simpson is reported to have gone straight home and informed his wife that she should get ready to pack.
'We're on the move again, Rosemary,' he was alleged to have said. Stein had sold Simpson to Celtic for a transfer fee described by the the-then Celtic boss Jimmy McGrory as being in the region of 'sweeties'. Most assuredly, glory, medals and international honours did not figure in the wildest dreams of Simpson at that stage of his career.
There had been talk of a fall-out between the player and Stein nearing the end of his days at Hibs. Neither Simpson nor the manager was ever eager to talk about any friction between the pair. Luckily for Celtic, if there had been any ill-feeling between two strong characters, it never surfaced in their six years together in Glasgow.
Naturally, their finest moment came in the Portuguese capital against Inter Milan and, quite remarkably, that historic game came almost twenty-two years after Simpson had made his debut for Queen's Park.
THAT'S MY BHOYS…Jock Stein congratulates Stevie Chalmers and two-goal Willie Wallace at the end.
THE CUP THAT CHEERS…the triumphant Celtic players celebrate in the Hampden dressing room.
Remember, too, this was the goalkeeper who had represented Great Britain four times as an amateur and played twice in the 1948 Olympic Games. He had, of course, also earned two English FA Cup medals with Newcastle United in the fifties. Those not-inconsiderable achievements might have been more than enough for most individuals. Simpson had also served Third Lanark in his distinguished career before eventually landing at Celtic.
Billy McNeill was a fully paid-up member of the Ronnie Simpson Fan Club. 'Faither was quite magnificent, as simple as that. You always felt safe when he was behind you. He talked you through a game and must have been exhausted even though he might have had very little to do.
NINETY MINUTES FROM EUROPEAN GLORY…captain Billy McNeill, Ronnie Simpson and Tommy Gemmell line up in Lisbon.
'Being a Celtic keeper back then was either the best job in football – or the worst. Because we had the ball in our opponents' half most of the time, Ronnie would be virtually unemployed. I know some keepers much prefer to be in the thick of it. Obviously, if you are busy it helps you keep your eye in. You're on the go all the time and that is no bad thing.
'In Ronnie's case it was all about concentration. And, my goodness, did he possess that much-needed commodity in plentiful supplies. He could have been asked to do nothing for eighty-nine minutes and then produce a wonder save right at the end. It really was a gift and he put every ounce of his vast experience to a good use.'
Ronnie Simpson was only one  win away from picking up his second First Division title-winning medal after his Scottish Cup Final shut-out against Aberdeen.
Thankfully, he was successful in his quest.
Click Here for Comments >