CELTIC great Tommy Gemmell played football with a smile on his face.
The sight of the club's buccaneering full-back thundering into attack and lining up one of his ferocious long-range attempts will live long in the memory banks of those fortunate enough to witness the moments.
Author Alex Gordon was a long-time friend of the Hoops legend who sadly passed away on March 2 2017 at the all too early age of 73.
Alex was honoured to pen Big TG's autobiography, 'All The Best', which was published by CQN in 2014, and he discussed Scotland international memories with the man known as the best left-back in the world to his team-mate Bertie Auld.
"Naturally, the chat led to the memorable win over England at Wembley on April 15, exactly 55 years ago today," said the author who has written fifteen Celtic books, including '50 Flags Plus One', which is a tribute to the club's first 51 glorious and untainted titles.
"Tommy recalled the aftermath of the 3-2 triumph over the world champions where Hoops team-mates Ronnie Simpson, making his debut at 36, Willie Wallace and Bobby Lennox, who scored the second goal, in the line-up. Denis Law and Jim McCalliog, like Ronnie taking his international bow, netted the other goals.
"Here's a memory of how that wonderful personality reminisced about the triumph that went into Scottish football history."
HERE WE GO…John Greig leads out Ronnie Simpson, Tommy Gemmell and the rest of the Scotland team while Bobby Moore does likewise with England at Wembley on April 15 1967.
BILLY BREMNER, the inspiration of Don Revie's emerging Leeds United team of the mid-sixties and early seventies, was a feisty, fiery character with the same sort of temperament as another wee flame-haired guy of my acquaintance. We got it every week at Celtic with Jimmy Johnstone and you wondered if, in fact, he was a blood relative of Bremner. They would quite happily fight with their image in a mirror.
The Press often referred to Wee Billy as the Bristling Bantam and he probably took that as a compliment. In fact, he was more like a terrier the way he snapped at rivals' heels. An opponent must have thought he was facing up to a mini-combine harvester when my pal was zipping around. If the ball was there to be won, Billy was convinced it was his property.
And what a brave player. He never ducked out of a challenge or shirked a responsibility. Actually, I never thought he received the credit he deserved for his all-round ability. People will talk about his tenacity, but what about his talent? That guy could play, alright. His passing was wonderfully accurate, even in the tightest of situations.
And, believe me, Billy could get himself into some tight situations. I know what I'm talking about – I was there on several occasions.
HIGH AND MIGHTY…Tommy Gemmell challenges Geoff Hurst in an aerial duel as Ronnie McKinnon and Jack Charlron look on.
I will never forget the evening of our 3-2 victory over England at Wembley in 1967. Once the smoke of battle had cleared that particular day, all the players, booted and suited, went out for the aftermatch banquet which was being held at London's plush Cafe Royale. It would be fair to say a few cocktails were partaken by the Scottish entourage that night.
The English guys were at the dinner, too, and, once all the formalities had been taken care of, both sets of players repaired to the bar. You could say one set of blokes were just a tad more raucous than the other.
Bobby Charlton, Bobby Moore, Nobby Stiles, Alan Ball and the rest of the England mob retreated to a little corner where you could hear a pin drop. Denis Law kept looking over at his Manchester United colleagues, Bobby and Nobby, smiling and waving a drink in the air.
NUMBER ONE…Denis Law, watched by Billy Bremner, pounces to beat grounded goalkeeper Gordon Banks with Martin Peters getting a close-up view. 

NUMBER TWO…Bobby Lennox watches his low shot elude the diving Gordon Banks.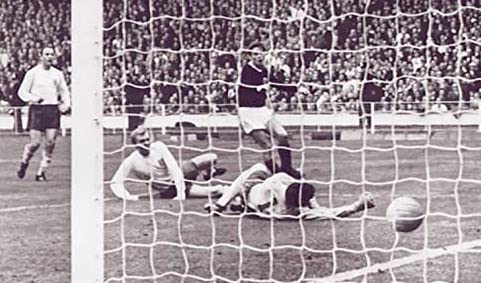 NUMBER THREE…Jim McCalliog leaves Gordon Banks and Bobby Moore helpless as he drills in the winner.
For some obscure reason, the Scotland team was invited to the Shaftesbury Theatre where there was a celebration going on for the 10,000th production of Agatha Christie's world famous whodunnit The Mousetrap. It made its debut in 1952 and was still going strong sixty-two years later when I put this book together.
Anyway, it was getting on a bit and it was obvious Billy had thoroughly enjoyed the evening. You could say he was as happy as a newt. The electric soup had been in full flow and who could deny him and the rest of us our day in the sun?
We had all had the fact rammed down our throats that England were the world's finest team ever since they had beaten West Germany 4-2 in extra-time the previous summer. It seemed they had been unbeaten since God was a boy until we derailed them, of course, to become the best on the planet. It seemed a logical thought to all of us Scots at the theatre as the booze continued to flow.
Anyway, in the midst of all this frivolity and merriment, two famous faces loomed into view. Cilla Black and Frankie Howerd had decided to join in our celebrations. I think it would be fair to say Billy was less than complimentary to the talents of either performer and told them so in no uncertain terms.
Cilla and Frankie were not best pleased and in that instant, it seemed evident to me why Eamonn Andrews had never asked Billy to pay any tributes to showbiz personalities on his TV programme 'This Is Your Life'.
WEMBLEY GLEE…Bobby Lennox in held aloft by Jim Baxter as Willie Wallace joins in the celebrations for the second goal.
Interesting lad, on and off the field, was our Billy. Choosing my all-time Scotland international eleven of players I have performed alongside, I'm afraid the Leeds lad, who was a huge Celtic fan, will have to take a place on the sidelines. I am going to have to award that place to Bobby Murdoch.
If Bobby Murdoch can get in to my team in front of Billy Bremner then that tells you all you need to know. I picked up a reputation with my shooting power, but Bobby was devastating, too, when he set his sights. To him, falls the honour of claiming one of the finest goals I have ever witnessed in a football game anywhere.
We were playing West Germany in a World Cup qualifier at Hampden on an April evening in 1969. We were losing 1-0 after a goal from Gerd Muller, who could use his backside better than anyone else in the game when it came to barging into defenders and spinning to have a shot at goal.
THE BEST…Bobby Murdoch in control – as usual.
That's what he did that night when he collected a short free-kick on the edge of the penalty area, bumped Ronnie McKinnon to one side with his Red Rum backside, swivelled and shot low into the net. Tommy Lawrence – the Flying Pig – didn't exactly soar as the ball eluded him.
So, there were only two minutes to go when Bobby, chest thrust forward in that proud manner of his, strode upfield. I think it was Charlie Cooke who rolled the ball in front of my team-mate who didn't even break stride before unleashing an unstoppable right-foot drive from about twenty-five yards that almost tore a hole in the net. Sepp Maier did well to get out of its way.
What a goal. And what a player. His versatility just shades Billy.
* DON'T miss the big-name EXCLUSIVES – only in your champion CQN.
Click Here for Comments >