JOE McBRIDE took a circuitous route before landing at his boyhood idols Celtic in the summer of 1965.
The burly, barrel-chested old-fashioned striker was determined to make up for lost time. In his three years at Parkhead, Joe fired in 86 goals in 94 appearances, an astonishing 54 of them coming in only 55 league games.
Today, CQN continues our EXCLUSIVE tribute to a forgotten Celt who was beset with serious injury to curtail a career that could have broken records.
Here is an edited extract from author Alex Gordon's book, 'That Season In Paradise', a publication that takes an in-depth look at the remarkable rise of a team that transformed from east end misfits to European masters in the sixties.
And a Bhoy called Joe played a massive role in that phenomenal change in the team's fortunes.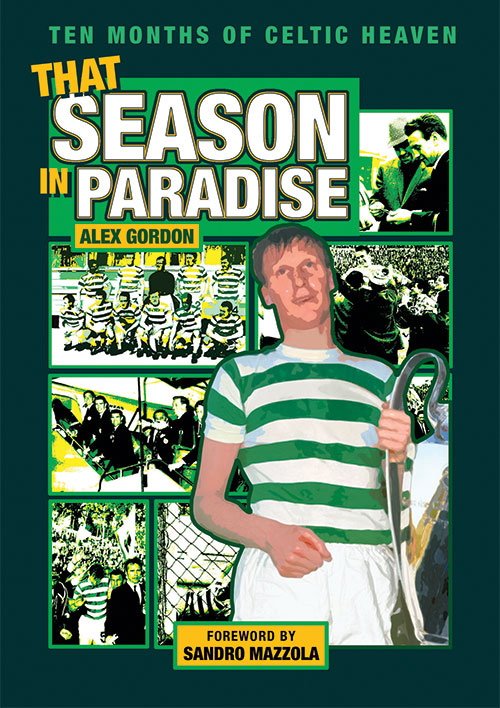 JOCK STEIN refused to allow his players to accept the invitation from the supporters to go out for a lap of honour after their 2-1 win over Dunfermline at Parkhead on Wednesday May 4 1966.
It was mathematically possible for Rangers to win the league on the old equation of goal average if Celtic lost by a certain margin in their last game against Motherwell at Fir Park.
Jock Stein, a well-known gambler among the bookmaking fraternity in the West of Scotland, was taking no chances, his cards still firmly held to his chest.
A well-meaning member of the Press extended his hand to the Celtic manager at the aftermatch conference. 'Congratulations, Jock,' said the newspaperman. Stein shot a withering glance in his direction. He could do sarcasm with the best of them.
'Oh, so you know Saturday's score, do you?' he snapped. 'Would you like to fill in my coupon, too?' The Pressman stepped back.
Jock's mood lightened a little and he said, 'What happens if we lose 4-0? Let's celebrate when we know it's in the bag – and not before.'
I'M IN CHARGE…Celtic boss Jock Stein.
It didn't prevent one national newspaper scribe from penning, 'Celtic are beyond reasonable doubt Scottish League champions again at last. After an interval of 12 years and, surprising though it may seem, only the fourth time 40 years, they virtually assured themselves of this most elusive honour by their victory over Dunfermline Athletic at Celtic Park.'
Bertie Auld recalled, 'It wasn't an act from the Boss. I've no idea what the odds would have been for us to lose by four goals to anyone, never mind Motherwell, but he absolutely insisted on his players remaining professional right to the very end. "You can do what you want after Saturday," he said, more or less telling us to refrain from cracking open a few bottles of champagne.
'Big Jock's aversion to alcohol was well documented and he really never understood the drinking culture among players. "What good does that stuff do you?" he would ask over and over again. And the players knew when it was time to shut up.'
Emotions abounded with wondrous abandonment on a radiantly sunny afternoon at Fir Park on Saturday May 7 with the Celtic players taking a colourful curtain call as they celebrated their first championship success in 12 years; the hurt swept into the dark recesses of history as the players enjoyed a lap of honour in front of gleefully celebrating followers.
The injured Joe McBride, so influential at the start of the memorable campaign, was forced to watch history being made from the Lanarkshire club's stands.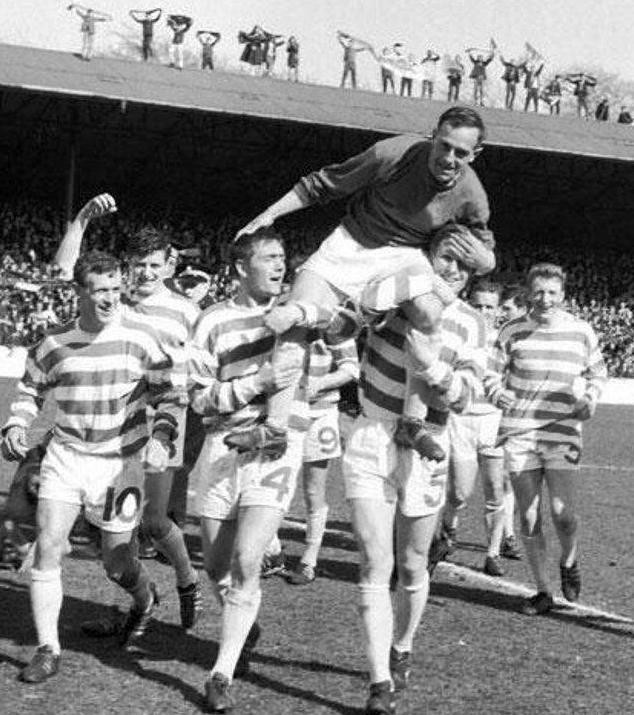 CHAMPIONS…keeper Ronnie Simpson is carried shoulder high by Bobby Murdoch and Billy McNeill as Celtic celebrate their 1966 title triumph – their first championship since 1954.
Billy McNeill and Bobby Murdoch lifted veteran goalkeeper Ronnie Simpson shoulder high; his incredible personal story almost as sensational as that of the club. The First Division title had been delivered with a late winning flourish.
As the clock ticked down to its exorable conclusion on an extraordinary football season, Bobby Lennox, from almost underneath the crossbar, turned in a low right-wing cross from Jim Craig for the only goal of the game.
The Scottish game's most coveted honour was heading for the east end of Glasgow with Celtic completing the marathon on 57 points, two ahead of Rangers.
CROWNING GLORY…Bobby Lennox gets in before Motherwell defender Matt Thomson to score the title winner at Fir Park in May 1966.
One national newspaper scribe reported, 'The final word of a long campaign was written on Saturday with a timing as symmetrical as the signing of an armistice. For in the last minute of the last game of the last day of the season, Bobby Lennox scored the goal which beat Motherwell and made Celtic the Scottish League champions on points instead of by the much less satisfying margin of goal average.
'And, so, as Celtic became champions again after an interval of twelve years and for the twenty-first time in the club's history, their first venture into the most prestigious of competitions which was inaugurated after their last success in the league.'
The article continued, 'There was never the slightest suggestion that Motherwell would score enough goals to deprive Celtic of their right. No-one would surely deny that Celtic, having suffered the disappointment of recent Cup defeats by Rangers and Liverpool, do not deserve to hold the leading position in Scottish football which has escaped all their efforts for an inordinately long time.'
Drama, the like of which had never been witnessed before in Paradise, awaited in the new season.
Naturally, Joe McBride was eager to play his part.
TOMORROW: A BHOY CALLED JOE (PART NINE)
Click Here for Comments >