JOE McBRIDE took a circuitous route before landing at his boyhood idols Celtic in the summer of 1965.
The burly, barrel-chested old-fashioned striker was determined to make up for lost time. In his three years at Parkhead, Joe fired in 86 goals in 94 appearances, an astonishing 54 of them coming in only 55 league games.
Today, CQN continues our EXCLUSIVE tribute to a forgotten Celt who was beset with serious injury to curtail a career that could have broken records.
Here is an edited extract from author Alex Gordon's book, 'That Season In Paradise', a publication that takes an in-depth look at the remarkable rise of a team that transformed from east end misfits to European masters in the sixties.
And a Bhoy called Joe played a massive role in that phenomenal transformation.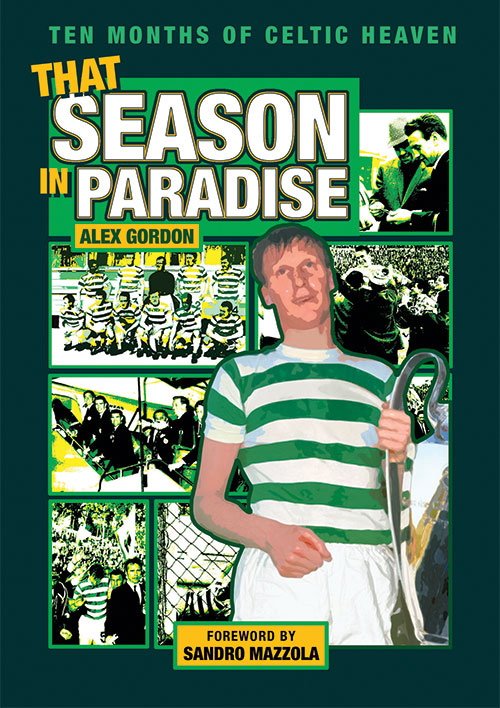 JOE McBRIDE drilled a 32nd-minute penalty-kick beyond St Johnstone keeper Mike McVittie in a hard-fought 3-2 win for Celtic on March 12 1966. He could never have guessed it would be his last goal at Celtic Park that season.
The club's top scorer collected two goals in a 7-1 destruction of Hamilton Accies at Douglas Park the following week and another double in a 3-0 victory over St Mirren at Love Street on April 5, but, after those two romps, he was firing blanks. The goal supply dried up as abruptly as it was unexpected.
The chunky frontman's progress hit an invisible brickwall. He was still barging around with controlled aggression and making a general nuisance of himself, but the rewards had now diminished alarmingly. Four days after his pair in Paisley, McBride was up against the same opponents in the east end of Glasgow. It was a frustrating afternoon for the striker and his team-mates.
McBride, noticeably, was bereft of his usual snap in the penalty-box. On this occasion, Celtic had to rely on Charlie Gallagher to open the floodgates in the 54th minute. With three minutes to play, Celtic were cruising 5-0 ahead with Bertie Auld and Stevie Chalmers pitching in with two apiece.
FLYING HIGH…Joe McBride puts the pressure on the St Mirren defence.
A few days later, Celtic took on Liverpool in the first leg of their European Cup-Winners' Cup semi-final at a sold-out Parkhead, with 76,446 in attendance. I was fortunate enough to be there to witness Celtic 'massacring' the mighty Anfield outfit 1-0 with a second-half goal from Bobby Lennox.
It is no exaggeration to say Jock Stein's side could – and should – have won by four or five goals that evening. Ronnie Simpson had so little to do throughout the entire 90 minutes, he could have joined me and my Dad in the Jungle.
There could be no debate that a fully-functioning Joe McBride would have given Celtic the edge and, possibly, a passage to a prestigious European Final, a year ahead of Lisbon. It wasn't quite a case of switching from prolific to profligate, but the assurance and penalty box poise that had been so evident at the start of the season had, in general, evaporated.
And, to be fair, McBride was the first to admit it. He failed to convert a pinch against the Anfield side during the siege of Tommy Lawrence's goal you would have put money on him knocking over the line in his sleep a month or so previously.
He said, 'The game at Parkhead was terrific, but I missed one from under the bar. Heading was a strong point of mine, but I passed up a certainty. The ball came across from the wing and I got under it and headed over the bar instead of under it. It was a horrible miss.'
Although McBride was misfiring, Jock Stein kept faith with the forward who had notched 43 goals in all competitions until that stage of the campaign. To put that total in perspective, it was 17 more strikes than the highest tally of the previous season by Stevie Chalmers. Alas, it simply looked as though McBride had run out of goals at the so-called 'business end' of the season.
Mr GOALS…Joe McBride in action for his beloved Celtic.
A goalless draw against Hibs at Easter Road followed the Liverpool tie and then it was onto Anfield for the second leg. Again, the record books show Celtic failed to register a goal in a 2-0 defeat on a Merseyside quagmire on an evening of wildly deteriorating conditions.
The game ended in uproar and controversy in the last minute when Bobby Lennox turned the ball behind the grounded Tommy Lawrence and left-back Gerry Byrne, who was on the goal line. 'Offside,' said Belgian referee Josef Hannet to the surprise of everyone.
Billy McNeill's take on the incident years later can be filed in the philosophical category. 'Obviously, it was impossible for Bobby to be offside with two opponents between him and the goal. Later, we discovered Msr Hannet had watched the highlights of the game on television that evening and realised he had made a mistake. He actually owned up to his error.
'Thanks, referee, just a wee bit too late for us to take our place in the Cup-Winners' Cup Final at Hampden the following month. Liverpool lost 2-1 in extra-time to the West Germans of Borussia Dortmund and there was the widespread belief among my Celtic team-mates that they had used up all their good fortune against us.
'That wasn't sour grapes. The fact is they had contributed so little against us over the two legs. We dominated in Glasgow and we were comfortable all the way through the first-half at their place. Then they scored two goals inside five second-half minutes to turn the tie on its head. We had a legitimate goal disallowed and we were out and they were in the Final. It was a sore one to take.'
DOUBLE TROUBLE…Bertie Auld and Joe McBride on the prowl in the opposing penalty box.
McBride recalled the no-goal decision years later. 'It was a shocker from the referee,' he claimed. 'It was impossible for Bobby to be offside. Quite apart from the fact there were two opponents in front of him, he was actually behind me when I passed the ball in front of him before he took it on and stuck it in the net.
'I was well onside – their centre-half Ron Yeats was around the vicinity, as well – so, that being the case, Bobby had to be onside, too. It was a mystifying decision by the match official. If we had got through, I'm certain we would have won the Cup-Winners' Cup at Hampden. I'm convinced we would have had too much for Borussia Dortmund in what would have felt like a home game.'
Privately, Jock Stein fumed at the Anfield defeat. Publicly, though, he preferred not to go into detail. He merely observed, 'It's history now. What we need to do now is concentrate on the next game which is the Scottish Cup Final against Rangers on Saturday. That's the only thing that matters.
'Europe has gone for this season, but we have the opportunity to win a trophy and that is now our priority.'
* TOMORROW: A BHOY CALLED JOE (PART SIX)
Click Here for Comments >