JOE McBRIDE took a circuitous route before landing at his boyhood idols Celtic in the summer of 1965.
The burly, barrel-chested old-fashioned striker was determined to make up for lost time. In his three years at Parkhead, Joe fired in 86 goals in 94 appearances, an astonishing 54 of them coming in only 55 league games.
Today, CQN continues our EXCLUSIVE tribute to a forgotten Celt who was beset with serious injury to curtail a career that could have broken records.
Here is an edited extract from author Alex Gordon's book, 'That Season In Paradise', a publication that takes an in-depth look at the remarkable rise of a team that transformed from east end misfits to European masters in the sixties.
And a Bhoy called Joe played a massive role in that phenomenal transformation.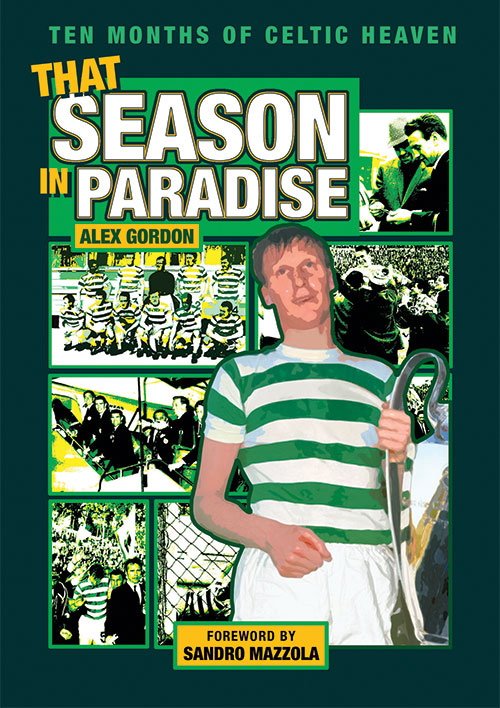 JOHN HUGHES, the juggernaut forward blessed with almost balletic balance, had missed the start of the season due to a suspension held over from the previous campaign, but Jock Stein wasted no time in thrusting the powerhouse raider straight into the first team as soon as he was available.
Big Yogi, playing on the left wing, was unstoppable in a League Cup confrontation against Dundee United. Celtic were already two goals ahead with efforts from Ian Young, via a penalty-kick, and Stevie Chalmers when the game was petering out with only three minutes left on the clock. And that represented plenty of time for Joe McBride to double his competitive goal haul for the club.
Chalmers set it up with a speedy run and deft pass and the centre-forward touched the ball to one side of the outrushing goalkeeper, Donald Mackay, as he went the other to catch up with it before rolling it over the line.
Jock Stein declared himself 'satisfied' with the win. However, he added, 'We have to remember there are two halves to a football match. I couldn't fault the lads in the first-half, but I feel they eased up a little after the interval. The fans come here and pay their money to see ninety minutes' worth of football and I'll be reminding the players of that fact.'
The words were accompanied by a stern expression. Clearly, gone were the days when a Celtic manager would complacently accept a victory under any circumstances.
ALL SMILES…master marksman Joe McBride in Paradise.
Unfortunately, McBride had taken a knock against the Tannadice outfit and was forced to miss the return League Cup encounter against his former side Motherwell at Fir Park. Celtic went into the tie in the realisation that a win would put them on top of their section.
They duly got their two points, but they made heavy weather of the task. John Hughes took over McBride's duties in the middle of the attack and scored a penalty-kick in a 3-2 triumph. Bobby Lennox claimed the others.
Jock Stein's men had a one-point advantage over Dundee United, Dundee and Motherwell going into the sixth and final group stage game.
Dundee, after their 2-0 stroll in Glasgow in Joe McBride's debut, stood between Celtic and a quarter-final place. Hughes switched again to the left wing to accommodate the fit-again McBride and Big Yogi once more put on a spectacular show with an astonishing solo goal in the team's excellent 3-1 success at Dens Park.
A YOGI SPECIAL…Dundee keeper Ally Donaldson is helpless as a screamer from John Hughes flies into his net in a Celtic 3-1 win at Dens Park.
Celtic were already leading with an 11th-minute effort from Johnny Divers when Hughes ignited the 28,000 crowd and decimated the Dundee defence when he latched onto a pass, nimbly raced away from international right-back Alex Hamilton and, with a posse of opponents chasing after him, simply thundered an unstoppable 35-yard drive that clattered into the net before keeper Ally Donaldson had a clue what was going on.
Andy Penman pulled one back before the interval, but it was that man McBride who again applied the killer touch with a strike five minutes from time. Hughes and Chalmers combined and McBride, like any self-respecting goal thief, was unmarked when the ball came into the penalty area and, from close range, he nodded it beyond the exposed Donaldson.
Joe McBride's mantra was simple. 'I leave the Fancy Dan stuff to guys such as Jinky and Yogi. I concentrate on doing what I think I do best and that is scoring goals. When I see the whites of the goalposts the other guys know they are wasting their time shouting for a pass, it's just not going to happen.
'The way I figure it is simple. I just let fly and try to make sure I get my effort on target. Look, I can have my back to goal when I receive the ball, but I will know where the goal is, those frames don't move.
WALLOP…Joe McBride thunders in a penalty-kick against Partick Thistle.
'So, if I'm doing my job properly, I should at least make the keeper work. I won't always hit the target, of course, but that is always my ambition. And if I don't score and the keeper fumbles the ball, then we've got nippy, alert players such as Bobby Lennox and Stevie Chalmers who are sure to punish him. Jock Stein didn't buy me to set up goals.
'He bought me to score goals. That's my game and he laid it on the line when he paid a fair chunk of money for me. If I continue to score goals, I know I've got a reasonable opportunity of staying in the team.'
McBride, in fact, made a total of 24 appearances on the journey to the turn of the year. With McBride leading the line, Celtic won 21 games, drew two and lost one – the striker's debut against Dundee. Just as impressive was the goal return from Jock Stein's historic first purchase for Celtic; McBride clubbed in 24 goals, averaging one per game, as he single-mindedly went about his business.
He fired in 15 in 14 league games – failing to score in only three – as well as seven goals in seven League Cup-ties. missing out on two occasions, and twice in three European Cup-Winners' Cup confrontations, lapsing only in the second round return leg against Aarhus when Celtic won 2-0 in Glasgow after McBride had claimed the only goal of the first tie in Denmark.
Remarkably, McBride scored in five successive League Cup encounters after drawing a blank against the Dens men at the start of the adventure. He had missed the 2-1 defeat against Rangers in the league earlier in the season with an ankle injury, but he was fit for the League Cup Final against his club's oldest foes at Hampden on October 22 – ludicrously only five days after Celtic had beaten Hibs 4-0 in the semi-final replay on a sea of mud at Ibrox.
If Jock Stein's men were supposed to be tired following their exertions against a very good Easter Road side, their fatigue wasn't obvious against the Ibrox outfit.
NUMBER ONE…John Hughes sends Billy Ritchie the wrong way for the first goal in the 1965 League Cup Final.
NUMBER TWO…John Hughes strikes again from the penalty spot.
Two John Hughes penalty-kicks had Celtic 2-0 ahead at the interval. The first award was for an obvious handball from centre-half Ronnie McKinnon for no apparent reason as a long cross was sailing out of play for a goal-kick.
Yogi tucked it away as keeper Billy Ritchie, diving to his right, went the wrong way. Number two came shortly afterwards when the little bundle of tricks that was Jimmy Johnstone was flattened by an anxious left-back, Davie Provan.
There was a little piece of brinksmanship from Ritchie as Hughes ran up to take the kick. The goalie swiftly removed his cap and threw it into the corner of his goal. It mattered not a jot as Yogi blasted the ball to his right. Ritchie got a hand to it, but the sheer velocity of the drive carried it into the net.
Years later, I mentioned the little bit of gameship from his Old Firm opponent. Had it put him off, I wondered? In typical Yogi fashion, he returned with a deadpan expression, 'I didn't even notice. He could have been swinging from the crossbar for all I cared. I just wanted to hit the ball with everything I had and get it on target.'
There was a scare near the end when right-back Ian Young, under pressure from John Greig, diverted a header beyond the startled Ronnie Simpson, but there was no way back for the team who saw the Cup wrenched from their grasp and removed from their trophyroom to find a new home across the Clyde.
Joe McBride celebrated his first piece of silverware with his new team-mates in a Glasgow hotel later that evening and probably wasn't too perturbed that he hadn't scored on the occasion of his Old Firm baptism; Celtic, after all,  had won the League Cup and that was the main objective.
What would most certainly have concerned him would have been the knowledge he would play against the age-old rivals on another seven occasions and never know the joy of thumping the ball into the Rangers net.
Years later, McBride said, 'I was unlucky I didn't score against Rangers in a Celtic jersey. I did for the reserves, but never in the eight games for the first team. We won six of those games, drew one and lost one and I didn't get a solitary goal.
'I was reminded often I had failed while wearing the green-and-white hoops, but my answer was that I didn't need to score a goal because my mates took care of that task. Having said that, I would have loved to have scored for Celtic against Rangers. It just wasn't to be.'
IN THE NET…Joe McBride slams a shot behind Dundee keeper Ally Donaldson.
The next Glasgow derby was scheduled for January 2 at Parkhead, only 24 hours after the first league game of 1966 against Clyde at Shawfield where Celtic won 3-1 and McBride took his goalscoring form into an exciting new year with two strikes.
Rangers were destroyed 5-1 in the east end of Glasgow on a bitterly cold afternoon with the action taking place on a sparkling white, flint-hard surface.
The visitors scored in only 90 seconds when a whiplash effort from Davie Wilson skidded in front of the diving Ronnie Simpson and found a place in the far corner of his net. Remarkably, despite an onslaught on Billy Ritchie's goal, that effort still separated the teams at half-time.
It's now imbedded in Celtic folklore what happened after the turnaround. John Hughes put it this way in his autobiography, 'Yogi Bare'. He reflected, 'As ever, Big Jock had something to say in the seclusion of our dressing room at the interval. Like the rest of us, he was not happy. "This is more important than a Cup Final," he observed. "This is the league championship. Win this and they'll never catch us. Get out there and get the job done."
'We had 45 minutes to change things around. I spotted a pair of discarded white training shoes lying in the corner. They had suction pads and were used for training indoors. I think they were Billy McNeill's gear, I'm not sure.
'I had been wearing rubber studs in the first-half and they were as useful as a chocolate fireguard. I decided to give the other shoes a try and, thankfully, they fitted. What had I to lose? Kai Johansen, the Rangers right-back, would have been more than delighted with his performance up to that point.
'I had to give him something else to think about. I discarded my normal boots and replaced them with the shoes. Could they make a difference? We would find out soon enough.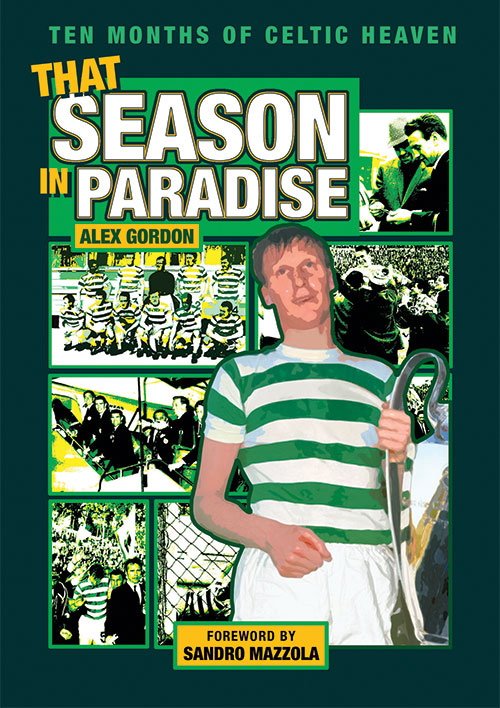 'The game was merely four minutes into the second-half when I combined with Tommy Gemmell and our left-back sent a dangerous low cross into the Rangers penalty area. Joe McBride dummied the ball and that was just perfect for someone with the speed and courage of Stevie Chalmers. He darted into the danger area and turned the ball past Billy Ritchie. Game on!
'I was beginning to get into my stride on the left wing. The shoes were doing their job and definitely helped me maintain my poise and balance when I was running with the ball. Suddenly I was leaving Johansen in my slipstream.
'My pace was beginning to tell and he was mistiming his tackles. Thirteen minutes after the equaliser, we were ahead. It was Stevie again with a header from a left-wing corner-kick. Rangers were on the ropes and we knew it. So, too, did they. Time to go for the jugular and finish them off.
'Seven minutes later, I got away from Johansen again and saw Charlie Gallagher taking up a great position about 25 yards out. Charlie could strike a beautiful ball, that was undoubtedly his forte. He wasn't a tackler, but Charlie had other strengths. He was a lovely passer of the ball to unlock the meanest of defences and he could hit a shot with a lot of venom, too.
'I beat another couple of defenders before looking up to make sure Charlie was still unmarked and slipped the ball as expertly as I could in front of him. Charlie simply lashed an unstoppable drive in the direction of Ritchie's goal. The ball exploded against the underside of the crossbar before bouncing down over the line. The Rangers keeper didn't move a muscle.
'The fourth goal in the 79th minute from Bobby Murdoch was a collector's item. Not because of the awesome power and flawless accuracy from our midfielder; he displayed those qualities often enough in an exceptional career. No, it was the role referee Tiny Wharton played in it.
'Jimmy Johnstone and Gallagher combined on the right before Charlie sent the ball across the Rangers defence about 25 yards out. The pass was actually heading straight for Tiny when he suddenly opened his legs and let the ball go through them.
BY THE RIGHT…Joe McBride slots the ball low past St Mirren keeper Jim Thorburn.
It was a consummate dummy any pro would have been proud to claim. Bobby read it perfectly and hit a devastating left-foot drive that almost took the net away. I have watched a video rerun of that game and I was hugely impressed by Billy Ritchie.
'He was left lying on the brick-hard surface, beaten for the fourth time, the game lost and, amazingly, he got to his knees and applauded Murdoch. That didn't often happen in the heat of an Old Firm duel, but it did display the keeper's unbelievable sportsmanship.
'It was all over for the Ibrox side when I moved the ball over from the left. Wee Jinky got involved and the ball dropped perfectly for Stevie to launch a low drive past Ritchie. It was the end of a perfect day played in hellish conditions.
'The fog continued to descend and about an hour after the game you couldn't see a hand in front of your face. How, the Rangers contingent in the 65,000 crowd must have hoped it had fallen earlier in the afternoon.'
As Big Yogi pointed out it was, indeed, a 'perfect day', but there was one Celtic player who could have been happier at the end. 'We won, got the points and scored five goals. We could – and should – have scored more and I would have dearly loved to have marked my first Old Firm league game at Celtic Park in front of our own fans with a goal. That would have capped it for me.' The words belonged to Joe McBride.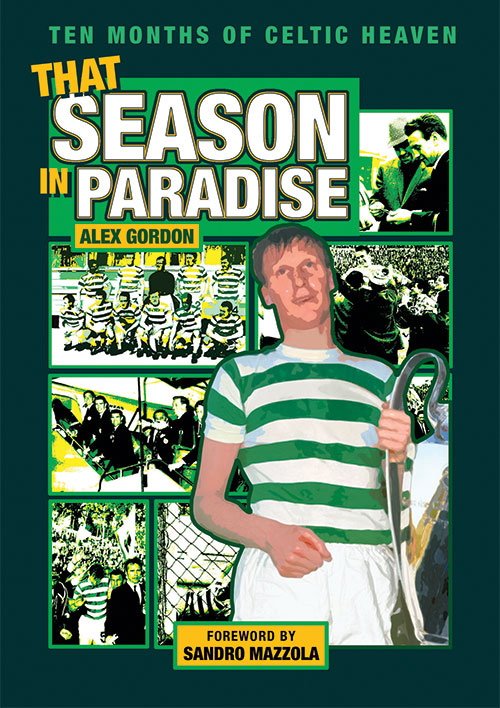 Looking back, that was another extremely important victory for Jock Stein and his players. At the end of the league season, they picked up their first title since 1954 by only two points, Celtic in pole position on 57 points with Rangers on 55.
The champions scored 106 goals and conceded 30 while their Ibrox challengers claimed 91 strikes and lost one fewer on 29.
After trouncing Scot Symon's side, Celtic still had 17 league games to play and surrendered on only three occasions – at Aberdeen, Hearts and, against all odds, Stirling Albion.
Following two blanks against the men from Govan, Joe McBride would get the opportunity to rectify the situation on the most glamorous of platforms – the Scottish Cup Final at Hampden in front of 126,599 fans on April 23.
Celtic went into the gala encounter as massive favourites. What could go wrong?
* TOMORROW: A BHOY CALLED JOE (PART FIVE)
Click Here for Comments >