JOE McBRIDE took a circuitous route before landing at his boyhood idols Celtic in the summer of 1965.
The burly, barrel-chested old-fashioned striker was determined to make up for lost time. In his three years at Parkhead, Joe fired in 86 goals in 94 appearances, an astonishing 54 of them coming in only 55 league games.
Today, CQN continues our EXCLUSIVE tribute to a forgotten Celt who was beset with serious injury to curtail a career that could have broken records.
Here is an edited extract from author Alex Gordon's book, 'That Season In Paradise', a publication that takes an in-depth look at the remarkable rise of a team that transformed from east end misfits to European masters in the sixties.
And a Bhoy called Joe played a massive role in that phenomenal change in the team's fortunes.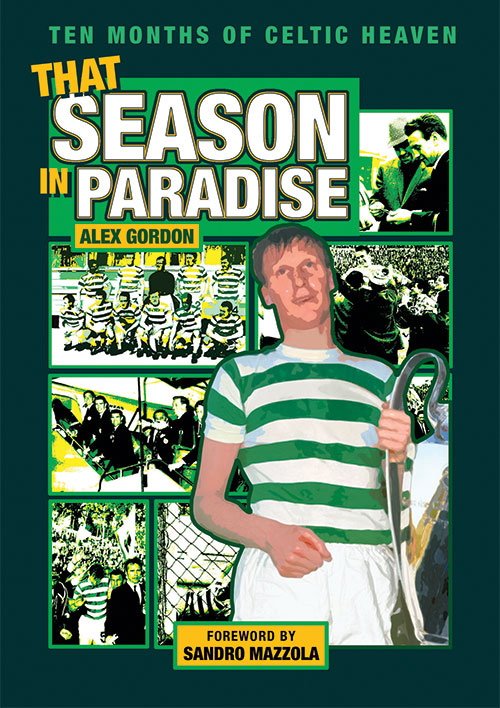 JOE McBRIDE scored his 86th goal for Celtic against Morton in front of a 23,000 all-ticket crowd on a nondescript, colourless afternoon in Greenock on Saturday October 26 1968.
It was enough to give the champions a 1-1 draw, but it was not sufficient to guarantee a future at the club for the diligent centre-forward.
McBride never appeared in the first team again and was sold to Hibs 10 days later, exactly two years and five months following his arrival as Jock Stein's first signing for the Parkhead club at £22,000 from Motherwell. It was all too brief a stay in Paradise for an honest, willing professional. And, as Jimmy McGrory pointed out, 'his heart was in the right place.'
It was somewhat ironic for the Govan-born McBride that events at Ibrox hastened his removal from Celtic. The Easter Road side had just accepted a Scottish record bid of £100,000 from Rangers for Colin Stein and urgently required a replacement striker.
They turned their attention to the east end of Glasgow and were heartened by the response from Stein: he was ready to do business and allow the 30-year-old attacker to move on a mere one month and three days after entrusting him with a place in his first team for a crucial European Cup-tie against St Etienne at Parkhead.
With Celtic trailing 2-0 from the first leg in France and their place among Europe's elite in jeopardy, the Celtic manager turned to his tried and trusted marksman, who had become a peripheral figure at the club. McBride scored as the Scottish champions somersaulted the encounter on its head, triumphing 4-0 in rollicking fashion, advancing to the next round and leaving the player with the belief things were beginning to turn around for him at his boyhood favourites.
Shortly afterwards, a phone call from a Hibs official to Jock Stein scuppered that notion.
IN THE NET…Joe McBride smashes a shot past Hearts keeper Jim Cruickshank.
The Celtic boss would never become famous for admitting to an error in judgement, but, later in life and in private moments, those close to Stein would relate tales of the manager accepting he may 'have been a wee bit too hasty' in dispensing with the services of McBride.
Certainly, there was no malicious motive in Stein selling the player, not even the merest hint of McBride being pushed towards the Parkhead exit. Such things are daily occurrences at football clubs up and down the country.
There can be little argument, though, the Celtic manager believed the striker's most prolific days were behind him. Records emphasise that wasn't the case and the player was still scoring goals beyond his 34th birthday. Even early on, Stein must have wondered about the wisdom of allowing McBride to leave when he scored a remarkable eight goals in his first three appearances for the Edinburgh team.
He marked his debut with a goal against Rangers at Ibrox on November 9, then rattled in a hat-trick against Lokomotiv Leipzig – the first Hibs player to score a trio in European competition – and rounded off a productive eight days with four against Morton.
After leaving Celtic, he claimed 57 goals in 109 league appearances in total – 44 for Hibs, eight for Dunfermline and five for Clyde before he called it a day. Joe McBride was simply a phenomenon who would score goals wherever his boots took him.
Stein once put it this way, 'Joe was a man who would stick the ball in the back of the net when he couldn't think of anything else to do with it.'
SIT-DOWN STRIKERS…Joe McBride and Bobby Lennox are grounded along with Dunfermline defender Willie Callaghan in a Scottish Cup semi-final at Ibrox.
McBride, in fact, netted four times in three games for Hibs against Celtic during his three years in Edinburgh. His first came in November 30 at Easter Road which made the score 1-1 at half-time before Joe Davis put the home side ahead with a penalty-kick in the 74th minute.
Celtic's reply was emphatic with four goals in an astonishing whirlwind spell with two goals from John Hughes and singles from Billy McNeill and Bobby Lennox making the final score 5-2.
McBride was afforded a standing ovation on his first appearance back at Parkhead on a crisp Monday evening on March 24 1969. The 30,000 home crowd gave him the welcome home he so richly deserved and the player responded by scoring the equalising goal in a 1-1 draw.
Willie Wallace gave Celtic an early advantage with a close-range header and it stayed that way with only 18 minutes remaining. Eric Stevenson, a tricky outside-left, dropped a cross into the box and, unaccountably, McBride, of all people, was left unmarked. He didn't hesitate as he lashed a shot beyond John Fallon.
On Saturday September 19 1970, Celtic arrived at Easter Road for a league meeting with Hibs. It was their fourth game of the campaign and Evan Williams had yet to concede a goal. In their previous match, they had fairly effortlessly beaten Rangers 2-0 with goals from John Hughes and Bobby Murdoch. They could even afford a squandered second-minute penalty-kick by Jim Brogan, replacing the injured Tommy Gemmell, with the ball going closer to Bridgeton Cross than Peter McCloy's goal.
IT TAKES TWO…Billy McNeill keeps a close eye on his friend Joe McBride in a game against Hibs at Easter Road.
A week later, the victorious sequence was obliterated with the Edinburgh side winning 2-0 and Joe McBride plonking two into the net after the turnaround, a stunning volley followed by a trademark tap-in.
Billy McNeill, who, ironically was McBride's partner in hotel and restaurant businesses, faced his former colleague on all three occasions. 'Joe wasn't out to prove anything in these games,' the legendary captain recalled. 'Anyone who knew Joe would realise that was the only way he knew how to play – it was always 100 per cent effort from him. The afternoon we lost at Easter Road, was a particularly sore one for us.
'Apart from beating Rangers 2-0 the previous Saturday, we had also scored nine in a midweek European Cup-tie against a Finnish team by the name of Kokkola. We were in a confident mood travelling through to the capital, but we were turned over and we could have no complaints or excuses.
OLD PAL'S AXE…Joe McBride pounces to score against Celtic keeper Evan Williams with Jim Brogan looking on.
'Joe made it as difficult for me as I did for him and neither of us would have expected or wanted it to be any other way.
'Big Jock took the decision to allow my pal to move on and people may have expressed doubts at the time, but you couldn't argue with the Boss when you looked at the reserve team back then and saw the likes of Kenny Dalglish, Lou Macari and Vic Davidson desperate to get into the team.
'He saw them as the future of Celtic and, of course, he was right. Joe McBride may have left and scored goals against Celtic, but, rest assured, no matter where he played or for whichever club, he was always one of us.
'Joe McBride was a Celt at heart right to the very end.'
* TOMORROW: A BHOY CALLED JOE (PART TEN)
Click Here for Comments >