JOE McBRIDE took a circuitous route before landing at his boyhood idols Celtic in the summer of 1965.
The burly, barrel-chested old-fashioned striker was determined to make up for lost time. In his three years at Parkhead, Joe fired in 86 goals in 94 appearances, an astonishing 54 of them coming in only 55 league games.
Today, CQN continues our EXCLUSIVE tribute to a forgotten Celt who was beset with serious injury to curtail a career that could have broken records.
Here is an edited extract from author Alex Gordon's book, 'That Season In Paradise', a publication that takes an in-depth look at the remarkable rise of a team that transformed from east end misfits to European masters in the sixties.
And a Bhoy called Joe played a massive role in that phenomenal change in the team's fortunes.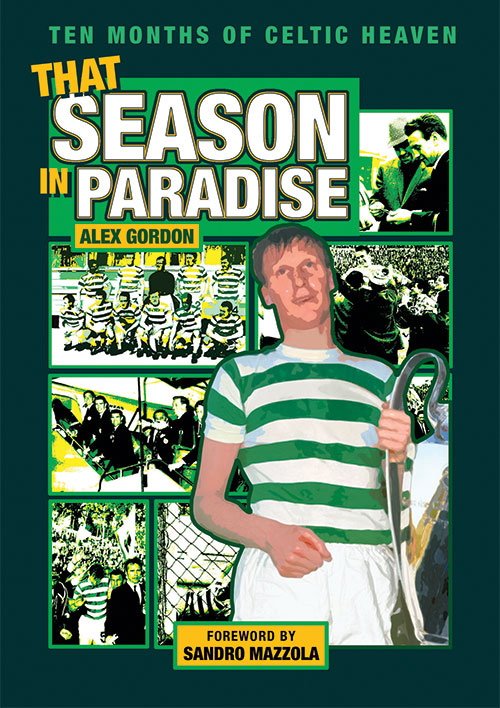 CELTIC were now three games – and four-and-a-half hours – away from winning their first championship since 1954 and Jock Stein was aware he would have to plot the way ahead without the services of his most resolute goalscorer.
Joe McBride was in the stand at Cappielow when Celtic took the first of the trio of hurdles against Morton on Saturday April 30 which followed swiftly on the disappointment of the Scottish Cup capitulation in the replay against Rangers. The first of Stein's trophies at Celtic had been surrendered negligently against inferior opponents.
However, the title was within the team's grasp and it was reckoned the most glittering prize the country had to offer would be more than acceptable as a fair consolation.
Bertie Auld said, 'No-one should mistake what losing the Scottish Cup to Rangers meant to Big Jock. Us players, too, of course. The win the previous year against Dunfermline was so important to this club and our fans.
'I've said that often enough. For me, it was the absolute foundation for everything that followed. You can be certain we had every intention of retaining that particular piece of silverware. We knew we were a better team than Rangers.
PENALTY-BOX PANDEMONIUM…Bertie Auld, Joe McBride and Bobby Lennox menace Dundee keeper Ally Donaldson.
'In 180 minutes of football against them at Hampden, I think they might have had two shots on target and they scored with one. Goodness only knows how many we had in the replay alone – double figures, at least. But the better team doesn't always win for a variety of reasons.
'Sometimes it's a fluke bounce of the ball, a lucky shot that could go anywhere, an individual error or a referee's decision. Fates decreed the Scottish Cup would be removed from our trophy cabinet and we didn't like that one bit.
'It was a learning curve, of course. Expectation levels among the fans had risen as the team's performances reached higher levels. However, in the space of just over a week, the players had to contend with the bitter disappointment of going out of Europe after being only half-an-hour or so from a place in the Cup-Winners' Cup Final and also losing the Scottish Cup.
'But we had to concentrate on the main prize, the First Division championship. I didn't always see eye to with our manager, but I have to say he was outstanding around that period. With the Big Man in our dressing room and in our corner, there was no chance of anyone being allowed to feel sorry for himself. And he knew just how to gee us up.
HAMPDEN HIGH JINKS…Stevie Chalmers fires a shot over the Rangers bar as John Hughes looks on in the goalless Scottish Cup Final. 
'He gathered the players around him before we got down to the nitty gritty of training at Barrowfield a day after the Cup Final loss. "Look," he said, "what trophy did we all want to win at the start of the season? The league title, right? Now we're three games away from our priority target. All we need to do is win the remaining three games and it's all ours. It doesn't matter what anyone else does. Forget what's happening up the road.
'If we win, we're the champions. And we all know we deserve that trophy. Our name is on it. Win it for yourselves, your families, your friends and every Celtic supporter. Win it for football's sake. We're the best team in Scotland. Now go and prove it."
'How could you fail to respond to that? How could we let anyone down? Suddenly, our chests were puffed up again.
'Big Jock could knock you down sometimes, but there were other occasions when he could lift you towards the clouds. Around that time of the defeats from Liverpool and Rangers and the subsequent bitterness of knowing we were the better team than both of them over the games, Big Jock showed a lot of character.
'He would have been as disappointed as the players, maybe even more so because he was such a perfectionist and a winner, but he stood up to be counted. I admired him for that. Maybe in the past, our heads might have gone down and stayed down, but he wasn't having any of that.'
ONE GOAL COMING UP…Joe McBride slides the ball past Dundee United keeper Donald Mackay and prepares to follow on and roll it into the net.
Dame Fortune, though, continued to scowl in the direction of Stein and Celtic. John Hughes would have been the ideal replacement to lead the line in place of Joe McBride, but he, too, had taken a knock against Rangers and had to be ruled out.
The Celtic boss thought long and hard about his line-up to face a Morton team desperately trying to remain in the top division.
The Greenock side had lost their previous six games and realised another defeat would consign them to the old Second Division. They were prepared to fight to the end. Stein announced his team just before the kick-off and, remarkably, it contained 10 of the names that would conquer Europe in Lisbon just over a year later.
Charlie Gallagher wore the number eight shorts and, of course, he was replaced by Willie Wallace against Inter Milan in the Portuguese capital almost 13 months later.
Tommy Gemmell recalled, 'Obviously, it was a massive game for us, but I was only too aware what the contest meant to Morton. I was told the players had been offered a helluva lot of money to stay in the top division.
'I knew their basic wage wasn't great and that would take a hit if they were relegated, so the players we faced that day at Cappielow were scrapping for their very livelihood. You could say it was a fair incentive for them to beat us.'
Celtic's lack of goals followed them to Greenock and Morton keeper Erik Sorensen wasn't unduly perturbed during a tentative opening period. And, in the 31st minute, Morton had the ideal opportunity to break the deadlock when the referee awarded them a penalty-kick while indicating Jimmy Johnstone had tugged Allan McGraw's jersey.
En masse, the Celtic players protested and insisted the infringement had taken place at least a yard outside the box, but the match official stood firm and pointed to the spot.
HEADS UP…Bobby Murdoch and Ian Young combine to thwart Rangers forward Willie Johnston.
The sun smiled radiantly on a perfect afternoon on Inverclyde, but the disposition of the travelling supporters among the 18,000 crowd didn't quite match the natural elements as Flemming Neilsen placed the ball 12 yards from goal.
Could it be possible that another Danish import would wreak havoc on Celtic for the second consecutive game? Neilsen strode forward purposefully while Ronnie Simpson did his best to second-guess his opponent. Cappielow was hushed as Neilsen's boot made contact with the ball and the serenity was shattered in an instant with the whoops of the Celtic fans as his attempt flew wildly over the crossbar.
A minute from the interval, Jimmy Johnstone scored his team's first goal in almost four-and-a-half games. It was no classic, but there wasn't a solitary complaint among the Celtic contingent present in Greenock as the outside-right reacted quicker than everyone else in a thickly-populated penalty area to strike a shot beyond Sorensen.
It was tense and taught throughout a nerve-riddled second-half with both sets of players displaying an energy and robustness as they met the challenge that offered the possibility of the title to one team and certain relegation to the other.
In the fading moments, Johnstone swung over a cross and his good friend Bobby Lennox headed the second and killer goal. The league table showed Celtic and Rangers in joint top position on 53 points, but the Ibrox side had played one game more on 33.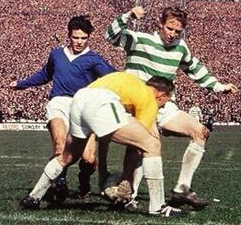 MY BALL…Ronnie Simpson and Billy McNeill block Rangers striker Jim Forrest.
Dunfermline, who had lost 2-1 to the Ibrox side on the previous Saturday, revisited Glasgow and Parkhead for the penultimate encounter on Wednesday May 4. Again, Celtic made life tough for themselves.
Jock Stein had little option but to go with the same line-up that had carved out the victory against Morton. Joe McBride and John Hughes were again spectators in the stand, their powerful goal threat frustratingly removed with the finishing tape in sight.
Over 30,000 fans were at Parkhead in the hope of watching Celtic clinch their first title in 12 years. Rangers were playing Clyde at Ibrox on the same evening and transistor radios appeared to be compulsory items for most of the fans. Faint hearts were few and far between in Glasgow that evening.
On the 29-minute mark at Parkhead, Celtic fell a goal behind. Alex Edwards, the Fifers' tricky little outside-right, swung in a corner-kick that somehow eluded every swinging boot until it dropped nicely for Alex Ferguson, totally unmarked at the far post. He didn't quite connect sweetly, but his effort had enough oomph to elude the dive of the startled Ronnie Simpson and crawl over the line. It was an absolute gift for the Dunfermline striker.
Jock Stein emerged from the dug-out, waved a clenched fist and growled at his players. Tommy Gemmell recollected, 'It was just your bad luck if you were playing on the wing next to Jock on the sidelines and he was giving it pelters. I haven't a clue how many times I was on the receiving end. It didn't matter if the place was packed, a complete sell-out, Big Jock always made himself heard. And he wasn't happy with our defending, I can tell you that.
WEE Mr MISCHIEF…Jimmy Johnstone on the ball.
'If the defence conceded a goal from a setplay, it normally meant we would be held back at Barrowfield the following day in training and Big Jock would go over and over how it was lost and what we had to do to make sure it didn't happen again.'
Bobby Lennox, within five minutes of Ferguson's goal, levelled with a brave header into the roof of the net after some nice interchanging between Jimmy Johnstone and Charlie Gallagher. Just before the hour mark, it was bedlam in Paradise when Johnstone snapped up a typical opportunistic effort.
Lennox, with that short backswing that startled most goalkeepers, caught out Eric Martin with a low drive from just outside the box. The goalie, who had been performing heroics, managed to parry the ball away, but the Celtic winger was onto it in a green flash and rammed it into the net.
It remained that way until the final whistle when news filtered through from Govan that Rangers had eased to a 4-0 triumph over Clyde. That result was met with derision among the Celtic support as they danced and sang and cavorted with unrefined glee.
They were convinced Celtic's trek through the labyrinths of failure in the championship were at an end.
One man remained to be convinced – Jock Stein.
TOMORROW: A BHOY CALLED JOE (PART EIGHT) 
Click Here for Comments >