JOE McBRIDE took a circuitous route before landing at his boyhood idols Celtic in the summer of 1965.
The burly, barrel-chested old-fashioned striker was determined to make up for lost time. In his three years at Parkhead, Joe fired in 86 goals in 94 appearances, an astonishing 54 of them coming in only 55 league games.
Today, CQN continues our EXCLUSIVE tribute to a forgotten Celt who was beset with serious injury to curtail a career that could have broken records.
Here is an edited extract from author Alex Gordon's book, 'That Season In Paradise', a publication that takes an in-depth look at the remarkable rise of a team that transformed from east end misfits to European masters in the sixties.
And a Bhoy called Joe played a massive role in that phenomenal change in the team's fortunes.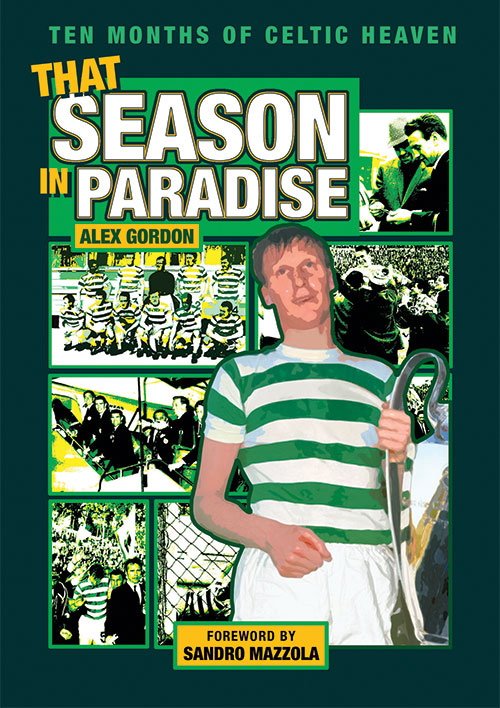 CELTIC manager Jock Stein had problems as he prepared for the 1966 Scottish Cup Final against Rangers at Hampden.
Bobby Lennox had sustained an injury against Liverpool at Anfield and had no chance of playing at the national stadium. That was more of a blow than Stein would care to admit.
Lennox's outstanding acceleration was a massive weapon against a fairly pedestrian Rangers central defence that relied solely on the strength of captain John Greig and centre-half Ronnie McKinnon.
Neither was a speed merchant and Lennox had enjoyed encounters at their expense. However, Stein was informed by the medical staff at Parkhead he would have to lay his plans for the Cup Final without Lennox.
It didn't help his mood, either, when he realised Bertie Auld, who thrived in the often-toxic Old Firm atmosphere, would also sit it out after picking up an SFA suspension following three bookings. Jimmy Johnstone and Charlie Gallagher came into the team in their places.
The notorious Hampden swirl was in evidence on the Saturday afternoon of April 23 1966 on the south side of Glasgow.  A crowd of 126,599 turned out to witness a fairly drab and unenterprising encounter where both teams appeared far too tentative.
HIGH HOPES…Billy McNeill leaps above the stranded Ronnie McKinnon, but, unfortunately his header thumped off the Rangers crossbar in the goalless draw in the 1966 Scottish Cup Final.
The nearest to a goal came from a header by Billy McNeill that soared high over keeper Billy Ritchie before banging off the face of the crossbar and being hastily booted clear by a frantic and relieved John Greig.
There was a singular scare for Celtic when the normally-reliable Ronnie Simpson left his line to deal with a long diagonal cross from the left wing. To the veteran's consternation, the ball appeared to hold up in the wind. His timing was off and he was actually coming back down from his leap when the ball arrived in the penalty box.
Rangers forward Jim Forrest, with an extraordinarily good strike rate against Celtic, raced in as he attempted to take advantage, but, thankfully, Simpson recovered his composure and grabbed the wayward object at the second attempt.
Joe McBride put in his usual 90 minutes' worth of dexterity, but, once more, had precisely nothing to show for his raw effort. The Glasgow Herald's chief sportswriter Raymond Jacobs observed, 'McBride had a header brilliantly touched away by Ritchie, but Celtic's leading scorer was, for the most part, an anonymous figure.'
For the first time in Jock Stein's tenure as Celtic manager, the team had gone three consecutive matches without scoring a goal. He knew he would have to rectify that dire situation against Rangers in the Cup Final replay the following Wednesday.
Once again, Stein was convinced his centre-forward would answer the call and Joe McBride led the line alongside Stevie Chalmers with an unfit Bobby Lennox again sitting in the stand.
THE MIDFIELD MASTER…Bertie Auld is on the ball.
Bertie Auld, free of suspension, came back into the midfield at the expense of Charlie Gallagher, who, rather strangely, played for the reserve team against St Mirren on the same evening at Parkhead. A crowd of 96,862 turned out at Hampden while Charlie performed in front of two men and dog across Glasgow. At least, the 'attendance' in the east end of the city watched the Celtic second string win 7-0.
Remarkably, at the national stadium and for the fourth game in succession, the Celtic forwards couldn't put the ball in the opposition's net. It must be said, though, that Billy Ritchie's goal led the most beguiling of charmed lives. How the Rangers keeper survived the bombardment will forever remain a mystery to anyone who witnessed the spectacle, this author included.
Bertie Auld was shimmying this way and that, strutting around while skipping away from clumsy challenges and creating havoc with his exceptionally astute deliveries. He was in the mood to introduce his opponents to a carnival of chaos and all he required was for his team-mates to respond.
In the first-half, Stevie Chalmers passed up two opportunities and John Hughes was also culpable after being set up by the midfield craftsman. After the turnaround, Billy McNeill headed narrowly past the upright, Ritchie held on well to a shot low down at his left-hand post from Jimmy Johnstone and McBride put Chalmers in the clear with a neat knockdown, but his frontline partner carelessly lofted the ball over the crossbar. A goal just had to come.
The Herald's man in the Press Box saw it this way, 'The vital goal was scored by Rangers' Danish right-back Kai Johansen 20 minutes before a relentless, at times ruthless, battle would have had to go into extra-time.
'It was a goal worthy of winning any trophy and its quality was matched only by its unexpectedness. Willie Johnston wriggled his way to the byeline on the left and when George McLean missed the ball a few yards out, it ran to Willie Henderson.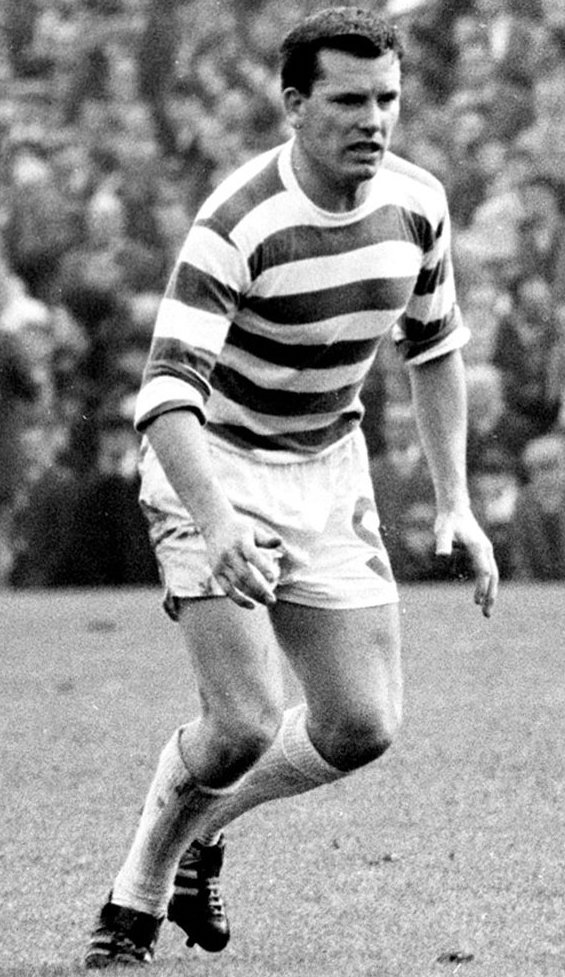 PENALTY-BOX PREDATOR…Joe McBride on the prowl for another goal.
'The winger's shot was cleared off the line by Bobby Murdoch out to Johansen, who let fly from 25 yards and the ball flew low and hard into the corner of the net.
'Thus are Cups sometimes won and in this instance the deed was done by a defensive member of the side whose forwards, compared with the opposition, had given little indication that they were capable of doing such damage by themselves.'
From Bobby Lennox's vantage point in the stand, he observed, 'I remember Celtic storming straight back at Rangers after that goal. If I recall correctly, Big Yogi ran down the left wing and pitched over a peach of a cross. In the busy penalty area, Joe McBride was first to react and thumped in a ferocious header.
'Billy Ritchie hadn't a clue where the ball was. It struck him on the shoulder, flew upwards, came down, ran across the top of the crossbar and, with what looked like half the Celtic team queuing up on the goal line to knock it in, suddenly veered in the wrong direction, as far as we were concerned, and flopped on top of the net.
'That just about summed up Celtic's luck in both of their matches against the Ibrox side.'
GROUNDED…Jock Stein is left in John Hughes' slipstream during training at Barrowfield.
McBride completed the game limping on the left wing with John Hughes taking over his role in the centre of attack.
In those unenlightened days before substitutes, managers were reluctant to render their line-up a man short and deployed an injured player to a role on the wing where they could at least be a pest to the opposition.
McBride, without complaint, did as he was ordered, but, at the same time, also did so much damage to a pulled muscle that his season ended as soon as referee Tiny Wharton placed the whistle between his lips and blew for full-time.
It had been a bad night all round for Celtic and Joe McBride.
TOMORROW: A BHOY CALLED JOE (PART SEVEN)
Click Here for Comments >