JOE McBRIDE took a circuitous route before landing at his boyhood idols Celtic in the summer of 1965.
The burly, barrel-chested old-fashioned striker was determined to make up for lost time. In his three years at Parkhead, Joe fired in 86 goals in 94 appearances, an astonishing 54 of them coming in only 55 league games.
Today, CQN concludes our EXCLUSIVE tribute to a forgotten Celt who was beset with injury to severely curtail a career that could have broken records.
Here is the final edited extract from author Alex Gordon's book, 'That Season In Paradise', a publication that takes an in-depth look at the remarkable rise of a team that transformed from east end misfits to European masters in the sixties.
And a Bhoy called Joe played a massive role in that phenomenal change in the team's fortunes.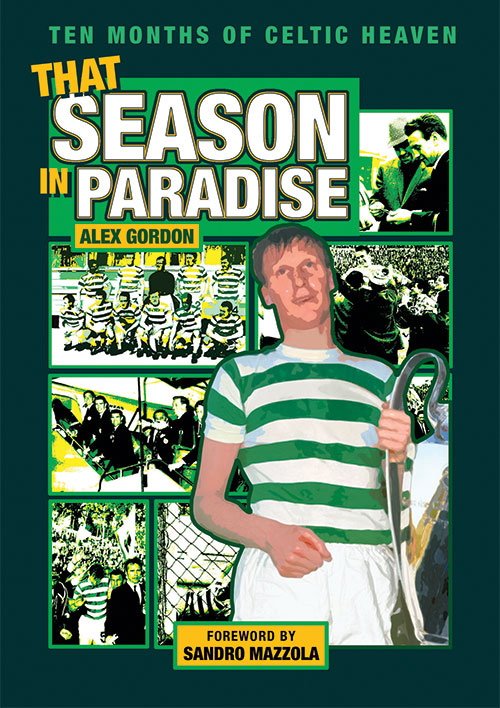 ALEX GORDON writes: At the very onset of putting this book together, it was my sole intention to concentrate wholly on the truly awesome 1966/67 campaign when Celtic were spectacularly triumphant, winning every single trophy for which they competed in sublime style.
The pinnacle of achievement, of course, was the breathtaking attacking performance that swept a manager, 11 players and a football team towards deserved legendary status when they pulverised Inter Milan into submission in the European Cup Final on an unforgettable May evening in Lisbon.
The League Championship was claimed for a second successive year and it was joined in the Parkhead trophy cabinet by the League Cup, the Scottish Cup and, just for good measure, the Glasgow Cup.
As David Coleman, the respected BBC TV commentator, put it so famously and so laconically, 'Celtic would have won the Grand National and the Oxford/Cambridge Boat Race, too, if they had entered.'
Yes, it truly was a season in Paradise.
And yet…
One notable name was missing from the Roll of Honour at the end of a stupendously successful sweep through Scotland and beyond.
Joe McBride.
Jock Stein's first signing for the club – at £22,000 from Motherwell in June 1965 – was in unparalleled goalscoring form as 1967 loomed into view. The unfussy, up-and-at-'em, old-fashioned centre-forward had fearsomely bulldozed his way to a phenomenal 36 goals before injury so cruelly and callously ended his previous seemingly-unstoppable surge towards the record books.
SPOT ON…Joe McBride thrashes a penalty-kick into the Partick Thistle net.
SPOT ON…Joe McBride tucks one away from St Mirren keeper Jim Thorburn.
SPOT ON…Joe McBride unleashes a screamer past St Johnstone's Mike McVitie.
SPOT ON…Joe McBride thunders one into the Falkirk net.
McBride, without warning, was knocked out of his stride during a 1-1 draw against Aberdeen at Pittodrie on December 24 after aggravating a knee problem. It would be a miserable Christmas 1966 in the McBride household.
The player, following an agonising process to regain the strength in his stricken joint, returned to the first team almost a full year later – on December 23 – and, remarkably, fired in a hat-trick as Celtic beat Morton 4-0 on a mudheap at Cappielow. His previous goal had come in a 6-2 triumph over Partick Thistle on December 17 the year before.
In the 12 months the team were robbed of his services, Celtic continued their charge towards success in Lisbon, another First Division title and a Scottish Cup. However, there was misery beckoning when Jock Stein's side missed the opportunity of being crowned world champions after three brutal encounters with the disgraced Argentines of Racing Club of Buenos Aires in the so-called Intercontinental Club Championship.
The European Cup was surrendered at the first stage, losing 2-1 in the east end of Glasgow before gaining a 1-1 draw in Russia against Kiev Dynamo with ten men after the referee, an Italian by the name of Antonio Sbardella, inexplicably sent off Bobby Murdoch and also ruled out what looked a perfectly legitimate solo goal from John Hughes. Yogi asked many times afterwards, 'How could I have been offside when I beat about three of their players before I battered the ball past their goalkeeper?'
Tommy Gemmell, demonstrating some gallows humour, would often add, 'Maybe the referee was an Inter Milan fan.'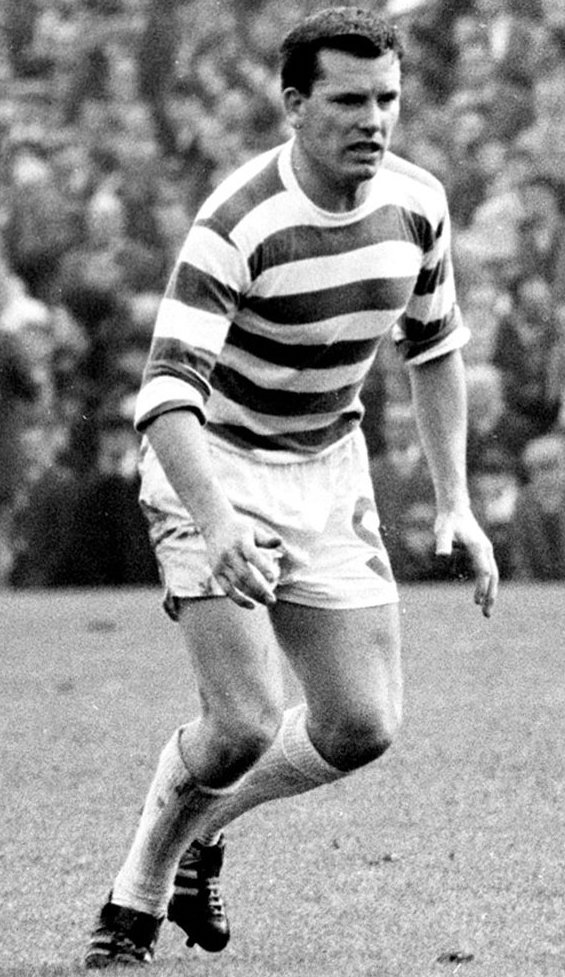 PRINCE OF THE PENALTY BOX…Joe McBride on the prowl.
The League Cup was reclaimed, however, when Stevie Chalmers, with a double, and singles from Willie Wallace, Bobby Lennox and Hughes shared the goal-gathering responsibilities in a thrilling 5-3 encounter against Dundee at Hampden on October 28.
Four days later, Celtic were involved in their return leg against Racing Club in South America and three days after that debacle they lost 1-0 in the Uruguayan capital of Montevideo during what has since become known infamously as 'The Second Battle of the River Plate'.
An anguished Joe McBride watched all three tussles from the stands, unable to assist his team-mates.
It would be well-nigh impossible to discover the utter frustration and the dark despair the player endured in the depth of those moments.
The 1966/67 campaign, that season of unsurpassable excitement and plentiful reward, had kicked off with the League Cup competition and Celtic had triumphed 2-0 over Hearts at Tynecastle. McBride put down his marker for what was to follow by rifling in both goals. He added an astonishing 11 in the next four games in the tournament, with four strikes coming against the unfortunate and vulnerable St Mirren in a rollicking 8-2 win in Glasgow.
McBride was also on target when the defence of the newly-won league championship got underway, with Clyde being dismissed 3-0 at Shawfield. He continued in the same vein as the months rolled by and the goals flew in with joyous regularity.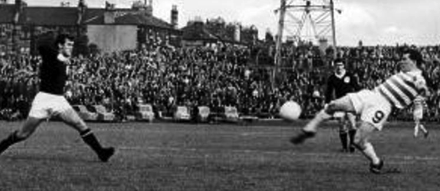 WALLOP..Joe McBride thumps one in against Dundee with defender Doug Houston too late to intervene.
THE LAST POST…Joe McBride squeezes in an effort from a tight angle as a Dundee United defender fails to curb his threat.
And then, on a freezing December afternoon at Pittodrie, fate, an unforgiving opponent, interrupted to dismantle a dream.
Years later, Joe McBride reflected on that traumatic period in his career. He said, 'Bayern Munich's Gerd Muller won the Golden Boot as Europe's top goalscorer in season 1966/67 and he admitted at the presentation that the award would have gone to me but for the damage that was done to my knee.
'The doctors thought I needed a cartilage operation, but the problem was caused by flaking bone behind my knee and it took a year out of my playing life. The pain of being denied the opportunity of seeing what kind of goalscoring figure I could have achieved will live with me until the day I die.'
Without even a scintilla of bravado, McBride added, 'Sixty goals would have been a possibility.'
On a July evening around seven o'clock in 2012, I received an unexpected telephone call at home. It was from Tommy Gemmell. There was no need for preamble. 'Joe McBride has passed away,' he said. Minutes later, I phoned Bertie Auld who had also just received the sad news.
Moments shared with two Celtic greats who, at that point, were mere human beings stripped of status, individuals with heavy hearts coping with the news of the passing of an old pal who would always be more than just a team-mate.
I hope, then, you understand, dear reader, I couldn't have written this book without Joe McBride receiving the accolade he so richly deserved.
He may have missed some of the acclaim and the applause, the cheers and the congratulations, the eulogies and the exaltations, but the fact he was a Celtic man right to the end could never be denied him.
Joe McBride had every right to a place in 'That Season In Paradise'.
Click Here for Comments >