JOE McBRIDE took a circuitous route before landing at his boyhood idols Celtic in the summer of 1965.
The burly, barrel-chested old-fashioned striker was determined to make up for lost time. In his three years at Parkhead, Joe fired in 86 goals in 94 appearances, an astonishing 54 of them coming in only 55 league games.
Today, CQN continues our EXCLUSIVE tribute to a forgotten Celt who was beset with serious injury to curtail a career that could have broken records.
Here is an edited extract from author Alex Gordon's book, 'That Season In Paradise', a publication that takes an in-depth look at the remarkable rise of a team that transformed from east end misfits to European masters in the sixties.
And a Bhoy called Joe played a massive role in that phenomenal transformation.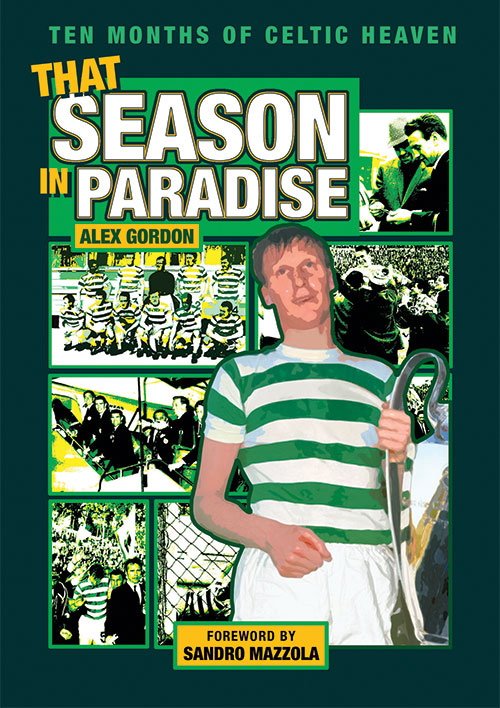 MYTHS and reality have gone hand-in-hand as willing, if unusual, partners in the world of football since the first pig's bladder was booted around a village somewhere back in time.
It is widely believed Jock Stein bought Joe McBride for £22,000 shortly after gathering his breath following the trailblazing Scottish Cup Final triumph over Dunfermline. Not so. In fact, McBride didn't sign on the dotted line for his boyhood idols until June 5, fully 41 days after the Hampden epic.
It had nothing to do with the centre-forward swithering about joining Celtic or trying to squeeze an extra fiver out of the Parkhead coffers with Dunfermline willing to pay considerably more for the player they had earmarked as the ready-made successor to fill Alex Ferguson's No.9 shirt. With Joe McBride involved, you could be certain there would be no such acts of skullduggery.
However, with continued reports of his boyhood favourites, following a puzzling and interminable delay, showing an interest, he had tabled a transfer request at the end of the 1964/65 league season and Motherwell were prepared to sell their top asset.
The truth of the matter is simple; the barrel-chested frontman was persuaded to stay at Fir Park for a little longer with the club involved in the revived, but ultimately short-lived, Summer Cup tournament. Ironically, Jock Stein had masterminded Hibs' win in the competition the previous year when the Edinburgh outfit defeated Aberdeen 3-1 in the play-off decider after a 4-4 stalemate following the two-legged Final.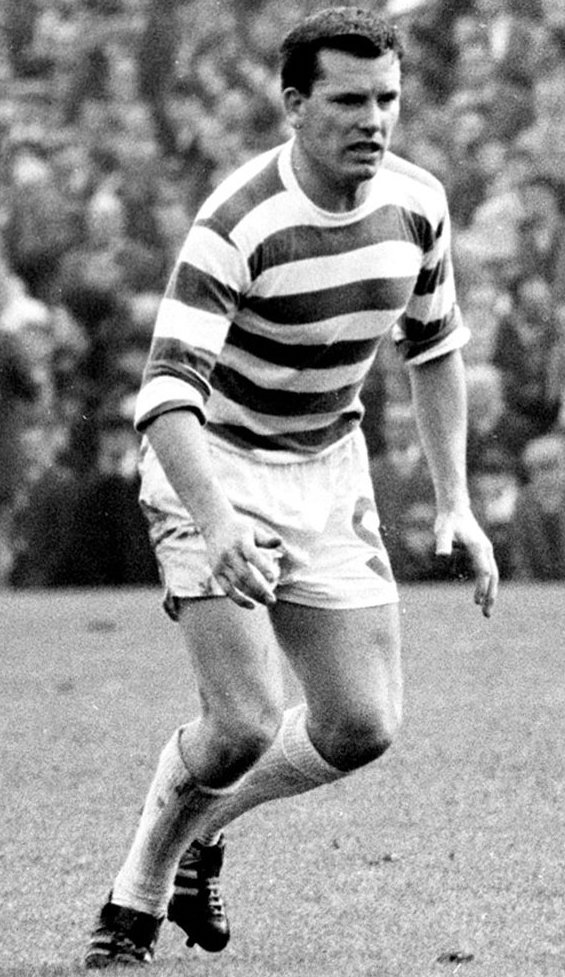 ON THE HUNT FOR GOALS…the prolific Joe McBride.
Motherwell had gone 13 years without a major trophy success – they had won the Scottish Cup in 1952 when they overcame Dundee 4-2 – and they had reached the home-and-away Final of the ill-fated tourney that endured for only two years.
They hammered holders Hibs 6-4 on aggregate in the semi-final and were due to face Dundee United, with the first meeting at Fir Park scheduled for Saturday May 29 and the return at Tannadice in midweek.
McBride led the Lanarkshire line-up to a 3-1 home victory and, although United won 1-0 on
Tayside, the Fir Parkers just edged it 3-2 on aggregate.
So, on June 2 1965, the Motherwell fans had something to celebrate following an end to their favourites' prolonged and barren years and, three days later, McBride became Jock Stein's first signing for Celtic. As is often the quirky manner in the beautiful game, Alex Ferguson withdrew his transfer request, remained at Dunfermline and was joint top league scorer with 31 goals at the end of the 1965/66 season alongside…Joe McBride.
During the summer, Jock Stein was ruthless as he plotted to build on the Scottish Cup success. He wanted to work with a smaller first team squad and over twenty youth players were shown the door at Parkhead. Big Jock wouldn't have lost a wink of sleep after being involved in such a dramatic cull of young talent.
Davie Hay recalls, 'I think I might have been Big Jock's first signing for the club. He took over in March and I arrived a month later. Prior to that, however, I had been asked to train at Celtic on Tuesday and Thursday evenings. Coming from Paisley, I was a St Mirren fan, but there was no looking back when Celtic came calling.
'Tommy Docherty attempted to take me to Chelsea and made an excellent offer. However, it was always going to be Celtic for me. As I arrived, one of the first things I noticed was that Big Jock was pruning the playing staff. He wanted the coaches to concentrate on smaller groups of players.
SIGN HERE, PLEASE…Joe McBride completes his move with Jock Stein, Sean Fallon and Motherwell boss Bobby Howitt looking on.
'He reckoned they should spend more time with certain individuals and, of course, it worked. I was lucky enough to get the nod. Many of our group were allowed to move on and, if fortune had smiled on them, they might have gone on to do wonderful things at Parkhead.
'Jim Holton, for instance, trained with Celtic while I was there. He was a big, raw centre-half, but he wasn't taken on. Jim went to West Bromwich Albion, kick-started his career, spent a year at Shrewsbury and was signed by Tommy Docherty for Manchester United in 1972.
'He was also a team-mate in the Scottish team in the World Cup Finals in West Germany two years later that returned home unbeaten, the first nation to be knocked out without losing a game. Jim was proof a few will slip through the net. No-one is going to realise the potential in every youngster, that's just not possible. Some take longer to mature than others. Some can bloom overnight after struggling for so long. It just happens.'
As Stein looked to the future, Hay, of course, arrived alongside side the likes of Kenny Dalglish, Danny McGrain, Lou Macari, George Connelly, Vic Davidson and Paul Wilson, an eager bunch of skilful teenagers who earned the nickname 'The Quality Street Gang'.
The Celtic manager's immediate target in the close season in 1965, though, was the Scottish First Division Championship. Conquering Europe was not in his thoughts; not at that point, anyway.
Interestingly, Celtic kicked off their nine-in-a-row championship-winning surge with their smallest squad of players in years with only 19 full-timers and nine part-timers with only two groundstaff as back-up.
WATCHFUL EYE…Jock Stein watches Ronnie Simpson during a training routine.
To bolster the squad, Stein turned his attention to the exotic and intriguing Brazilian market. Ayrton Ignacio and Marco di Sousa, inside-forwards from Sao Paulo, were jetted in for a two-month trial period. Another two exciting prospects, Jorge Farah and Fernando Consul, were being lined up to join them at the Scottish Cup winners. It was no gimmick, as many sceptics glibly claimed.
In the late fifties and early sixties, a fair percentage of South American talent – mainly from Brazil and Argentina – made its way to Italy. However, a transfer embargo halted the influx and Italian club sides were limited to a certain number of foreign signings.
Agents, mainly based in Portugal, were forced to look elsewhere to place their clients in Europe. Jock Stein, always innovative, tapped into the market in the hope they might have something to offer Celtic.
I watched Ignacio and Di Sousa in a reserve game against Motherwell at Parkhead – over 11,300 fans turned out that evening – and, from the little knowledge I had of football, I was hugely impressed by Ignacio. He scored a bewildering, swerving right-foot shot from an angle that almost tore a hole in the net and, at the age of 13, I left the stadium that evening convinced Big Jock had unearthed 'the new Pele' for Celtic. Didn't happen that way, of course, but it was a gamble worth taking.
Celtic's record in the league since winning the title in 1954 was nothing short of diabolical. Jock Stein must have been alarmed at the lack of belief and conviction among the players he had just inherited. Even Billy McNeill accepted the club's best chance of success would be in a knock-out competition rather than the marathon that was the league.
'We were ambitious enough as a set of players,' said the club legend. 'We were realistic, as well. Most years, by the time January was out, we were nowhere to be seen, as far as the league was concerned. That was when our focus would be diverted to the Scottish Cup.
'Winning that competition was a major deal back then, probably a lot more so than it is today. We discovered that fact in 1965, of course. We finished a lamentable eighth in the table, winning only 16 of our 34 games.
SPOT ON…Joe McBride wallops in a penalty-kick against St Johnstone.
'And, even with Big Jock behind us, we had horrible results like losing 5-1 to Dunfermline at East End Park only days after the Cup Final and there was also a ridiculous 6-2 loss against Falkirk at Brockville on the countdown to Hampden. Yet, after our victory over the Fifers, our supporters celebrated all the way through the summer. Our abominable form in the league wasn't mentioned.
'However, the Boss changed our mindset. In his typical blunt, forthright manner, he gathered the squad around him one morning at Barrowfield before the campaign kicked off and told us, "Right, listen. Every team is at the top of the league at the moment. No-one has won, no-one has drawn, no-one has lost.
'We're all lining up together for a very long race and we've got to believe we will be first at the end. Celtic Football Club is all about winners. Let's not be standing here this time next year talking about chasing others; we want them chasing us."
'You could say Big Jock got his message across. Suddenly, we realised that the odd Cup success every now and again was never going to be acceptable to Jock Stein. He was looking for us to become the dominant force in the country. As a matter of fact, he was insisting on it.'
Joe McBride was ready for the challenge, determined and anxious to make up for time scoring goals for other teams elsewhere. It had taken him eight years as a professional – and 115 league goals for five different teams on both sides of the border – before he was invited to take his sledgehammer skills to the east end of Glasgow.
He made his debut in the unlikely surroundings of a tiny football stadium in the Isle of Man in a Benefit Match for the Society for Handicapped Children. The game was played against Motherwell in a virtual downpour on a Wednesday afternoon on July 28 in front of 2,500 fans. It wasn't the most memorable baptism for McBride and it ended in the 12th minute after a clash of heads with his former team-mate John Martis.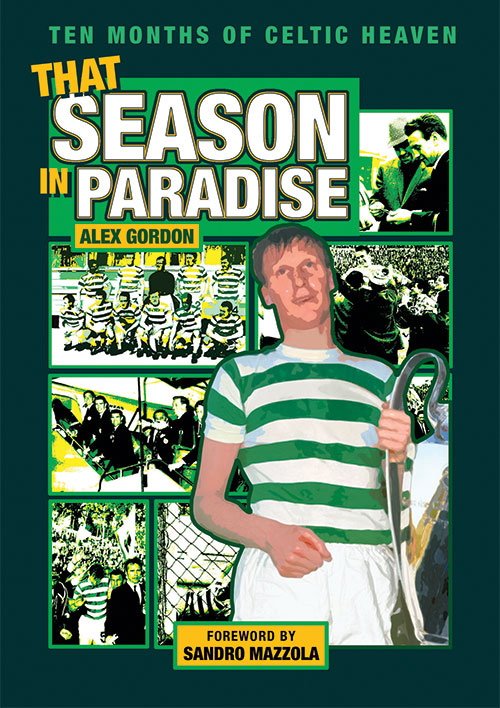 Stein might have wondered about the wisdom of taking only 14 players – including two goalkeepers – for the flight that morning to the holiday island. Stevie Chalmers replaced McBride and, in fact, netted the late equaliser after Ian Thomson had given the Fir Parkers an unlikely lead.
Before the end, Bertie Auld limped off with a thigh pull and Johnny Divers came on in his place. Thankfully, the match came to a halt before substitute keeper Ronnie Simpson was invited to display his outfield talent.
Normal service was resumed in the next friendly encounter, a meeting with Shamrock Rovers at Dalymount Park where Joe McBride walloped in his first hat-trick for the club as they thrashed their opponents 7-0. A crowd of 10,000 took in the action and, so typical of McBride's run-until-I-drop unselfish attitude, he was still battling away until two minutes from the end when he completed his trio. Bobby Lennox (2), Charlie Gallagher and John Hughes were the others to get on the scoresheet.
The players didn't have to raise their game above a canter in Dublin and must have expected a more testing confrontation when they arrived at Roker Park four days later to take on a Sunderland side that had just paid £90,000 – a huge fee in those days – for Rangers' left-half Jim Baxter.
The elegant, ball-playing Fifer boasted an excellent record against Celtic while performing on the other half of Glasgow's Great Divide, but that meant nothing on this occasion. John Hughes, in particular, was in the mood and ran amok while playing through the middle. Yogi thumped two efforts behind Scottish keeper Sandy McLaughlin while Joe McBride, Bobby Lennox and Bobby Murdoch piled on the agony in a 5-0 landslide.
ROKER ROAR…Joe McBride in action against Sunderland in the pre-season friendly at Roker Park where Celtic won 5-0.
The blase Baxter had sallied and sauntered through one-sided Glasgow derbies to maximum effect in the past while the Ibrox fans taunted their Celtic counterparts on far too many uncomfortable occasions. This time, though, the chants of 'Easy! Easy! Easy!' were reserved for Sunderland's record signing who, by the way, just happened to be a very good personal friend of Billy McNeill.
It wasn't long before McBride's dream was shattered. Due to knee and ankle injuries sustained on Wearside, his competitive debut appearance had been delayed until the third game of the League Cup, the tournament which was utilised to spearhead the new season back then.
Celtic had kicked off the competition with a 2-1 loss to Dundee United at Tannadice which prompted Jock Stein to say, 'We can do better. We know that and we will be trying to prove that when we play Motherwell on Wednesday. However, we're not blind here. We were beaten by a good team and the Dundee United players deserve credit for doing so well.'
In midweek at Parkhead, Stein watched his side scrape their way to an unimpressive 1-0 win over Motherwell. Stevie Chalmers led the line on both occasions, but had failed to score – Bertie Auld and Johnny Divers had been the marksmen in the respective games – and Stein took the opportunity to replace him with a fully-fit McBride. Dundee, with a strong line-up, arrived in Glasgow on August 21 and went home with a 2-0 victory, Kenny Cameron scoring both goals in the space of nine second-half minutes
Tommy Gemmell played that day. He remembered, 'That defeat actually gave us a well-deserved boot up the backside. We hadn't performed well and we couldn't argue that Dundee deserved their win. As you might expect, Big Jock was fuming. He was eager to start the new season the way we had finished the previous one and that meant winning a trophy and, of course, the League Cup was the first one up for grabs.
'And, yet, we had started with two defeats in three games and we weren't too convincing in our win over Motherwell, either. It was fairly obvious we had to get our collective finger out. And fast!'
Mr GOALS…Joe McBride poses for the cameras.
Rather bizarrely, the powers-that-be dictated the Scottish First Division should not kick off on a Saturday, but, instead, moved the opening fixtures to Wednesday August 25. Celtic were due to begin the campaign with a trip to Tannadice to take on a Dundee United side that had actually finished the previous league season one point adrift of the Glasgow outfit.
They had been good enough, though, to inflict an opening-day League Cup defeat on Celtic and were confident of registering more punishment on their rivals.
From nowhere, Celtic began firing on all cylinders. They eased their way to a 4-0 success with Johnny Divers scoring the first goal in the memorable procession to nine successive championship victories. He netted early on, but the loudest cheer from the travelling fans was reserved for the 52nd minute when new boy Joe McBride slammed a pass from Stevie Chalmers, in for Jimmy Johnstone on the right wing, past keeper Donald Mackay from 12 yards.
Four minutes later, Ian Young, a steady and dependable right-back, slotted in a penalty-kick after Bobby Lennox had been downed and Tommy Gemmell, the cavalier left-back, rifled in a 25-yarder in the 65th minute to complete the scoring. It was a remarkable transformation in the space of only 11 days on Tayside.
A local sports reporter was moved to write, 'There was a champagne quality about the play of this latest Celtic blend. Victory was the product of teamwork and they were an impressive balance of speed, skill and spirit. The Parkhead forwards, backed by a defence that moved swiftly out of retreat, performed with a directness that eventually told on their opponents.'
Praise indeed. So, it was one down and 33 games to go in pursuit of the club's first Scottish crown in 12 years.
TOMORROW: A BHOY CALLED JOE (PART FOUR)
Click Here for Comments >