FORMER Celtic skipper Andy Lynch, who is in Australia at the moment, has asked CQN to pass on a message to The Lisbon Lions on this very special day.
Andy scored the winning goal in the Scottish Cup Final in 1977 and captained the Celtic side for the majority of the 1978-79 season when Danny McGrain was out injured. He is one of the Ten Men that Won the League.
Here is Andy's message to the Lions…
"Congratulations and happy anniversary to the Lisbon Lions.
"I'm visiting my family in Australia but will celebrate the magnificent achievement of that phenomenal group of players.
"I was 16 when they achieved immortality.
"They were and still are my heroes. Billy McNeill was and still is my favourite player.
"When I signed for Celtic in 1973 Billy, Bobby Murdoch, Jimmy Johnstone and Bobby Lennox were still there. I was so impressed by their humility. They genuinely made me so welcome, and gave me good advice.
"After all they achieved, they were still humble people. And that passed through all the players. I'm convinced it came from the manager Jock Stein and his assistant Sean Fallon.
"I'm very proud being an ex Celtic player and like so many more we never managed to reach the heights of the Lisbon Lions.
"There has been some great Celtic teams and achievements since 67, but we stand back and acknowledge the finest Celtic team in our glorious history on today of all days.
Andy Lynch
ALSO ON CQN TODAY
Moussa's Back!..READ HERE
Rodgers get transfer pledge…READ HERE
Hampden win would be special for Brendan…READ HERE
The latest on the Celtic supporters currently in Lisbon…READ HERE
The most important Celtic goal ever!…READ HERE
Celtic were superhuman…READ HERE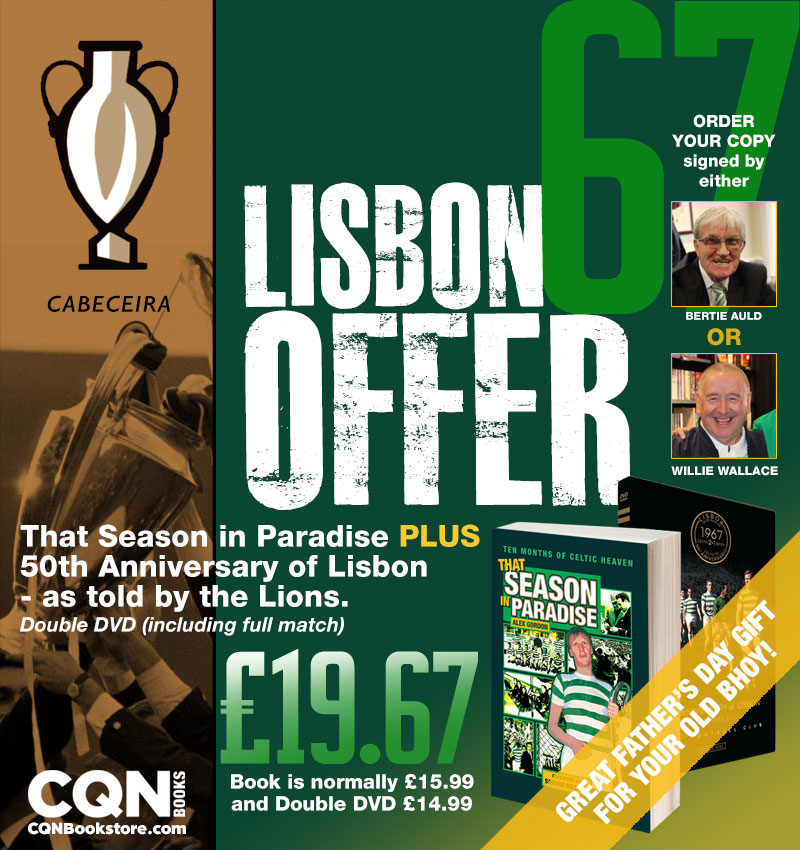 Click Here for Comments >