THE signs are excellent for Ange Postecoglou and the Parkhead powerbrokers.
The Celtic boss has been involved in a blizzard of signings since he arrived at the club in June last year and the Greek-Australian gaffer reckons the board trust him completely to spot the right players.
Postecoglou has just added US international centre-back Cameron Carter-Vickers, 24, and 23-year-old Portuguese winger Filipe Jota on permanent deals after their superb season-long loans from Spurs and Benfica respectively last time out.
TACTICS TALK-IN…Ange Postecoglou and new first-team coach Harry Kewell have a chat during a break at their Austrian training HQ. Image courtesy Celtic TV.
Left-back Alexandro Bernabei, a £3.75million arrival from Argentinian top-flight club Lunas, and Swiss keeper Benji Siegrist, a free transfer, have also joined up in recent weeks as the manager continues to strengthen his squad for a joint assault on the domestic and European fronts.
Postecoglou had been earmarked by Peter Lawwell and brought to Glasgow just three weeks before he left his chief executive role and the former Australia World Cup chief referenced his successor Michael Nicholson and finance director Chris McKay as two individuals who have given him crucial and solid backing.
The 56-year-old title-winning coach said: "The whole club has been really supportive of me.
A BIG HAND…Cameron Carter-Vickers will be a Celtic defensive rock in the new season.
"With Michael and Chris and the board and the key decision-makers, I think there is a fair bit of trust.
"I had to earn that trust last year, particularly in the first window. I think they feel like they understand me and what I'm trying to do. That makes things a lot easier.
"It's not really a battle for me to try to convince people. I'm totally understanding of the kind of markets we need to be looking at and financially, where we are.
"So I think that there is an alignment there within the whole club.
"That's what I am saying. We're not stressed about our situation. We will bring in one or two players, but I'll make sure they are the right ones."
Asked if spending something in the region of £17.5million on new recruits was a major statement of intent ahead of their title defence and a place in the Champions League group stages, Postecoglou, speaking to the Scottish Sun, answered: "Yeah, I believe so.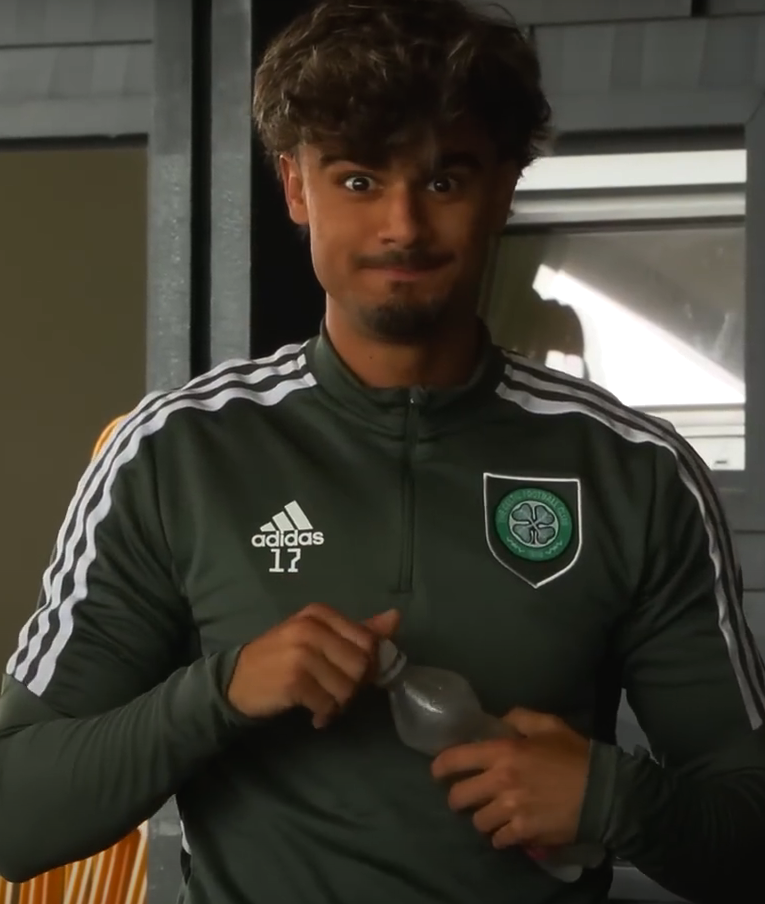 LOTTA BOTTLE…Filipe Jota has a quick drink of juice before a training session in Austria.
"I don't think that was ever in doubt — the club have supported me from the moment I've come in.
"You saw that back in January, we brought in four players in that window pretty quickly and that was a real sort of pivotal point in our season and our attempt to win the league.
"They have done the same now. The club understands the vision we have, what we want to create and what we want to build.
"We're still in the building phase and with Jota and Cam it's not just about that we've got two quality players in permanently.
"We know what they are like as people and we know they really fit with the culture.
"I think the best is ahead of them. They are both at a good age where we're going to get some improvement out of them."
Click Here for Comments >