ONE of the most technically gifted players to have graced the Hoops, Lubomir Moravcik made 129 appearances for Celtic and scored 35 goals in a Celtic career that the Celtic support remembers more than fondly…
Moravcik signed from German side Duisburg in 1998 by Dr Joseph Venglos.
The new signing didn't exactly overwhelm the support. He attracted some rather harsh treatment from the media who used his signing as an excuse to denigrate Celtic's 'biscuit-tin mentality'.
Hugh Keevins was quick to put the knife into Celtic in his column in the Sunday Mail:
"I don't know what I find more laughable; the fact that Celtic cannot find £500,000 from their biscuit tin to sign a proven talent like John Spencer, or the fact that they then spent £300,000 on one of Dr. Jo's old pals, the unknown Lubomir Moravcik"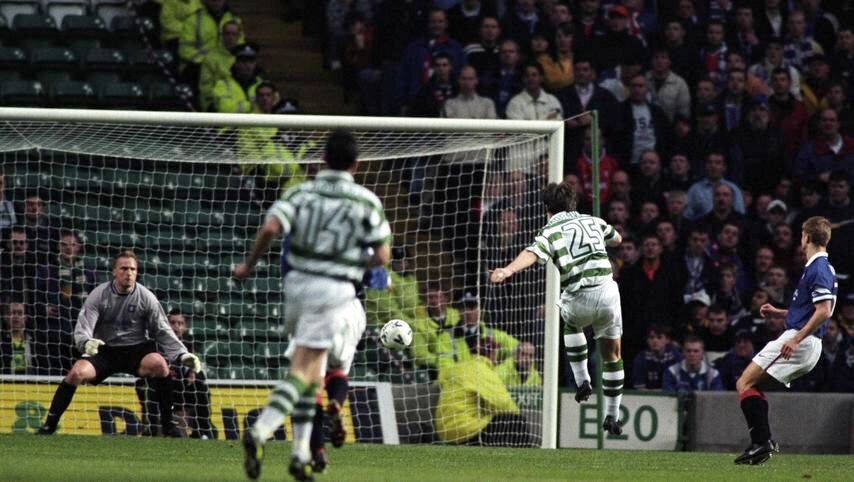 Lubo began his career at Celtic with a masterful debut against Dundee United in which he was instrumental in a 6-1 win.
However, his legend was confirmed when Celtic met Rangers at Parkhead and Lubo scored twice in a 5-1 victory.
It would be easy to reminisce and recount any number of games in which Lubo delighted the Parkhead faithful, but we would be here all day. However, particular highlights include another double against Rangers in a 3-0 win in 2001 and Celtic's 4-3 victory against Juventus in the Champions league.
Since leaving Celtic Lubo has remained involved in football. He had spells coaching the U17s for Slovakia and in 2009 was coaching for Vion, a club in his homeland.
Initially he dreamt of a return to Celtic as an assistant manager to another legend, namely Henrik Larsson when he stated his intention to return as manager one day, but he is about to go head to head in the managerial game at Celtic Park later this month and his opponent in the other dug-out will be his great friend, Henrik Larsson.
Lub, in an interview a number of years ago said: "It would be fantastic if he (Larsson) was to come back to Celtic. He is one of the club's greatest heroes. I would be delighted to train a team with him and I'm sure we could work well together."
Unfortunately, Lubo was not cut out for coaching. He lasted only 6 months at Vion. By his own admission, Lubo was not good at it. After, his brief spell in coaching he was keen to diversify and quickly sought out other avenues in football.
Speaking to the BBC he said "I would prefer now a new business in football – not coaching. I wasn't good at it, It's very hard to be a coach. I would like to have more time to do something." Although, in what could be deemed a parting shot at his former team he did also say that "It's not always the manager who is responsible for the results."
Lub moved on to work as an agent in Slovakia and claims to be keeping his eye out for future footballing superstars that may one day pull on the hoops.
Even as an agent it can't be said that Lubo lacks ambition.
Speaking in 2011 Lubo said "A Lionel Messi comes along once in 100 years but you'll never find one unless you look everywhere."
Given that a player of Messi's ability may be quite difficult to find for a while then, perhaps the Celtic fans could settle for Moravcik uncovering the next 'Lubo' and convincing them to sign for the hoops.
Perhaps it's for the best that Lubo's career after football has not yet brought him back to Parkhead in any meaningful way. This way the Celtic fans can remember him as a brilliant player and not a bad manager.
Lubo has come back Paradise a few times to play for Celtic in a legends games against Man Utd and in the Stan Petrov game.
"I'm looking forward to seeing those who gave me the happiest years of my life and meeting the players who made up one of the most successful Celtic teams,"  Lubo said.
Lubo takes on Henrik at the Foundation game on Sunday 28 May at a sold out Celtic Park.
The only problem we have is decide on which team to support, Lubo's or Henrik's.
For once we'll all be neutral.
Click Here for Comments >