DEREK McINNES will have been flattered at the weekend when Brendan Rodgers advised the SFA that they should look to the Aberdeen boss to replace Gordon Strachan as Scotland manager.
The Celtic boss has been impressed by McInnes since arriving in Scotland and has often spoken about the outstanding job he has done at Pittodrie.
Rodgers was happy to allow Ryan Christie to go back to Aberdeen for a second loan spell in the summer, this time for an entire season, and also to recommend to Gary Mackay-Steven that he would be better placed going to Pittodrie where McInnes could develop his game, rather than choose the options available to him down south.
Mackay-Steven will undoubtedly be out to prove a point tonight against his old club while Christie will be watching from the stand.
McInnes remains annoyed at his side's failure to lay a glove on Celtic last season, 4 league defeats were bad enough but when you add to that two cup final losses, then the hurt is understandable.
McInnes believes he has his side ready to deliver a long sought after victory tonight, in what will be one of the matches of the season in the Scottish Premiership.
"It's been eagerly anticipated. We're just bursting to play the game," McInnes admitted.
"The players have been terrific with their training. Game can't come quick enough.
Referring to Celtic's 60-match unbeaten domestic run, McInnes acknowledges that it "is a record that deserves huge credit. It's not an easy thing to do. Of course, they've got the best squad but keeping that squad motivated and focused for each and every game isn't always an easy thing to do.
Record or no record, McInnes remains full of confidence ahead of the visit of the Invincibles.
"But, you're not trying to tell me we can't win a game against them.
"It's a tough ask. They're the team that gives you the biggest challenge. They ask you more questions than any other team, got more attacking threats than any other team," the Dons boss admitted.
"We're confident. We've got to be confident in our own work that we've got the players here that can light up the game and produce good stuff in the game and be what they are and go and take the game to them, but mindful of the qualities that they possess and making sure that we try and do our work in a measured way at the same time."
His captain Graeme Shinnie, contrary to what most commentators are suggesting, does not think that the Aberdeen rest period that they have enjoyed since their fine win at Easter Road a week ago on Saturday, gives them much of an advantage over a tired Celtic side that has played in Munich in the Champions League and at Hampden in the Betfred Cup semi-final in that time.
"I personally don't think it will have a massive bearing on the game," Shinnie said.
"It might obviously hamper them a wee bit, but with the resources they've got and the squad that they've got, I'm sure they'll be able to handle that.
"The best thing for them was coming off the Hibs game with a win and getting to the final. They'll be in a positive mood after that. They'll come up here as confident as ever. It will just be a normal game.
Shinnie revealed that the Dons have noticed that Celtic are a little more generous in losing goals than they were last season, and he hopes that his team-mates can capitalise on any defensive mistakes this evening.
"We can always take positives from the fact that they have been conceding more goals lately. The unbeaten run that they're on is obviously an incredible achievement but we need to try to pick holes that we can exploit to try to win.
The noisy home support will of course be matched by the much smaller band of Celtic fans, there at their first game since being crowned as The Best Supporters in the World by FIFA.
"Being at home with the crowd that will be at Pittodrie, it's a good opportunity for us," the Aberdeen skipper stated.
"It's never going to be easy. Celtic have a strong squad and they're on the run they are because of that. We know it's going to be a tough test but if we play to our capabilities, it's a game we can win."
Nir Bitton, likely to start as a central defensive partner to an in-form Boyata, is a player that Aberdeen plan to target in their pursuit of weaknesses in the Celtic starting eleven.
"He's a good player but if he's playing out of position then, potentially, it could be an opportunity for us. We've got good attacking players and we know we can score goals so it's a case of trying to keep a clean sheet and then trying to build on that," Shinnie revealed.
"We've had team meetings as we do before every game.
"We try to pick out their weaknesses and see where we can exploit. It's obviously a wee bit tougher when you're going up against a team who haven't lost a game in 60 domestic games, but we have to try and pin-point something we can take advantage of.
"We need to be, first and foremost, at the top of our game and making sure we're up for the fight. We need to show a bit of quality on top of that."
"Celtic will have players who will come in who probably didn't play on Saturday, maybe ones who played against Bayern Munich last week.
"They have the squad depth to cover all the games that come at once.
"No matter who'll be play we know it's going to be a really strong Celtic team.
"We need to combat that by being at the top of our game and giving the crowd something to cheer on and drive us forward.
"We're not Bayern Munich but we need to try to replicate what they did. Celtic lost two goals against Hibs on Saturday so we need to look at how those were conceded.
"We have to try and pick weaknesses but obviously it's hard because they're a really good team.
"However we have players in our changing room who can hurt them."
AND DON'T FOGET THE LAST MEETING BETWEEN THE SIDES ON THAT WONDERFUL AFTERNOON AT HAMPDEN…
The last time we faced Aberdeen, something special happened. pic.twitter.com/N2qUsBX7sF

— Focus on Celtic (@FocusOnCeltic) October 25, 2017
Incidentally, have you seen the Celtic players pay tribute to the greatest fans in the world yet?
The players send their appreciation to all the #CelticFC fans for being #TheBest! pic.twitter.com/rgH4Kao7mv

— Celtic Football Club (@celticfc) October 24, 2017
Meanwhile there's a new CQN Podcast out where we look at how Celtic reached the final in the 4-2 win over Hibs.
Kevin Graham hosts our match day podcast from Hampden on Saturday and this features some of FIFA's Best Supporters in the World.
This week's Matchday Special saw Brendan Rodgers' side carry a 59-match undefeated domestic run into the League Cup semi final against Neil Lennon's Hibs.
Kevin provides pre and post-match discussion as well as in-match analysis in what will be a regular Celtic State of Mind feature.
JUST OUT! MATCH DAY SPECIAL CQN PODCAST FROM HAMPDEN, FEATURING SOME OF FIFA'S BEST FANS IN THE WORLD…
ORDER Charlie Gallagher? What a Player! and we'll send you a copy of The Winds of Change for FREE only at www.cqnbookstore.com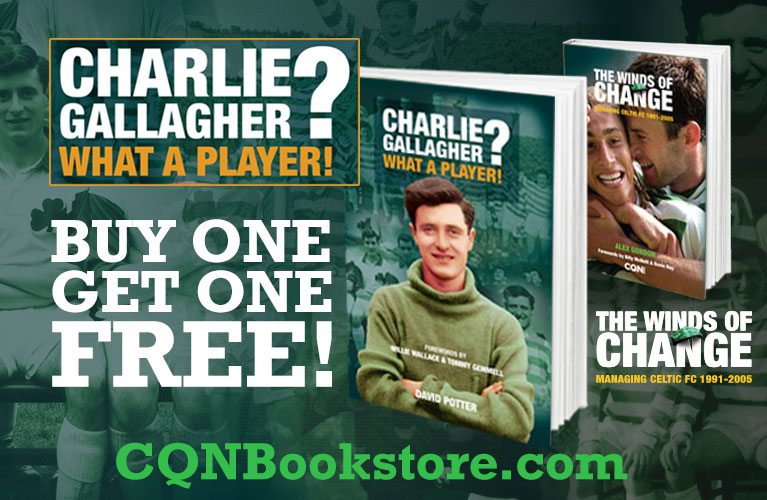 Click Here for Comments >