"Football is nothing without Fans"
"I enjoy being manager here, because I like the people who support us."
"Celtic jerseys are not for second best, they don't shrink to fit inferior players."
"I'd far rather talk about players, they are the people who make things happen."
"You're too fond of Charlie Gallagher and Harry Hood. You wouldn't win a league with 11 Charlie Gallaghers or Harry Hoods. "
" There is no substitute for experience. "
"If they were interested in what I had to say they would get here in time. The door stays shut!"
(Jock Stein on barring late coming journos to his press talks)
"I think we could win everything in front of us. I think this could be a season to remember."
Jock Stein to various players at the start of the 1966/67 season, quoted by Archie Macpherson.
"Jock, if there were two players, one Catholic and one Protestant. Who would you sign?"
"The Protestant"
"Why?"
"Because I know that Rangers would never sign the Catholic"
Winding up Rangers FC over their bigoted signing policies.

TV Presenter : 'Scott Symon, Rangers manager, what do you think the score will be in the Old Firm match'
Symon : I think 2-0 to Rangers
TV Presenter : 'And you Mr Stein what will the Old Firm score be?'
Big Jock : 'Only a fool would try to predict the score in an Old Firm game.'
"Surely there are enough Celtic songs without introducing religion or politics or anything else."
After 1972 game against Stirling when he jumped into the Celtic crowd to stand up to individuals singing sectarian songs.
"I lost some friends when I made the move, but if that's what matters to them, then they're not really friends at all."
On his move to Celtic which led to him being shunned and dismissed by his old 'friends'.
"It is up to us, to everyone at Celtic Park, to build up our own legends. We don't want to live with history, to be compared with legends from the past. We must make new legends."
"We all end up yesterday's men in this business. Your're very quickly forgotten."
Jock Stein in Archie Macpherson's book "The Great Derbies: Blue and Green" (1989).
"The best place to defend is in the opposition penalty box."
'I feel we have the players fit to wear the mantle of champions of Europe. I have told them so. Now it's up to them.'
Jock Stein after beating Vojvodina Novi in the QF of the European Cup, 1967
"If you're good enough, the referee doesn't matter."
One time being accosted by one of the knuckle-draggers:
Rangers fan: 'You only won the European Cup because you had 5 Protestants in your team',
Stein (himself a protestant) responded: 'Well you've never won it and you've got eleven.
'"It's not Religion that's the problem – it's the lack of religion!"
"I'm happy where I am, I like the people I work with, I like the players and the directors of this club but most of all I like the fans and to see them happy makes me happy so I'm very happy here."
When asked about Man Utd showing interest in getting him to manage at Old Trafford in early 70's.
On Lisbon 1967 and Winning the European Cup
"My time will come!"
Jock Stein to John Mackenzie of the Scottish Daily Express, prior to European Cup final 1967 after enduring snubs and mind games from opposite number Herrera (Inter Milan Manager).
Stein's inspiring pre-match battle cry was: "If you're ever going to win the European Cup, then this is the day and this is the place. But we don't just want to win this cup, we want to do it playing good football – to make neutrals glad we've won it, glad to remember how we did it."
Jock Stein before the game 25th May 1967.
"I am now going to tell him (Herrera) how Celtic will be the first team to bring the European Cup back to Britain. But it will not help him in any manner, shape or form: we are going to attack as we have never attacked before. Cups are not won by individuals, but by men in a team who put their club before personal prestige. I am lucky – I have the players who do just that for Celtic"
Jock Stein 23rd May 1967.
"We must play as if there are no more games, no more tomorrows…"
Jock Stein, shortly before kick off in Lisbon.
"We don't just want to win the European Cup. We want to do it playing good football, to make neutrals glad we won it, please to remember how we did it."
Jock Stein before the European Cup win in 1967.
After winning the European Cup…
"We did it by playing football. Pure, beautiful, inventive football".
"There is always a time to move on."
"This team will never be beaten!"
Jock Stein to Bill Shankly on bus back, overheard by Bertie Auld.
"There is not a prouder man on God's Earth than me at this moment. Winning was important, aye, but it was the way that we have won that has filled me with satisfaction. We did it by playing football. Pure, beautiful, inventive football. There was not a negative thought in our heads. Inter played right into our hands; it's so sad to see such gifted players shackled by a system that restricts their freedom to think and to act. Our fans would never accept that sort of sterile approach. Our objective is always to try to win with style."
Jock Stein, 1967
WHAT THEY SAID ABOUT JOCK
"I always thought Jock Stein was the perfect international manager. But you (England) don't have anyone like that. You don't have Jock Steins, you'll never have a Jock Stein." Alex Ferguson
"I am proud to say that I knew Jock Stein as a manager, as a colleague and as a friend… he was the greatest manager in British football… men like Jock will live forever in the memory." Bill Shankly
Bill Shankly to Jock Stein in the Dressing room just after they won the European Cup (1967)
"John, you're immortal now!"
(Jock Stein in turn just laughed…)
"The greatest manager in the history of the game. You tell me a manager anywhere in the world who did something comparable, winning the European Cup with a Glasgow District XI."  Hugh McIlvaney (journalist) in his documentary "Busby, Stein and Shankly: The Football Men 1997"
"The problem for us is that Big Jock and his players spoiled it for everyone who came after them…" Lou Macari, on becoming Celtic Manager (1994)
'I've got a vivid memory from 1965, when it was announced he was coming back from Hibs, of Billy McNeill saying, "Oh thats fantastic! Wait and see how things change now!".' John Divers, 1995 on the return of Jock Stein to the club as manager.
Another wee story about the big man….
As I was born and raised just across from Barrowfield training ground a few of us used to go and watch the training sessions. The players played a game whereby they could only touch the ball twice, one to trap/control and then pass.
This day Tommy Gemmell and Big Yogi had started to argue and Big Jock Stein came over to find out what had happened, it went like this…
Jock " Whits gone on here."
Tam " Yogi's cheatin, boss , he's touched the ba' three times." ( which he did )
Yogi " Naw ah didnae, boss, he's makin it up tae get a free kick."
Jock " Carry on Yogi, nae free kick."
Tam " Ats no fair boss he did touch it mair than he's sayin."
Jock " Ach everybody knows Catholics don't tell lies."
(From "Ally Les Verts" of the KStreet forum May 2007 Source).
Special thanks to the always excellent Celtic Wiki. More on this feature can be found here:www.thecelticwiki.com/page/Jock+Stein+-+Quotes
FROM CQNBOOKSTORE.COM 
Jock Stein – The Definitive Biography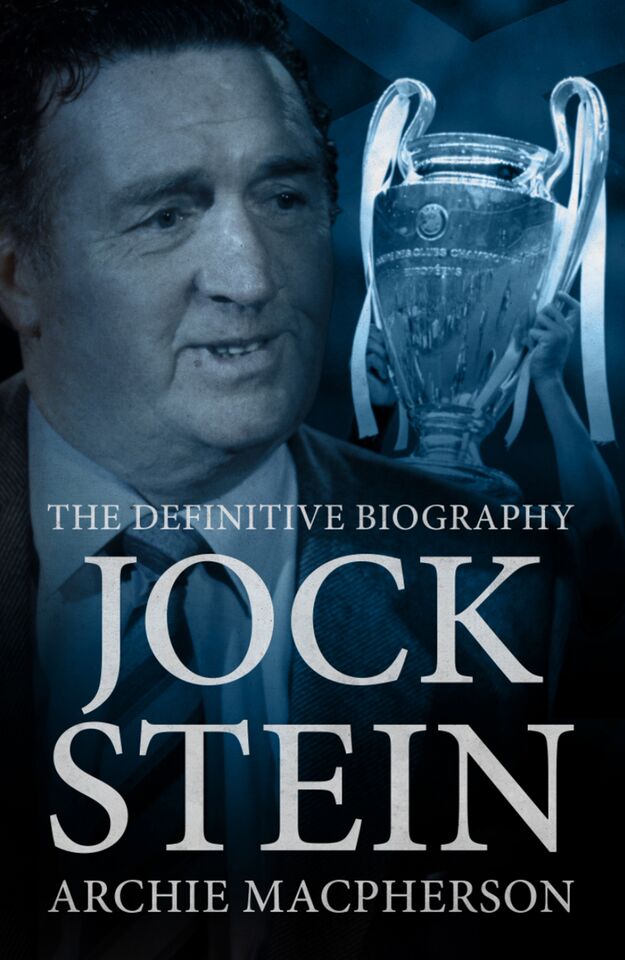 Author: Archie Macpherson , 336 pages (Paperback) – signed by Archie!
PRICE FOR UK & EIRE – £12.99 PRICE FOR REST OF WORLD – £17.99
Archie Macpherson's best-selling biography reappraises Jock Stein's career and looks closely at the personality of the man whose shrewdness and cunning stamped him eventually with greatness. In examining the strengths of this major figure in Scottish football, Macpherson's compelling narrative will nevertheless lead no-one to doubt the sincerity of Bill Shankly's ultimate accolade to Stein in 1967: "John, you are immortal now."
Updated with a new introduction.
"Quite simply, this book is brilliant…a gem." The Herald
"A definitive testimony of Stein's remarkable life." Sunday Mail
"Macpherson's evocation of the moments which forged Stein's style is masterful…a fitting tribute." FourFourTwo
"The real strength of Macpherson's insight throughout is the extended glimpses into Stein's character." When Saturday Comes
Shop now at www.cqnbookstore.com 
Click Here for Comments >