LISBON Lion Tommy Gemmell left his beloved Celtic exactly FIFTY years ago today.
The flamboyant full-back, who will be forever remembered for his spectacular equaliser against Inter Milan in the team's historic 2-1 European Cup-winning triumph over Inter Milan in Lisbon on May 25 1967, kicked off a new career across the border with Nottingham Forest BC (Before Clough).
Gemmell, who scored the phenomenal tally of 64 goals – 34 from the penalty spot – for the Hoops in 418 appearances, was a talismanic figure in Jock Stein's all-conquering team of the sixties.
Lifelong friend and Celtic book author Alex Gordon recalls the interview with the club legend for his autobiography, 'All The Best', which was published by CQN Books in 2014.
In another CQN EXCLUSIVE, here is an edited chapter for the inside story of Big Tommy's farewell to Paradise.
OF COURSE, I didn't want to leave Celtic. That's been well documented down through the years. I was only twenty-eight years old when Big Jock let me know it was time for me to go and, as far as I was concerned, I still had an awful lot to prove, if not to anyone else but to myself.
It was obvious I no longer had a part to play in Jock's future plans for the club. He had selected me for only three league games since the start of the season and we had won the lot against Clyde (9-1), Hibs (1-0) and Dundee (3-1). Thirteen goals scored, only two conceded and maximum points. However, it still wasn't enough to persuade the manager that I still had a role to play for Celtic.
I was perfectly fit and, when I wasn't in the first team, I would get the odd supporter enquiring if I was injured. 'Nope, I'm rarin' to go,' I would tell them and they would look a little mystified. I am not being big-headed here, but Jock was replacing me with the players who were, in my opinion, less than ordinary. They weren't fit to lace my boots. There's no point in naming names at this late stage, but I knew these individuals were not offering the team what I could.
BY THE LEFT…Tommy Gemmell fires over a cross from the wing.
Presumably, the man on the terracing noted that, too. But Big Jock rarely, if ever, backed down once he had made up his mind. My tea was well and truly oot.
I realised there was no way back when I received a telephone call from Jock on a Wednesday afternoon after returning home from a morning training session. 'We've received an offer from Nottingham Forest for you,' he said matter-of-factly. I took a  few seconds to digest this news.
'Okay,' I said, 'are you going to accept it?' Jock replied, 'They've bid £40,000 and I think that's a good fee. Yes, I've told them it's acceptable.'
Naturally, all this was new to me. Despite asking for a transfer when I was dropped from the League Cup Final team in 1969, I never thought I would actually leave.
'What happens next?' I asked.
'Get yourself down to Nottingham as quickly as possible and have a word with them.' I was informed.
EUROPEAN CUP FINAL GOAL No.1…Tommy Gemmell thunders in the equaliser against Inter Milan in Lisbon in 1967.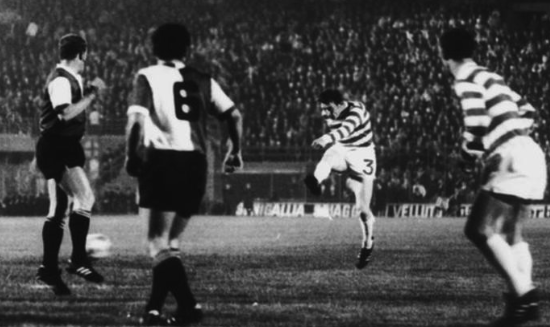 EUROPEAN CUP FINAL GOAL No.2…Tommy Gemmell hammers in the opener against Fyenoord in Milan in 1970.
I had already made arrangements that evening to go to a show bar in Chapelhall to judge a talent contest. The bar was jointly owned by my wee ex-Rangers pal Willie Henderson and former Ibrox manager Davie White, who would later become my boss at Dundee.
I decided I would keep my word to Willie and Davie and go along as their guest. I arranged a flight to the Midlands for the following morning. I was leaving the show bar at around eleven o'clock and waiting at the frontdoor was a veteran sports journalist called Jim Rodger, who worked for the Daily Express.
Jim was known as 'Scoop' to most players and he had contacts everywhere. I knew he had been involved in transfer deals such as Denis Law going to Manchester United from Torino, Alan Gilzean to Spurs and Ian Ure to Arsenal, both from Dundee. He was well in with the people who mattered. He spoke in the sort of high-pitched tone that made Alan Ball sound like Charles Bronson.
He called everyone 'son'. He was a portly little guy who always wore a huge coat, no matter the weather. You could imagine this bloke on the beach in Millport during the Glasgow Fair fortnight, sitting on a deckchair, wrapped up in that overcoat with his trilby hat perched on his head. Scoop was a character.
He asked, 'Ah, son, how are you? Have a good night, son?'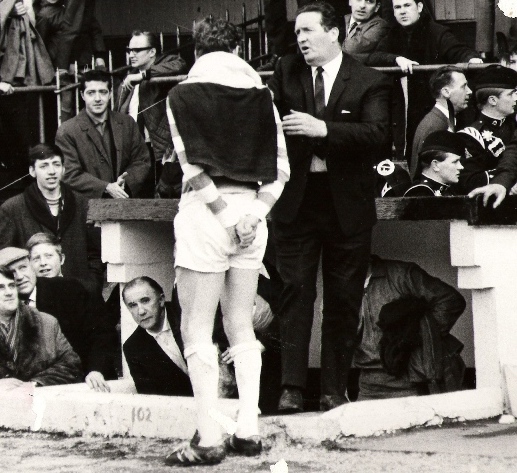 TOUCHLINE TALK-IN…Tommy Gemmell has a chat with Jock Stein after coming off in the 6-2 League Cup Final victory over Hibs in 1969. The Hoops were 6-0 ahead at the time.
I was a bit baffled. Scoop was a rarity among sports journalists because he never touched a drop of alcohol and was rarely seen anywhere near a drinking establishment. After all my years in and out of football, I can tell you he is the only reporter I have ever met who didn't knock back the bevvy.
'I'm fine,' I answered, still wondering what on earth had brought Scoop over to Chapelhall at that time of night. I knew he stayed in Shotts and didn't drive a car. He used public transport quite a lot when his newspaper would have quite happily picked up the tab for taxis. But, in his eccentric fashion, he rarely treated himself to a black hack.
'Son, are you going to a club in England?' he asked. He had a twinkle in his eye behind his dark-rimmed spectacles.
'Who told you?' I queried.
Back came, 'Ah, son, I know people who know things.'
You got the impression that Scoop loved these moments. I was told by other journalists that Jim could barely write his name, but his contact list was extraordinary. He would get the story, provide the facts and it was up to someone else to put it into a readable form for his newspaper.
THE BIG SHOT…Tommy Gemmell demonstrates the awesome power of his right boot.
I didn't really have time to play games with Scoop. I told him, 'I'm having talks with a club tomorrow. We'll see what happens after that.'
He looked up, 'Ah, son, would that be a club in the Midlands by any chance?' He had a notebook out, but I noticed he wasn't writing anything down. It was only too obvious he knew the whole story.
Who had told him? An educated guess would be Big Jock. And uneducated guess would be Big Jock.
'I'm going down to see what Nottingham Forest have got to offer, Jim.'
He nodded. 'Right, son, good luck, son.' And with that he shuffled off into the night. I walked towards my parked car and there was a guy selling the first editions of the Daily Express and the Daily Record at the corner. I bought both.
Imagine my surprise when I looked at the Express and their back page splash was an exclusive story by Jim Rodger. The headline read: 'CELTIC SHOCK! GEMMELL IN TALKS WITH FOREST'. Aye, Scoop liked his little games.
Anyway, I duly travelled down to meet the Forest contingent at the City Ground about six o'clock the following evening. Matt Gillies, a fellow-Scot, was manager of the club and it was quite obvious he was eager to sign me. It was nice to feel wanted again.
Armed with that knowledge, I was determined to get the best deal possible. I wasn't going to sell myself short. After all, if the move had fallen through because of personal terms it wouldn't have broken my heart to go straight back to Celtic. There was a bit of haggling, as there always is, and eventually we agreed a three-year deal. I had trebled my basic wage, going from £60-per-week to £180.
I was leaving the top club in Scotland, one of the biggest in Europe with a massive worldwide fan base, to join an English outfit who were struggling in the old First Division with a fraction of the support Celtic enjoyed. And I was getting three times my money. As they say in America, go figure.
I admit it was all a bit strange and it had all been done at breakneck speed. I left the City Ground just before midnight and the club booked me into the Trent Bridge Hotel. I did some light training with my new team-mates the following Friday morning and accompanied them on the coach to Bramall Lane on the Saturday for the match against Sheffield United.
ACTION MAN…Tommy Gemmell goes through his paces in a Nottingham Forest shirt.
I was going along as a spectator to gauge the strengths of my new colleagues. I looked around me on the team bus and realised I hardly knew anyone. There was no Bertie Auld. No Jimmy Johnstone. No Billy McNeill. No Bobby Murdoch. There were two young lads at the back of the coach, though, I didn't recognise at all. But I would get to know them better much later in life. Two ambitious kids called Martin O'Neill and John Robertson.
I had been registered as a player the previous morning and I was now Tommy Gemmell of Nottingham Forest and not Tommy Gemmell of Celtic. It had a slightly weird ring to it.
I returned to Celtic one last time to tidy up a few things. Big Jock wanted to see me. I went to his office and he gave me the impression something was upsetting him. He never displayed personal emotions in front of players, but I detected there was a change in his demeanour.
He said, 'Good luck with Nottingham Forest, Tommy, I hope you do well. I'm sure you will.'
Then, rather oddly I thought, he added, 'You know, it didn't need to come to this.'
Before I could say anything, he waved his big left paw at me, as he had done on so many occasions during my time at the club, and said, 'Ach, on you go. Good luck.'
It was clear he didn't want to continue the discussion. I shook his hand and left his office. I never returned.
Click Here for Comments >