CELTIC overcame Dukla Prague 3-1 in the unforgettable European Cup semi-final first leg at Parkhead EXACTLY fifty-six years ago today.
The sensational victory edged Jock Stein's heroes closer to history in Lisbon the following month.
Bertie Auld, alongside his fellow-midfield mastermind Bobby Murdoch, helped orchestrate the downfall of extremely dangerous opponents on another evening of joy unconfined in the east end of Glasgow.
The irrepressible Celtic great, who sadly passed away in November 2021 at the age of 83, recalled the momentous occasion in his autobiography, 'A Bhoy Called Bertie', co-authored by long-time friend Alex Gordon.
Here, in another CQN EXCLUSIVE, is how the Hoops legend told the memorable tale.
Please enjoy.
PRIZE GUY…Lisbon legend Bertie Auld with the European Cup and his autobiography, 'A Bhoy called Bertie'.
MORE AND MORE I was becoming convinced our name was on the trophy. Now there was just the little matter of taking care of Dukla Prague in the semi-final.
The Czechoslovakian champions were captained by the wonderful Jozef Masopust who had been voted European Footballer of the Year in 1962 and had led his country to the World Cup Final where they were to lose 3-1 to Brazil the same year. Dukla had also beaten Ajax Amsterdam in the previous round – the same Dutch side who had annihilated Liverpool 7-3 on their way to the quarter-final.
The Dutch were just emerging as a football nation at the time and were to offer us the delights of Johan Cruyff, Johan Neeskens, Johnny Rep and so many more in the years to come. However, Dukla had taken care of their threat and were in the semi-finals on merit. Once again, another tense occasion was just around the corner and, thankfully, I had overcome my injury to get my place back in the first team.
READY, STEADY, GO…Celtic skipper Billy McNeill and John Clark, Tommy Gemmell and Ronnie Simpson prepare for the start of the classic clash with Dukla.
A crowd of 74,406 made their way to Parkhead on a fairly crisp evening on 12 April and they were about to witness another unforgettable encounter. Willie, 'Wispy' Wallace had missed the games against Vojvodina because he hadn't been registered in time following his £30,000 transfer from Hearts in December. But he was more than willing and ready to go in this one.
It wasn't a bad debut on the biggest platform European football had to offer – two goals in a 3-1 triumph. Once more the atmosphere was out of this world. I loved playing in these games; this was what football was all about. People used to say I was arrogant. No, I wasn't – I was big-headed. Seriously, I was afraid of no-one. They would have my utmost respect, of course, but once that whistle blew to start the game I was determined to show them who was the better man. It was an outlook that surged through the team.
Dukla, like Vojvodina, were a fine passing team, laced with a lot of clever players. I remember they had a beanpole centre-forward called Stanislav Strunc who must have been about 6ft 8in. Caesar was just about unbeatable in the air, but this skyscraper striker made it difficult for our captain all night.
WING AND A SLAYER…Jimmy Johnstone lobs in the opener over keeper Ivo Viktor.
Everything looked as though it was going according to plan when Jinky opened the scoring in the twenty-eighth minute which was justice after the referee had ruled out what looked like a perfectly good goal from Stevie earlier. Have you ever been in the middle of a crowd of over 74,000 people and been able to hear a pin drop? I have. Celtic Park was enveloped in an eerie silence just before the interval when the Czechs equalised.
We couldn't believe it. Our defence got into a bit of a mess on the edge of the box as they tried to hack the ball clear. It didn't travel any distance until it was being continually blocked by some part of a Dukla player's anatomy; it was bouncing around like it had a life of its own as it ricocheted all over the place. As luck would have it, it eventually fell to the towering Strunc and he slipped the offending article beyond Faither. Once more, some choice words were exchanged between the keeper and his defenders.
Enter Wispy! Tommy Gemmell hammered a pass downfield in the sixtieth minute and Wispy, who had always been a real nuisance when he was playing against Celtic, made his run with Swiss-precision timing. The Dukla defence was caught square as he chased TG's ball into the box where a defender mistimed his attempt at a clearing header.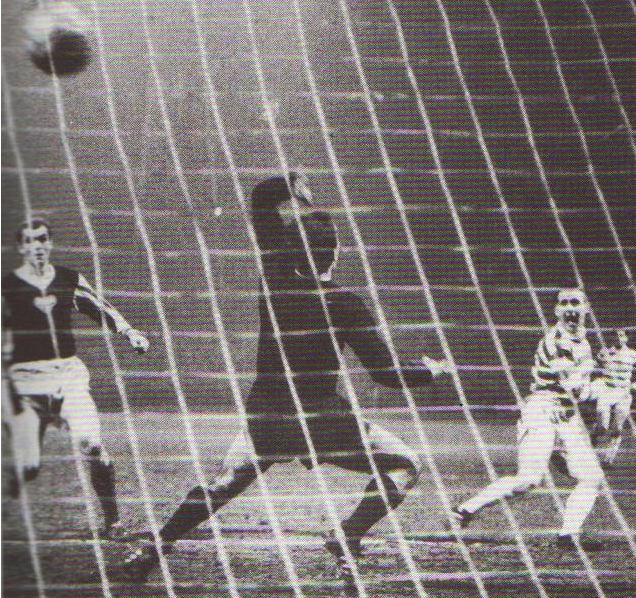 WALLACE'S WALLOP…striker Willie Wallace clips the second goal into the roof of the Dukla net.
Wispy anticipated the bounce superbly and then calmly lofted the ball with the outside of his right boot beyond the outrushing Ivo Viktor, their international goalkeeper. The ball floated nonchalantly into the net and it was time for our old ground to rock to its foundations again. Five minutes later, it was shaking once more.
A desperate Dukla defender pawed away a cross from Chopper and the ref awarded us the inevitable free-kick. It was about twenty-five yards out, fairly central and well within striking distance. Suddenly, for absolutely no good reason, something pops into your head that you think will work. I placed the ball down and was aware Wispy was at my side, on the right.
The Dukla defence erected its wall as Viktor, another fine custodian, watched nervously on his line. I stepped forward as though I was about to steady the ball with my hand. The defence must have relaxed for a split-second and that was all I needed.
Quickly, I withdrew my hand, touched the ball sideways, Wispy arrived bang on time and clubbed an unstoppable effort wide of the open-mouthed keeper into the net. It might have looked impromptu, but, like so many things, it was a variation on a move we worked on over and over again in training at Barrowfield.
It's always nice when it pays off. It's even nicer when it puts you to within ninety minutes of the European Cup Final.
Click Here for Comments >