NEW Bhoy Kristoffer Ajer has revealed his role model is former French World Cup-winning midfielder Patrick Vieira.
The teenager, who agreed a four-year deal with Celtic yesterday, will return to Norwegian outfit IK Start before joining up with his new Hoops team-mates in June.
Ajer, who describes himself as a holding midfielder, admitted he grew up copying ex-Arsenal star Viera after watching his performances on YouTube.
The 17-year-old highly-rated prospect said: "I have had many role models I have seen such as Vieira who was a great player in that position.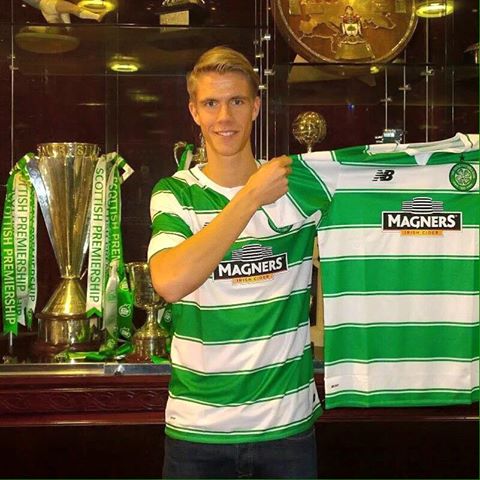 "At Celtic, you have many midfielders who are so good and who I need to learn from. I can't wait to get back in the summer and start training again with them.
"It's hard to tell how long it will take me to get into the first team, but I surely want to play a lot of games. That's why I came here, to prove myself good enough.
"As a player, I need to develop more. I have played with Start for two years now and I have played a lot of games in the Tippeligaen, but now I feel ready to come here and play for one of the greatest clubs in the world. It is amazing. I can't imagine how wonderful it will be to play here.
"I am a full member of the 'A' squad, but I need to prove myself, develop, and look good in training and in any playing time I get. Time will show, but, hopefully, I will play a lot. That is my goal.
"I am a holding midfielder that likes to be on the ball and win it back again. That is what I have done with Start and that is what I hope to do here. I have played almost 50 matches in Norway and I felt I was ready now to come to such a big club like this and try to develop as much as I can and play a lot."
Spurs, Liverpool, Hertha Berlin and Roma were also monitoring the progress of the youngster, but Ronny Deila's reputation in Norway for developing young players was pivotal in Ajer making the move to Glasgow.
Ajer added: "He has a great reputation back in Norway and he won the title there, so, of course, I want to prove to him that I am good enough to play. He is the manager now and I am sure that he will be the manager for a long time.
"Ronny said Celtic is the perfect club for me to come to. It's possible for me to play here, but, of course, he told me I had to prove myself good enough. You have to be good in training and good when you get the opportunities in matches.
"But it's my choice now whether I want to take the opportunity or I don't.
"I met Ronny and he told me what his thoughts were. I also talked to everyone else in the staff and we really liked each other. I'm just looking forward to developing here and becoming as good as I can."
——————————————————
CQN SPECIAL OFFER!
We have reduced the price of a selection of our Celtic books on CQNBookstore.com
The Winds of Change and Caesar & The Assassin are reduced to £13.99 each, Seville The Celtic Movement and The Quality Street Gang are now only £9.99 each. The Jock Stein book, Willie Wallace & Tommy Gemmell's books are all just £6.99 each.
Order ANY book or DVD and we'll send you a copy of the 2015 CQN Annual absolutely free and we will add a wee dram for you to enjoy when you're reading!
We also have the Neilly Mochan book and DVD from Paul Dykes available and much more.
Order now at www.CQNBookstore.com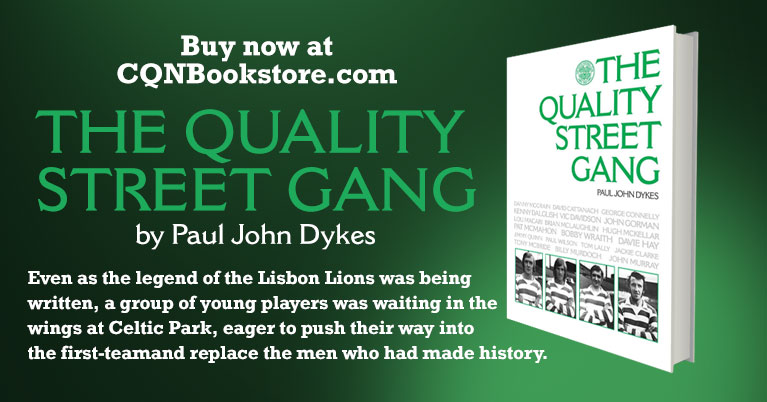 Click Here for Comments >