WHAT is the point of Albian Ajeti?
As the clocks throughout Europe tick down towards Thursday's midnight transfer deadline, there is the mandatory frenzy of activity in the pulsating market place, fraught with anxiety, as the wheeling and dealing goes into overdrive.
Stressed-out managers sift through an avalanche of possible purchases as they belatedly attempt to strengthen their squads. It's their final opportunity to bring in a gem who might just save their job. It can be an interminable five months before hostilities can resume in the battle of the chequebooks.
Selling teams will try to get top dollar for their hottest properties while agents, eyeing their precious percentages, speak with forked tongues to the often-edgy and desperate purchaser.
In the meantime, somewhere tucked away peacefully in a tranquil corner of Scotland, there is the lesser-spotted Albian Ajeti, seemingly unaffected by all the turmoil while the annual berserk signing scramble takes place.

LYING DOWN ON THE JOB…Albian Ajeti reflects on a missed opportunity.
Unhampered by all this inconsequential hurly burly and hysteria of maniacal buying and selling, the man who cost Celtic £5million from West Ham in the summer of 2020 sits and lets the world roll by.
Nothing to see here, move along, please.
This is the guy everyone with an impassioned allegiance to a team from the east end of Glasgow ardently hoped would help fire Celtic to a world record succession of ten championships.
At the same time, Vasilis Barkas arrived as the club's most expensive goalkeeping recruit at £4.5million from AEK Athens.
A member of the Celtic board assured me officials at the club were convinced Neil Lennon had assembled a squad strong enough to get the job done.
Oops. Best-laid schemes of mice and men etc. Ajeti proved to be a goalscorer who…erm…couldn't score goals. For a last line of defence, Barkas had a fairly serious flaw in his make-up – he couldn't prevent hurtling spheres thudding into an assortment of nets behind him.
The quest for ten was blown shortly after the turn of the year as a timid, insipid, leaderless and unrecognisable Celtic side limped towards their first trophyless crusade in eleven years.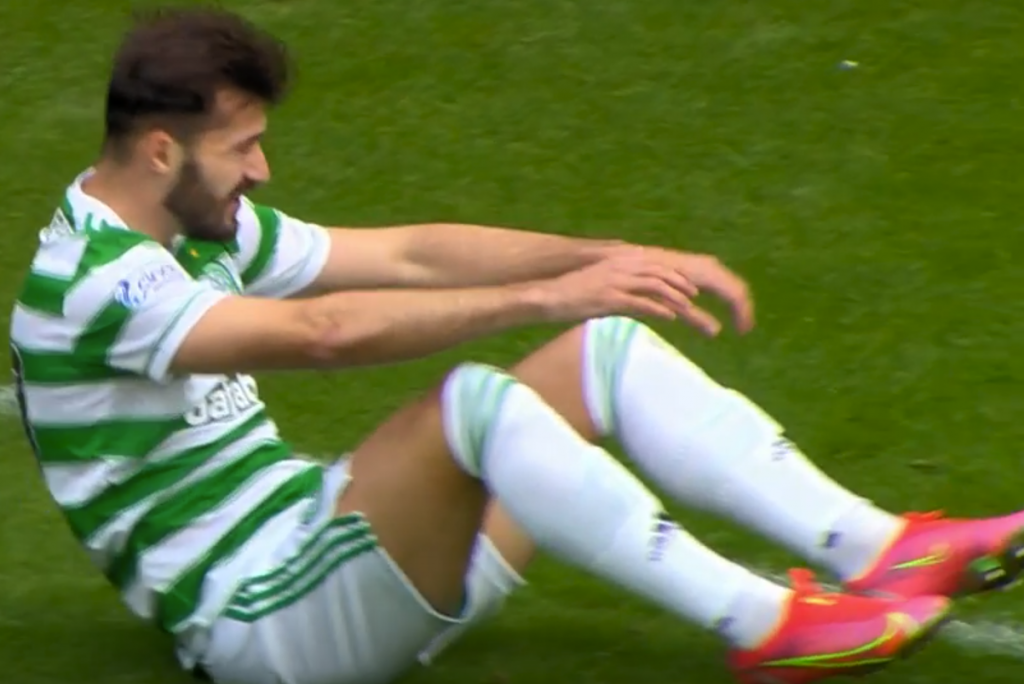 DOWN AND OUT…Albian Ajeti takes a seat after another misfire.
It's without debate, the expensive double-act of Ajeti and Barkas contributed to the dismal fall from grace. Having said that, they cannot be made scapegoats for the shuddering disappointment that had strong men weaping into their ale. (Including this author.)
Others can be held accountable, too – established first-teamers Kristoffer Ajer, Ryan Christie and Odsonne Edouard will never be able to reflect on their performances that wretched term with any great pride.
They were granted the transfers they craved at the end of the agonising season and said their farewells to thunderous apathy from those who had encouraged and adored them week in, week out in all conditions in grounds up and down the country and elsewhere.
Barkas was ditched after 90 minutes of the Ange Postecoglou era and played only one more game – a 3-1 win over St Johnstone in Perth on Boxing Day when Joe Hart and Scott Bain were unavailable – before being mercifully jettisoned.
His contract, believed to be in the £25,000-per-week bracket, was shredded with 12 months still to run and he is now at Dutch club FC Utrecht following a season-long loan.
And that brings us back to Ajeti. Remember him?
Rearrange the following into a well-known phrase or saying: A cow's arse with a banjo couldn't hit.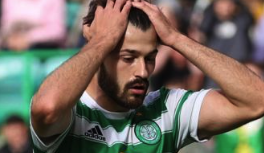 OH, NO…Albian Ajeti cannot hide his frustration as – you've guessed it – another chance comes and goes.
There were a few misinformed reports back in the summer of 2020 when the name of Ajeti first cropped up. Apparently, it was mooted the player would sign a season-long loan deal with the option to buy.
That never materialised, of course, and at one stage the deal was dead in the water. The story goes that Celtic displayed their belief in his qualities by emphasising their commitment and making the move permanent.
Davie Moyes had inherited Ajeti from previous Hammers gaffer Manuel Pelligrini who had paid £9.5million to Basel in August 2019 for a forward who had scored 43 goals in 96 games for the Super League side, a statistic which prompts the question: Just how bad is Swiss football?
The international frontman – one goal in 11 outings – made 12 appearances and fired blanks in London.
I was told Moyes would not allow Ajeti, with three years to run on his contract, to move on a temporary transfer. The reason for his insistence on a permanent switch is fairly evident. Very quickly, the former Celtic defender had made up his mind that his predecessor had bought a dud.
Difficult to argue with that train of thought.
Ajeti arrived in mid-August and got off to a marvellous start with the winning goal on his debut against Dundee United at Tannadice. Alas, only five more strikes followed in the remaining nine months of the season. It was all very underwhelming stuff.
Remarkably, the player hit a blistering scoring streak with three goals in two games – a double against Ross County (3-0) and a single against Real Betis (3-4) – and then slipped back into football's version of a coma.
After a total of nine goals in 47 appearances in all competitions over two years, Big Ange motivated him towards the Parkhead exit on loan to Sturm Graz for a season. Four strikes in 23 outings did not compel the Austrian club's hierarchy to make the move permanent.
And here we are today, my friends. Even by my admittedly dodgy arithmetic, the misfiring marksman has cost Celtic exactly £555,555 per goal.
That could just about cover my bar tab at The Flying Duck.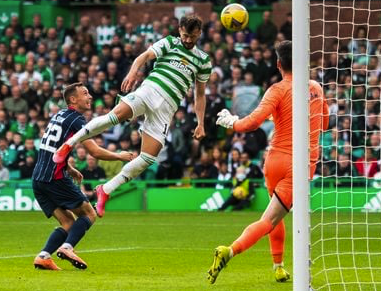 COLLECTOR'S ITEM…Albian Ajeti scored nine goals in two seasons for Celtic and here's one of them as he rises to head past Ross County keeper Ross Laidlaw. The Swiss striker claimed a double as the Hoops won 3-0 in September 2021. 
His countryman Ramon Vega, who spent six months on loan from Spurs at Celtic in Martin O'Neill's memorable debut 2000/01 campaign, must have thought long and hard before he delivered his consideration of Ajeti's prowess.
"I don't think he is a good player," the one-time centre-back observed shrewdly. "He's certainly not good enough to play for Celtic, he wasn't good enough to play for West Ham and he wasn't good enough to play for Sturm Graz.
"The only place where he played to a decent level was Switzerland with Basel, so he should go back there."
At the age of 26, Ajeti should be at the peak of his powers. Instead, though, it looks as though he is quite content to put his feet up and see out the remaining 12 months of his terms.
I understand he has been made a similar offer to that of the aforementioned Barkas to accept a percentage of his contract, but it seems he is not remotely tempted to sign on the dotted line and vamoose out of Glasgow.
At some stage, Ajeti will clear out his locker and leave the premises, never to return. Will anyone notice?
Will anyone care?
Click Here for Comments >