WELCOME once again, folks, to CQN's EXCLUSIVE new feature which will appear here every Saturday.
'ALEX'S ANGLE' will go behind the headlines with Alex Gordon, the former Sports Editor of the Sunday Mail and Chief Sports Sub-Editor of the Daily Record when they were the biggest sellers in Scotland.
The veteran newsman will reveal some tales from his journey through the inky trade while giving his view on current topics.
Here is Alex's fifth EXCLUSIVE CQN column.
Please enjoy.
THIS may surprise you, but Jock Stein never had a contract with Celtic during his 13 years as manager.
It was an unusual situation which suited the legendary team boss who had also worked without such a document at previous clubs Dunfermline and Hibs.
It left the manager with the freedom to walk away any time he so desired. He joined the Fifers in 1960 and quit four years later for Easter Road. He remained in Edinburgh for only 10 months before he answered the call to rejoin Celtic to take over from another club icon, Jimmy McGrory, in March 1965.
Stein had enough faith in his ability to work without the safety net of a signed piece of paper tucked away at the back of the secretary's safe at Celtic Park.
When Big Jock broke down all the barriers during his phenomenal impact at Celtic, including, of course, guiding the team to the historic European Cup triumph in Lisbon on the unforgettable evening of May 25 1967, he became one of the hottest properties in world football.
Make no mistake about, Jock Stein could have gone anywhere – and I mean anywhere.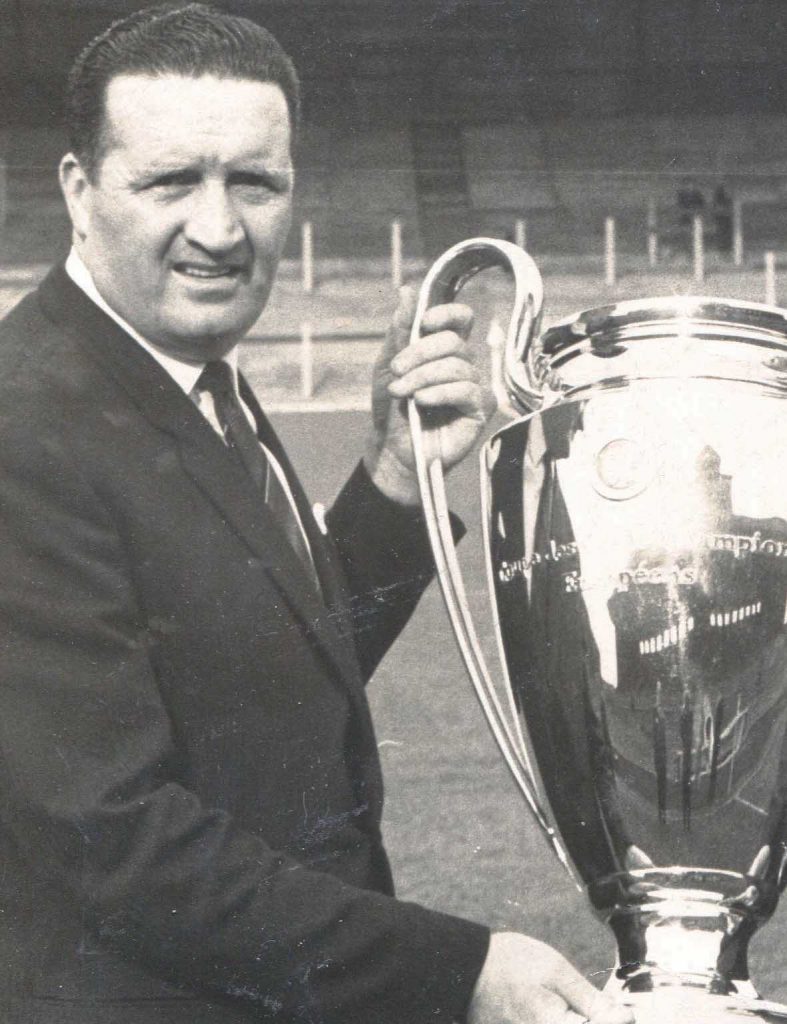 EUROPEAN CONQUEROR…Jock Stein with the prized piece of silverware.
Agents were not as plentiful as they are today, but the Celtic boss had a raft of journalists who would have happily accommodated any of his bidding. One of Jock's friends in the Press was Hugh Taylor, the main sportswriter at the Daily Record.
Somehow, I managed to get a post on the newspaper's sports desk when I was sixteen years old. Perhaps that's a story for another day, but I was there when I was made aware of the kinsmanship between the Celtic manager and our top sports reporter.
There was a bond of trust between the two men. Jock was also aware that Hugh's affilation was to neither of the Glasgow giants, but his heart lay at Kilmarnock. I used to have a laugh at the amount of times irate fans would send Hugh letters – no emails back then, of course – calling him all sorts of names, most of them unprintable, accusing him of allegiances to Celtic or Rangers.
Jock would often phone Hugh at the sports desk with all sorts of little nudges in the direction of a good story. The Celtic boss was the go-to man back then. Chairmen at other clubs would often seek him out for advice on individuals they were pondering bringing to their club.
THE THINKER…Jock Stein on the Celtic bench alongside trainer Neilly Mochan and players Charlie Gallagher, John Cushley, John Hughes and Willie O'Neill.
Every now and again, when it was clear the story was about to break, Jock would give Hugh a head's up. Likewise, our man would get in touch with the Celtic gaffer if he came across something he thought he should be aware of. It was a two-way street, two excellent professionals in tandem and mutally beneficial.
Back in June 1971, after Stein had led Celtic to their sixth successive championship, the newspaper had been alerted to the very real prospect of the manager leaving the club.
It was all hush-hush, of course, and Hugh knew he had the story to himself. I was nineteen at the time and sports editor Jack Adams had begun to give me more responsibility. He took me aside and told me I would be on call throughout the evening.
Nine o'clock was the usual cut-off time for the editorial to get the last copy to a department known as the caseroom which is where the compositors worked in putting the pages together before the formes were sent to the machine room and then a button was pushed and the presses rolled.
In normal circumstances, the first edition would then be on the streets of Glasgow at 10pm and readers were informed what was going on in the world. Those were the days when there were genuine exclusive stories, when one newspaper could trump their rivals.
A break for the sports desk sub-editors, of which I was one, was between 9pm and 10pm and then we were back at the desk for the next edition of the paper, usually Aberdeen, then Perth, onto Edinburgh and so on until we came back to the final edition in Glasgow.
COUNTDOWN TO HISTORY…Jock Stein on the bench in Lisbon in May 1967, flanked by trainer Neilly Mochan and assistant boss Sean Fallon.
There was to be no visit to the pub that evening in June 1971 for your truly. I had been informed Jock Stein was at Old Trafford for talks with his old friend Matt Busby, a kindered spirit who, like Jock, had been a miner in an earlier occupation.
Busby, at the age of 62, was looking for his own replacement as manager of Manchester United. He had originally left the post in June 1969, a year after leading the club to their European Cup victory, to become director.
Wilf McGuinness stepped up from reserve team manager as Busby's successor. McGuinness was only 31 at the time and the job overpowered him to the extent he was relieved of his duties six months later with Busby returning to the dug-out.
However, the Scot, a survivor of the Munich Air Disaster, was determined to concentrate on matters at boardroom level and once again the search was on for a replacement.
Jock Stein, then fifty years of age, was the man Busby wanted. Without the hindrance of a contract or a compensation claim from Celtic, the manager could have made the switch with effortless ease.
HAIL HAIL…Jock Stein is lifted shoulder high by the Celtic players following a 2-0 win over Kilmarnock at Parkhead with the second successive title in the bag in 1967.
Desmond White was the newly-appointed Celtic chairman at the time, taking over from Robert Kelly, who had held the post from March 1947 until April 1971.
White was aware of Stein's visit that evening to Manchester. Privately, he told Hugh Taylor: "We won't stand in his way. Jock can make up his own mind."
It was almost a matter-of-fact dismissal of an occurrence that would have brought extraordinary repercussions to the club and its worldwide base of supporters.
If you ever met Desond White, you would have not been surprised by this stance. "No individual is bigger than Celtic Football Club," was his oft-repeated mantra.
The first edition of the newspaper came and went that evening with no sign of a massive story. We had a mocked-up back page poised to go. I recall the headline was: STEIN SENSATION.
The banner line never saw the light of day. The financial package offered by Manchester United could only match that of Celtic where the manager could expect monetary rewards for achieving silverware. The United offer was heavily weighed on the Old Trafford club winning trophies.
Jock's conceit in his own talents was such that he would have backed himself to be successful across the border. And, as we all know, the Celtic manager enjoyed a flutter.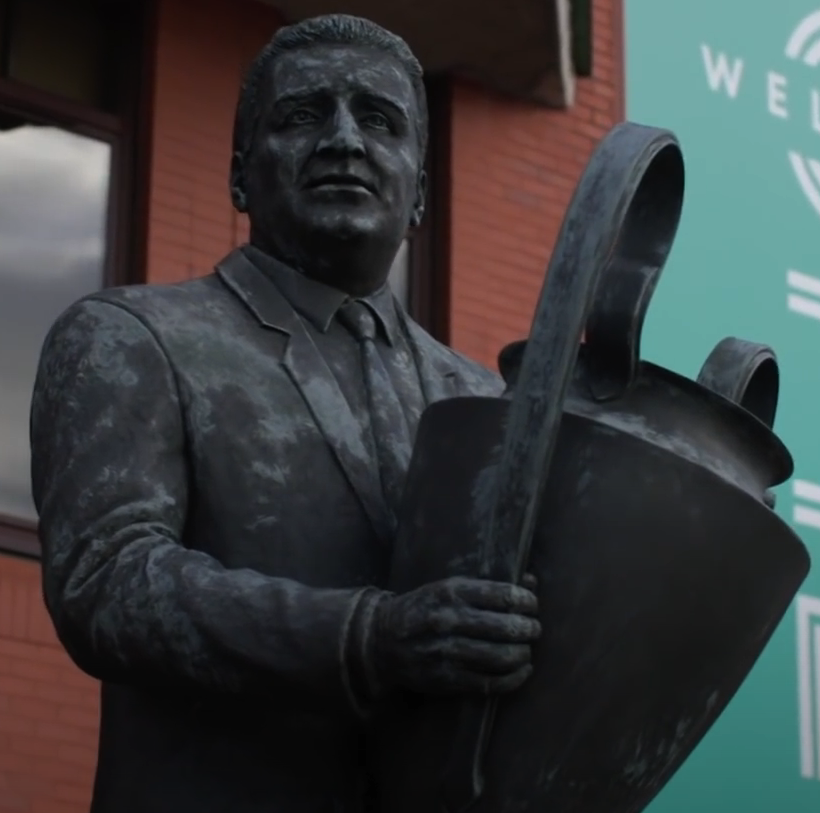 IMMORTALISED…the statue of Jock Stein holding the European Cup outside Celtic Park.
Another important factor to be considered was his wife Jean's reluctance to leave Scotland. It should be noted that Jean did not accompany her husband when he joined Leeds United in August 1978. Mind you, Jock only popped into Elland Road for 44 days before returning back across the border to take over as manager of Scotland.
If I remember correctly, it was around 10.30pm when Hugh was given the news that Jock Stein would not be leaving Celtic to become Manchester United gaffer.
Later that night, Desmond White spoke to Hugh Taylor and said blithely: "I didn't think Jock would leave Celtic. He's made the right decision."
The drama came and went and the Celtic supporters were none the wiser. A bonafide, blockbuster exclusive story was chucked into the bin.
Big Jock once said: "Unlike many other Celts, I cannot claim that Celtic was my first love… but I can say that it will be my last love."
On a June evening in 1971, Jock Stein proved to be a man of his word.
Click Here for Comments >