OUR chums across the Clyde are running scared of Brendan Rodgers. Actually, terrified might be a more appropriate expression.
It's not exactly outwith the bounds of imagination and expectancy to believe Celtic could present their fans with an early Christmas gift by emerging victorious in the Viaplay League Cup Final at Hampden on Sunday December 17.
Rodgers, of course, has a bit of previous in this lifting silverware lark – seven in succession, including two back-to-back trebles, if I remember correctly.
A triumph in the campaign's first competition with a trophy at stake would ease Celtic onto 117 club honours which, coincidentally, is the same accumulation as the team residing in Govan.
PARADISE REGAINED…Brendan Rodgers returns to the Celtic dug-out for James Forrest's testimonial match against Athletic Bilbao in midweek.
Okay, I realise a number of their awards were annexed by nefarious means following some financial jiggery-pokery by those in power at the time up the fabled marbled staircase.
Yes, there is a sound and valid case all prizes gained during a prolific and corrupt period between 2001 and 2010 should have been withdrawn. Those honours were achieved by unlawful means. HMRC eventually caught up with the club's misuse of an Employee Benefits Trust (EBTs) which had been set up to avoid paying tax and national insurance on player and staff salaries.
For their prolonged dodgy deeds, the Ibrox club were banished to the naughty step for a few years. However, crucially, they were not stripped of titles or other trophies won by felonious means during that time span.
It's utterly preposterous that a judge, some bewigged character named Lord William Nimmo Smith, ruled secret payments to players and other influential employees did not help them win five Premier League titles. Ludicrous doesn't come close.
So, the number of crowns won by Rangers – or any other moniker you care to bestow upon them – sits at 55. Celtic won their 53rd championship last season and that fact is creating widespread consternation among the light blue ranks.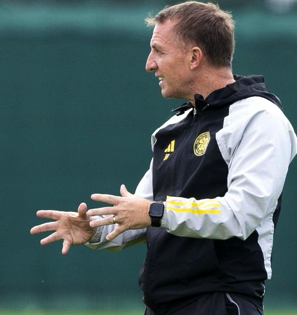 MASTERMIND…Brendan Rodgers prepares for the season ahead at Lennoxtown.
If you had the impression our city neighbours verged on apoplexy at the thought of Celtic sealing a world record ten successive championships during the Jock Stein era or in more recent times, you can multiply that by any number that springs to mind and you will get a fairly accurate picture of the distress permeating in that particular grey corner of the universe.
Serial winner Rodgers signed a three-year contract when he returned in June. Anyone believing the Irishman is here to top up his pension has been misreading the signals.
Rodgers means business. And the team on the south side of our fair city are well aware of his mindset. They are close to being paralysed with fear of images of the Celtic manager showing off his pearlies and waving a large and elaborate piece of silverware at the completion of the 2025/26 campaign.
They live in dread of a second time-around Rodgers conquering all to accomplish three successive championships which will propel the total of league flags to 56. A collection of crowns naturally all untainted, achieved by fair means and without a hint of any fiscal skulduggery.
Forget the fact that Celtic can draw level on the trophy count if the League Cup is successfully defended before the turn of the year, appealing thought that it may be. That feat could be just about tolerated by our competitors.
Rodgers could even mastermind his third clean sweep of treasures this time out to guide the Hoops to a superior silverware tally.
The one that really matters is the championship accumulation. That's the figure that has the occupants of Govan quivering in their brown brogues.
MAKE MINE A TREBLE…Brendan Rodgers poses with his first domestic clean sweep with the Premiership trophy flanked by the League Cup and Scttish Cup.
Todd Cantwell arrived in January from Norwich City and at one of his first meet-the-media sessions the absurdly-coiffured Englishman spoke about his new club's 55 titles being a world record.
Does anyone believe for a heartbeat that Cantwell, born and brought up in Chris Sutton territory of Norfolk, has been a closet Rangers fan for his 25 years of existence?
To rattle off that computation so soon after arriving in Glasgow tells you all you need to know. The recruit was being indoctrinated from day one.
Anxiety is settling in an area across the river. You better believe it, my friends. Trembling thumbs are hovering in the proximity of panic buttons.
Brendan Rodgers had that demoralising effect on our city foes first time around. I am not aware of any logical reason for that distinctly agreeable prospect to veer off course in his second coming.
Enjoy the season, folks. And, please remember, real supporters support.
Click Here for Comments >