EXCITING? Or excruciating? Adventurous? Or agonising? Praiseworthy? Or painful?
I'm talking about Celtic's forays into Europe over the past two years and, alas, to these tired old eyes, anyway, the experiences have been more of a plunging big dipper than a rollicking rollercoaster ride.
Big Ange once famously stated he didn't "pop any champagne corks for a clean sheet" and from the earliest days of his introduction to the club it was apparent he shared Celtic's DNA for attractive, attacking, entertaining football.
Unfortunately, the Greek-Australian was afforded way too many opportunities to indulge in the bubbles with the team managing a mere three shut-outs – all at home – during his two-year European odyssey in Paradise.
Providing easy-on-the-eye football is all very admirable, of course, but you get nowt when you cannot keep the back door firmly closed. It's never clever to build on quicksand.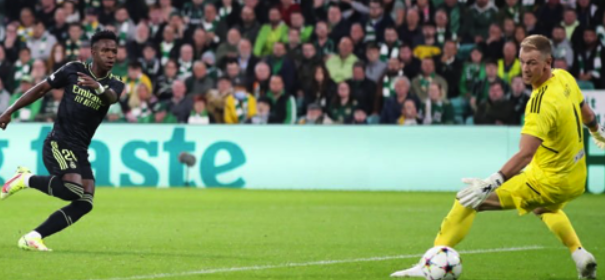 PICK IT OUT…Joe Hart is left helpless as Vinicius Jnr slots in the opener in Real Madrid's 3-0 win at Parkhead in September last year. 
Look away now if you are of a nervous disposition. Celtic have conceded a landslide FORTY-TWO goals in twenty confrontations in a merciless arena where every heartbeat of hesitancy is ruthlessly punished.
Even someone lumbered with a single digit IQ can work out that is the loss of over two goals per game. You don't lift silverware when your goalkeeper is continually invited to fish the ball from the back of his net.
Over that rocky 20-game period, the team lost eleven times, claimed six victories and drew three. The Celtic fans cheered 30 goals when the defence was not buckling under counterattacks from switched-on opponents.
It's been a feeding frenzy for those connoisseurs of calamity as a vulnerable rearguard have leaked goals at a frighteningly consistent rate. It's been a veritable cornucopia of catastrophe as the roof has collapsed on an overworked, under-protected back lot far too often to make life comfortable for anyone of a Celtic persuasion.
You don't have to look too far for examples of the players in green and white hoops leafing through that well-thumbed football manual 'How To Gift Your Opponents A Goal'. Last September, the Hoops kicked off their assault on the pinnacle of Europe's elite with a glitzy encounter against the-then reigning champions Real Madrid at a pulsating, sold-out Parkhead.
Accolades rained down upon Ange's men for a spirited performance for almost an hour. Callum McGregor was bang out of luck with a first-half effort that smacked off the inside of the right-hand post and defied gravity by ricocheting to safety.
ONE…Valverde fires over a right-wing cross with Carter-Vickers and Jenz out of position as Juranovic takes his eye of Vincius Jnr (extreme left). 
TWO…the Real Madrid winger is unhampered as he takes aim.
THREE…Vinicius Jnr sweeps a shot low past the vulnerable Hart to trigger Celtic's downfall.
The hosts were undone with a remarkably simple manoeuvre that exposed a team deficient in safety awareness as red warning lights flashed. For some inexplicable reason, both centre-backs – Cameron Carter-Vickers and Moritz Jenz – were attracted to the same ball on the right with Fedrico Valverde breaking forward.
That left a large and inviting expanse of space behind the defenders. Josip Juranovic was drawn into a central area with the midfield slow to get back into position. The Croatian right-back completely took his eye off Vinicius Jnr racing in to the hole from his left-wing beat. The inevitable occurred.
Valverde whipped over a cross, Juranovic was eliminated and the Brazilian ace had the freedom of the city before striking the ball low past the unshielded Hart.
In that moment – the 56th minute, to be precise – Celtic shoulders sagged on the touchline, on the pitch and in the stand. All the good work had been undone fairly succinctly in one uncomplicated movement and it was game over four minutes later when Luca Modric claimed an extraordinarily easy second goal. Eden Hazard added to the misery as the heads went down among the home players.
Like it or not, the Ange European experience was an elongated and traumatic learning curve. We have to acknowledge our favourites are now merely making up the numbers, nowhere to be seen long and weary months before the two Euro competitions reach their prize-winning conclusions.
A disagreeable situation, I know, but it's a waste of puff arguing against the grim statistics.
Our heroes made unwanted history two years ago when they exited THREE European tournaments – the Champions League, Europa League and Euro Conference League – all in one season.
LOOK AWAY NOW…Ange Postecoglou can't disguise his frustrations on another Euro fright night.
That was sore to take, but the failure was masked by events on the homefront where Postecoglou performed a phenomenal feat in reviving a club with rigor mortis closing in. From the carnage of the wretched 2020/21 crusade, the new man somehow conjured a somersault in the team's fortunes to lead a squad, festooned with recruits, to a tenth title in eleven years. The League Cup was thrown in for good measure.
In the midst of such domestic euphoria, home and away losses against Bodo/Glymt were conveniently swept into the grey mists of time.
Last season, the failure to at least finish in third place in Champions League Group F condemned Celtic to the remaining six months of the season without European nights in the east end of Glasgow.
Ange had been unshakeable in his belief that Celtic would hit the "sweet spot", as he put it, at some stage while performing among the echelons of European competition.
To be fair to the manager who vamoosed out of town only a couple of days after the Scottish Cup win on June 3 to seal the domestic treble, he didn't specifically identify that he would be in the dug-out when Celtic experienced such a feeling of elation.
So, it's over to you, Brendan, to pick up the baton in Rotterdam on Tuesday evening.
A clean sheet would be an encouraging start.
Click Here for Comments >