We had made it! But there was still a twist in the tail that many will find hard to believe.
As I said earlier, I had never met three of my fellow passengers before. They were nice guys. Two of them had trained for the priesthood, but had left and were still devout Catholics. That day was a holyday of obligation, either the Ascension or Corpus Christi, and they felt we should at least try to get to mass. With the rest of us astounded, not to say raging, we traipsed around for about an hour that could have been spent soaking up the atmosphere at the stadium, looking for churches, but never found one with an ongoing mass. Finally, threats of real violence persuaded them to head for the stadium.
The rest, they say, is history. More eloquent writers than me have eulogised about that afternoon in the sun.
Particular flashes of that day come back often – the sheer joy at winning, the guy in the green Glasgow Corporation transport uniform which a Portuguese next to us thought was him dressing for the game instead of finishing his shift and heading for the airport; the police car racing past us after the game with its siren on and the driver wearing a Celtic scarf; the sheer mayhem after the game; the wild dancing up and down; and, oh aye, the two goals.
We ended up in a packed square in Lisbon that night in sheer celebration, and I'm sure mingled with fans who said 'bugger, I'm staying' instead of catching their flight home, and I believe the queue at the British embassy the next morning testified to that. Regretfully, we left Lisbon before dawn and started on the hard slog back home. To appease our two devout friends we went to Fatima later that morning to visit the shrine to the Virgin Mary. It didn't take us much off our route. It was then Friday morning in southern Portugal and we were booked on the ferry at Cherbourg for Sunday afternoon, so the driving would still be a hard slog.
We had been on our own on the outward journey, but were part of a cavalcade on the way back. Every bar, cafe and restaurant we stopped at was full of supporters. We were waved at in every town and village we passed through in Portugal, Spain and France. I remember having a pee in a restaurant in Spain and someone I knew came in. We stood chatting for a minute and then parted as though we'd been in a pub in Glasgow.
As on the way down, we drove all night with short breaks. Early on Saturday afternoon we reached Biarritz. We were filthy and unkempt as we gazed out on the town's wonderful beaches. Not hesitating, we ran on to the beach stripped to our underpants and ran into the warmish sea. The feeling was sublime. We relaxed and dried off before setting off again.
Just south of Bordeaux, in the early evening, the drivers had had enough. They had brought a two-man tent, which they hadn't had the opportunity to use. Erecting it at the side of the road, they got sleeping bags and retired, stating their intention to set an alarm for 2AM.
Setting off again I had a sudden realisation. We would be reaching Nantes at around 5AM. The station bar would be closed and I would not be having my tryst with Ghislaine. There was no point in asking the boys to wait there until it opened. Back home I put my scarf in an envelope, addressed it to 'Ghislaine, Bar de la Gare, Nantes,' accompanied by a letter in execrable French. I asked her to write and was already planning a return trip to France, but I never heard from her. Ah, well!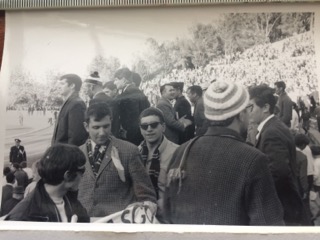 There was a big contingent of Tims on the ferry. A party was started and I think we drank the ship dry. Someone had a replica of the cup. He held it aloft and we did a conga round the decks to the delight of other passengers, who were mainly English and joined in the celebrations, gratefully accepting slugs from the bottles of duty free which were passed around.
We drove north for a while until we had to stop at a services to let the drivers sleep. Many people came up to us and congratulated us. Before we left the next morning, Monday, a driver in a car pulled up. He told us he had been on our ferry and joined in the fun. Disembarking, he realised he had drank and had to book into a hotel.
Our reception driving through England was also great, as people waved to us on the motorways and congratulated us at the services.
At last, seven days later and seven nights sleeping in a car, tired and extremely grotty we arrived back in Glasgow to joyous greetings from some citizens and a different kind of greeting from others who seemed to be giving us a V for victory sign.
POSTSCRIPT
On January 3rd 1999, after seeing Celtic draw 2-2 at Ibrox (an honest mistake from referee McCluskey denying The Hoops a penalty; plus ca change) I set off on another European adventure. My wife and I had taken early retirement and we decided to have a couple of winter months in Benalmadena in Spain. My wife refused to fly and I decided I would drive. As I planned the trip I realised that I could replicate a big chunk of the 1967 experience
We drove all night, got the same ferry crossing from Southampton to Cherbourg and drove down through France. The difference this time was that we had a night in a hotel near Nantes (no I didn't pay a pilgrimage to the station bar!), another at Bordeaux and then a short hop for a third overnight in Biarritz. Down through Spain I parted company with the road to Lisbon at Burgos. We had another overnight south of Madrid after nearly having had  a nervous breakdown on the ring road during rush hour.
All through France and Spain the roads were vastly improved from 1967, most of the journey was on dual carriageways or motorways and we had to traverse very few towns.
The reason I am writing this is, even with four overnight rests, if for some reason I has had to turn around and do the return journey soon after arriving I would have freaked out.  But that's exactly what our drivers, and many others no doubt, had to do and even after fifty years my admiration for them is immense. Of course they were young, but even at that it was a gargantuan feat.
THE END
Charlie Fryars
CATCH UP ON THE EARLY PARTS OF THIS STORY USING THE LINKS BELOW.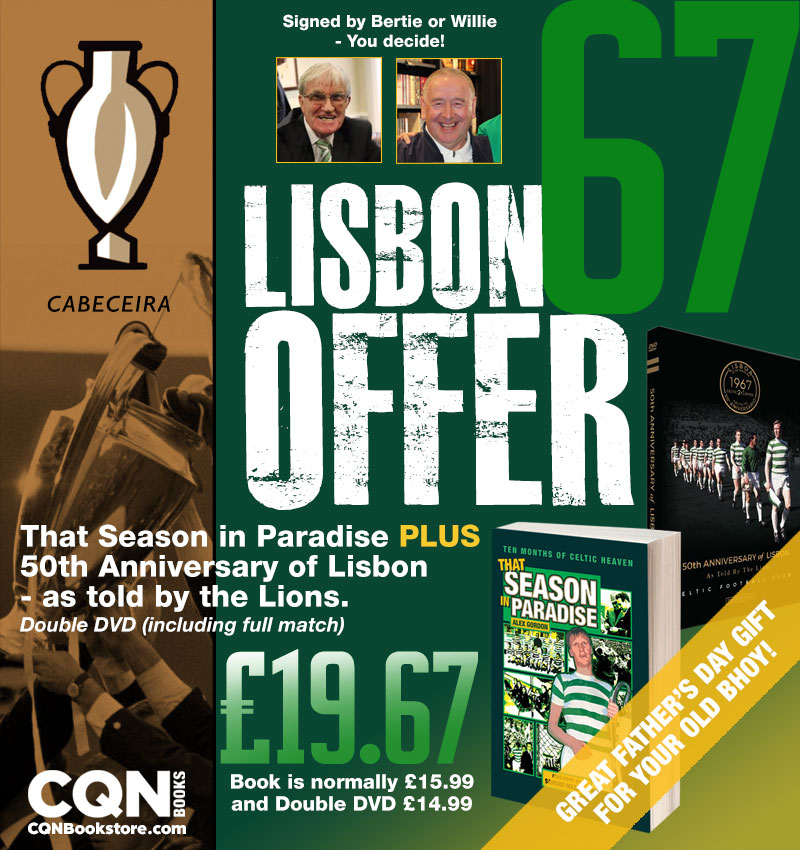 Click Here for Comments >