JAMES FORREST, Celtic's longest-serving player, is raring to go in the new season.
The 31-year-old Scotland international wide Bhoy is now working his way through his thirteenth pre-season as a Hoops performer.
Ange Postecoglou's men are due to face Legia Warsaw in Poland tomorrow night in the Testimonial Match for the club's colourful former keeper Artur Boruc. It's the fifth friendly as the champions prepare for the Premiership Flag Day opener against Aberdeen at Parkhead a week on Sunday.
They opened with a 7-0 romp against Austrian Third Division outfit Weiner Viking – in which Forrest scored – and followed up with a 3-3 draw against Rapid Vienna. They travelled to the Czech Republic for a 4-2 win over Banik Ostrava and settled for a 2-2 draw with Blackburn Rovers in Glasgow at the weekend.
MEN ON A MISSION…James Forrest and manager Ange Postecoglou prepare for a crucial new campaign.
Veteran Forrest said: "We've been in for just over three weeks and it's the first time in a while we've had a long pre-season, so it's been good.
"This year compared to the start of last year feels completely different and more settled. Apart from one or two faces, everyone knows each other and that's only a benefit going into the new season.
"It finished amazingly last season, but the way the manager is, he's straight on us to be at it 100 per cent, and that's good because the standard is always high in every training session and game."
Forrest, who signed a three-year extension in May after the tenth title in 11 years had been secured, has seen an influx of new players at the club in the past year with the likes of J-League quartet Kyogo Furuhashi, Daizen Maeda, Reo Hatate and Yosuke Ideguchi being introduced by the manager.
Joe Hart, Josip Juranovic, Cameron Carter-Vickers, Carl Starfelt, Matt O'Riley, Filipe Jota and Giorgos Giakoumakis are others who have joined the Ange Revolution to bring success back to the club.
Forrest, speaking to Celtic TV, gives his forthright views on a new era at Celtic.
THE THINKER…Ange Postecoglou ponders a question.
ON ANGE POSTECOGLOU: "If you look in the past, sometimes one or two new signings do really well. Last year, I don't think you can come up with one who hasn't made an impact.
"It's always good to add quality players, as well. It's only going to help the team and help to build it stronger. If he has said he's going to sign another two or three then definitely it's going to help the squad.
"Obviously with the Champions League, it's a good attraction to get players in when we can offer those types of games.
"The fans are behind him, but also the players as well as all of his staff. Rightly so after how good last season was. He wants to keep building and be a part of that."
THE FANTASTIC FOUR…Yosuke Ideguchi, Kyogo Furuhashi, Reo Hatate and Daizen Maeda.
ON THE JAPANESE NEW BHOYS: "They have come in and have done really well. Right from the start of last season, Kyogo came in and did really well and then the other boys came in January and they just started straight away, just like Kyogo.
"They all work hard and they fit into the Scottish game really well. They have all been here a wee while now so they can all speak better English and they all get on with all the boys as well and that is a big thing.
"They have all performed really well and they can all kick on again."
HEADING FOR THE HOOPS…Aaron Mooy with his former Australia boss Ange Postecoglou.
ON COMPETITION FOR PLACES: "It's always been a case of taking my chance when I get it. In those parts of the season when it's more than one game a week, obviously I don't know what the manager is going to do, but he rotated the front line quite a lot last year.
"He likes to change the attackers to freshen things up. With the amount of subs we could use last year as well that worked in a favour.
"It was maybe only at the end of the season when it was one game per week that he didn't change things as much.
"When you've got a big squad with a lot of players it is good to have that strength and depth.
"Personally, I think every year is hard and I've never thought I'm guaranteed a place and it's best to be like that.
"There are a lot of attackers, but there are a lot of games and it keeps everyone on their toes, so the competition is good for the players and the manager."
THE GLITTERING PRIZE…Europe's elite silverware.
ON THE CHAMPIONS LEAGUE: "It's going to be class, everyone will be buzzing for the draw and it's good for all of us, especially those who haven't played in the competition before.
"If you ask anyone who has played in those games, everyone wants to challenge themselves and play in those games and the fans want to see it, as well."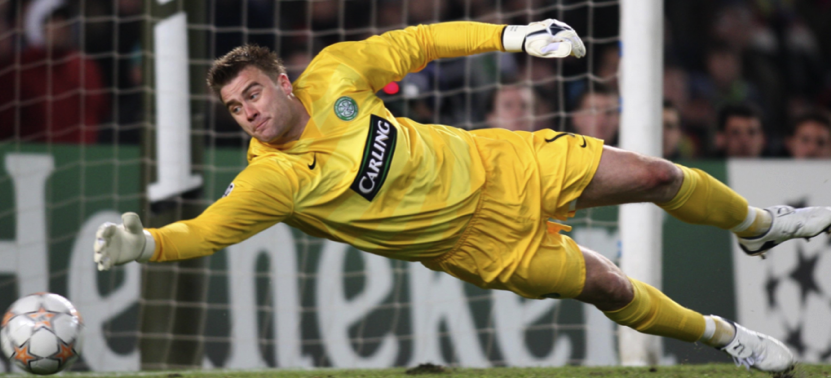 S-T-R-E-T-C-H…Artur Boruc dives to make another save during his Celtic career.
ON ARTUR BORUC: "Any time I met him he was always really good with me as a young boy. There were so many big names there at the time, a lot of big personalities. It's always good for young players coming through to learn off the big players who have played in the Champions League and internationals.
"Artur did so well here and it will be a good testimonial, a good game for him getting Celtic. He has to be right up there (in terms of great Celtic keepers). If you ask a lot of fans about what he did here he was just so well liked.
"For him, playing against Celtic is perfect, he couldn't have picked a better team. Hopefully, it's a sell-out for him and a good night."
Click Here for Comments >