So, Rangers are 'back'. Radio Scotland is currently holding a phone-in with the presenter shouting down anyone who dares to suggest that the liquidation event in 2012 had nothing to do with Rangers FC.
The football correspondent they used to introduce the phone-in was Roddy Forsyth, a supporter who TUPED over to the new Rangers despite being a creditor of the old club. His Club Deck seat for life he bought from Rangers was lost in 2012. As a new legal entity, the Rangers that began its journey in 2012 at Brechin (having to cancel a tour match at Le Harve as they had no licence to play football), were under no obligation to honour Forsyth's seat for life.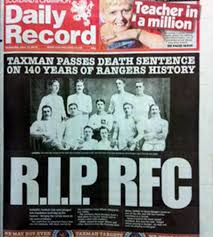 It was a seat for life at a club that died.
On Sunday 25th January 2015  Celtic supporters who frequent Celtic Quick News saw the advertisement they crowd funded published in the Sunday Herald, the week before Celtic met Rangers FC in the semi-final of the League Cup.  The advertisement explained that these Celtic supporters still considered this to be the first meeting between the two clubs, setting out their reasons why they considered Celtic's League Cup semi final opponents to be a new club and as a consequence of this that the "Old Firm" tag which applied to Celtic and the former Rangers no longer applied.
The Advertising Standards Agency subsequently received 19 complaints, or using Charles Green's estimate, 0.0000038% of the Rangers support.
14 challenged whether the ads were misleading due to them contradicting our previous ruling by suggesting Rangers FC was a new entity and by stating that Rangers had previously been liquidated.
5 objected the ads were grossly offensive and irresponsible, as they were likely to stir up trouble prior to teams meeting in the League Cup semi-final.
This is what ASA concluded:
'We considered that the ads made clear that the vast majority of information contained within them was the advertiser's own opinion.  Statements such as "we firmly believe", "we regard" and "we totally agree" confirmed that these ads were a presentation of the collective viewpoint of Celtic supporters, and we considered that the average consumer was likely to regard the ads as such.
'As explained in our previous ruling, we accepted that although run by a different legal entity, that Rangers Football Club (RFC) was still the same football club. In this instance, the ads are providing the opinion that Celtic supporters consider Rangers Football Club to be a new club, based on the legal entity of the club.
'Therefore, they are not making claims that are in breach of our previous ruling about a different related ad. We accepted that the club had been liquidated so the advertiser is allowed to state this.  
'Advertisers are also allowed to express their own opinion, provided it is clear it is such, and they are allowed to present their ad in a good light, provided they do not breach the Code.
'We base our decisions on how we consider the average consumer will interpret ads.  The average consumer is deemed to be reasonably well-informed and circumspect.  As the ads made clear that it is the advertiser's own opinion, and as numerous readers are already clearly well-informed about the football club's status, we considered that they were unlikely materially to mislead consumers. Nor did we consider that presenting this view was irresponsible or likely to cause serious or widespread offence.  Therefore, we considered the ads unlikely to breach the Code.
We have notified the complainants that we won't pursue it because, on the facts available to us, there doesn't seem to be a breach of the Code.'
Given that the ASA are not a football authority and are making judgements on standards an advertisement must comply with and are not an authority on football matters then it is only the football authority who  can speak with authority on such matters. However apart from what appears to be a stand alone statement by SPFL CEO Neil Doncaster, the SFA, who are the authority in Scotland have said nothing to clarify their position.
We are left therefore to look to UEFA for guidance on what constitutes a club as a legal entity. Interestingly UEFA recognise the legal entities that constitute  a club can take two different forms across Europe and they define a club in Article 12 of UEFA FFP in terms of which type of legal entity can apply for a licence to play in UEFA competition..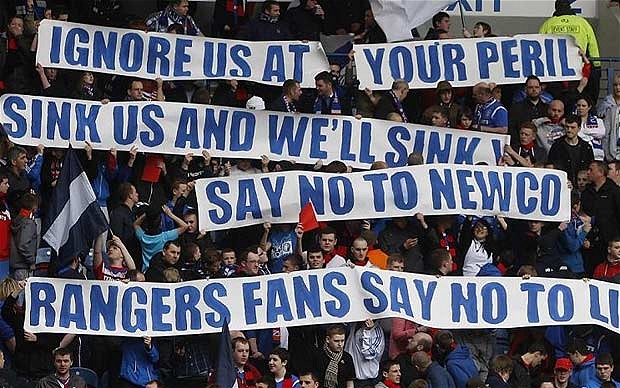 Article 12 – Definition of licence applicant
1 A licence applicant may only be a football club, i.e. a legal entity fully responsible
for a football team participating in national and international competitions which
either:
a) is a registered member of a UEFA member association and/or its affiliated
league (hereinafter: registered member); or
b) has a contractual relationship with a registered member (hereinafter: football
company).
2 The membership and the contractual relationship (if any) must have lasted – at
the start of the licence season – for at least three consecutive years. Any
alteration to the club's legal form or company structure (including, for example,
changing its headquarters, name or club colours, or transferring stakeholdings
between different clubs) during this period in order to facilitate its qualification on
sporting merit and/or its receipt of a licence to the detriment of the integrity of a
competition is deemed as an interruption of membership or contractual relationship (if any) within the meaning of this provision.
It would seem pretty clear from the foregoing that as the current legal entity playing as The Rangers Football Club cannot play in UEFA competition for three years.
See announcement at  http://www.itv.com/news/update/2012-06-12/rangers-forced-into-liquidation/ by Duff and Phelps that UEFA must have judged that the alteration in legal form reported to them by the SFA, if acceptable to UEFA, would be to the detriment of the integrity of UEFA's competitions and so that alteration was deemed to be an interruption of membership of the entity undergoing liquidation.
The question that arises in terms of what type of legal entity is undergoing liquidation is were RFC a legal entity under a) or b) of Article 12?
Now whilst Sir David Murray owned Rangers and MIH there was never in the public consciousness the notion that MIH owned and operated Rangers under a contractual relationship between both.
Supporters of all clubs including their own believed that before liquidation Rangers were a standalone club under a) of Article 12. If there are documents that support b) why have they not surfaced? That is not to say they are now a legal entity under b) following the purchase of their assets and the clear division between Rangers International Football Club and The Rangers Football club but did this club/company arrangement exist as defined at b) before 2012?
The SFA could provide the answer by revealing what they told UEFA in either June 2012 when a CVA was rejected or October 2012 when Administration was formerly ended.
The SFA are governed by ANNEX I: Exceptions policy.Para 1(d) refers
A. Principle
1. The UEFA administration may, in accordance with Article 4, grant exceptions on
the following matters:
a) Non-applicability of a minimum requirement concerning the decision-making
bodies or process defined in Article 7 due to national law or any other
reason;
b) Non-applicability of a minimum requirement concerning the core process
defined in Article 9 due to national law or any other reason;
c) Non-applicability of a minimum assessment procedure defined in Article 10
due to national law or any other reason;
d) Non-applicability of the three-year rule defined in Article 12(2) in case of
change of legal form or company structure of the licence applicant on a case by-
case basis;
e) Non-applicability of a certain criterion defined in part II, chapter 3 due to
national law or any other reason;
f) Extension of the introduction period for the implementation of a criterion or a
category of criterion defined in part II, chapter 3.
2. Exceptions related to items a), b), c), e) and f) are granted to a UEFA member
association and apply to all clubs which are registered with the UEFA member
association and which submit a licensing application to enter the UEFA club
competitions. Exceptions related to item d) are granted to the individual club that
applies for a licence.
3. An exception is granted for a period of one season. Under specific
circumstances this period may be extended and the UEFA member association
may be placed on an improvement plan.
4. A renewal of the exception is possible upon a new request.
Under 1(d) The SFA could have applied for exemption from Article 12 but as a 3 year exile was deemed necessary the SFA either did not make a case or had a case rejected. It is unlikely even the SFA would have made a case, especially if they did not have to do so by October when Administration ended and TRFC were playing in the bottom tier of Scottish football.
B. The process paras 4 and 5 refer.
1. The UEFA administration acts as the first instance decision-making body on
exception requests.
2. An exception request must be in writing, clear and well founded.
3. Exceptions related to items defined under A(1)(a, b, c, e and f) must be
submitted by the UEFA member association to the UEFA administration by the
deadline communicated by the latter.
4. Exceptions related to the item defined under A(1)(d) can be submitted at any
time. A licensor notified of the reorganisation or restructuring of an affiliated club
(e.g. change of legal form, merger of clubs, split of club, liquidation or
bankruptcy) is responsible for notifying the UEFA administration accordingly as
soon as it becomes aware of it.
5. The UEFA administration uses the necessary discretion to grant any exception
within the limits of these regulations.
6. The status and situation of football within the territory of the UEFA member
association will be taken into account when granting an exception. This
encompasses, for example:
a) size of the territory, population, geography, economic background;
b) size of the UEFA member association (number of clubs, number of registered
players and teams, size and quality of the administration of the association,
etc.);
c) the level of football (professional, semi-professional or amateur clubs);
d) status of football as a sport within the territory and its market potential
(average attendance, TV market, sponsorship, revenue potential, etc.);
e) UEFA coefficient (association and its clubs) and FIFA ranking;
f) stadium ownership situation (club, city/community, etc.) within the
association;
g) support (financial and other) from the national, regional and local authorities,
including the national sports ministry.
7. The decision will be communicated to the UEFA member association. The
decision must be in writing and state the reasoning. The UEFA member
association must then communicate it to all licence applicants concerned.
8. Appeals can be lodged against decisions made by the UEFA administration or, if
applicable, the UEFA Executive Committee in writing before the Court of
Arbitration for Sport (CAS) in accordance with the relevant provisions laid down
in the UEFA Statutes.
It would be informative to actually know what the SFA reported to UEFA.  Did the SFA  seek an exception or was the liquidation seen by UEFA as nothing more than an attempt by a club to shed its debt and carry on as before to the detriment to the integrity of its own competitions?
How much did the SFA and SPL's failed attempt to parachute the new legal entity that was "Rangers" into the top tier of the SPL, an attempt thwarted by supporters of all other clubs in Scotland, influence what the SFA told UEFA about Rangers liquidation?
Why are the SFA not treating the issue as UEFA have done?
Why no equivalent of Article 12 of UEFA FPP in SFA Articles to deter the type of skulduggery that has not only damaged healthy recovery at Ibrox but has also created the perception of – at worst – corrupt governance or – at best – not fit for purpose governance.
Finally and going back to the two types of legal entity that UEFA recognise as legitimate applicants for a UEFA licence:
When Rangers applied for a UEFA licence from say 2009 to 2011, did they do so as an applicant under Article 12 legal entity a) or legal entity b)?
Knowing that would stop the need to even approach the likes of ASA to give legitimacy to an issue that is not in their gift.
However as it's the gift of the SFA then we can expect:
The last word on the Sunday Herald advertisement, from the Celtic supporters who pulled the project together.
'The Statement from Celtic Supporters" was a huge success for us. It set the agenda ahead of the semi-final and when Scottish football had a wider audience we were able to tell the world about the same club myth by explaining the reasoning why they are a legally a new entity.'
'Lawyers at the newspaper and at ASA examined the detailed statement and did not find any difficulty with the legal argument we put forward. When the Statement appeared in the Sunday Herald it achieved an unbelievable amount of national and international coverage. Not one commentator or journalist was prepared to argue the fact it contained.
'Tellingly no Rangers fan seemed prepared to argue the facts, relying instead on insults, threats and the re-assurance that someone else at some point had said they were the same club.
The Sunday Herald by printing the Statement and ASA by endorsing it as being perfectly legitimate support the claim that Rangers are a legally a new legal entity and we believe that means that they are a new club.'
Click Here for Comments >