"Astonishingly good", does not even begin to tell the story. Celtic's financial record for the year to 30 June 2017 is a work Michelangelo would be proud of. Income topped £90m for the first time. Your eye may have been drawn to the leap from the previous years' turnover, £52m, a figure achieved without Champions League football, but that only tells part of the tale.
Turnover had never previously reached £80m, peaking just shy of £76m the season we beat Barcelona, sold 125 Anniversary merchandise, and earned north of £5m for reaching the Champions League knockout stage.
Champions League income was most significant contributor, but there has been considerably going on. Commercial income rocketed. You saw Dafabet step forward, with Magners finding new real estate on the shoulders of the strip. These front-and-back of the shirt deals were not only innovative, they funded the risk Celtic were prepared to take in signing Brendan Rodgers as manager.
With Brendan's contract funded, Celtic brought their chips to the table. £13.8m was invested in the playing squad, a figure we would consider eye-watering at any previous point in our history. Progres to the group stages of European football is never guaranteed, but the building blocks were in place to ensure we had a sporting chance.
The consequence of all this is Invincibleness. We didn't deliver the country's first undefeated treble because we have some magic potion, it happened because we are significantly better run and more resourceful than all domestic competitors. No team has ever enjoyed this degree of comparative advantage in the history of sporting endeavour in Scotland.
At year-end our net cash position (bank balance minus loans) was £17.9m It is easy to consider this as a reserve, but it's not. Our reserve is our available borrowing facility (as it always has been). The cash balance will be used to build infrastructure, keep the stadium safe and appropriate, and deliver a stronger team on the park (and for those thinking money in must be spent in the next available window, it just doesn't).
Back in the old days, I would benchmark our accounts against Rangers, whom we were engaged in a football arms-war with. We'll do that with Newco when their figures are available, as it will only tell you the reasons behind what you are seeing. Newco's turnover for the previous year (lower league football), was £22m. We will turnover a magnitude of three times as much as they do. It is as appropriate to compare us to Kilmarnock.
I get to see a wee bit of the stresses and strains of what it takes to produce a successful football club in a challenging environment – and we operate in a very challenging environment. The commercial deals we have delivered are incredible. Ticket sales have been just as remarkable.
We have a great deal to do if we are to match last season's domestic success in the current campaign, but all other things being equal, turnover will be up again this season. A win on Wednesday night and £100m just might be within reach.
Well done to all of you.
'YOU'RE NOT RANGERS ANYMORE,' ROCK STAR PAUL GALLAGHER
To get you in the mood for tomorrow we thought we'd re-post the launch edition of the CQN Podcast – A Celtic State of Mind, for you to enjoy. If you missed it the first time around you are in for a real treat.
You'll love Paul Gallagher's Celtic stories and will enjoy his digs at Sevco Rangers, specifically his forcefully stated views on the same club myth.
Paul is featured in the second half of the podcast if you want to jump forward…
The CQN Podcast is presented by Paul Dykes with Kevin Graham and you can catch up on all the subsequent podcasts on Celtic Quick News.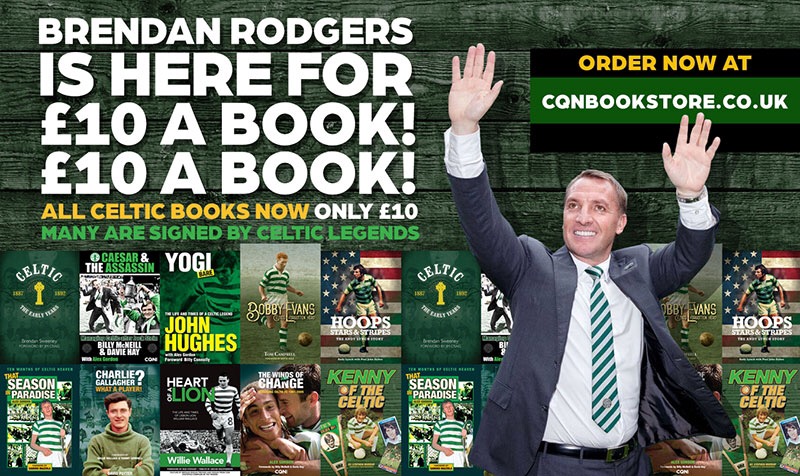 Click Here for Comments >