PROMINENT Celtic supporter Babs McMahon was last week accepted for college to finish her B.A in Humanities and as a result fulfill her life long ambition to teach young people.
Babs has always been there for anyone in the Celtic family who has had any problems, big or small, or just to be an ear when someone is feeling a bit down, she is first to congratulate all of us on our Birthdays, first to post when someone has a child/Grandchild, gets engaged, married, a new job or any happy event and first to offer condolences when we lose a loved one and of course wishes us all a happy day with a cheery message every morning and the Dublin weather forecast for those interested.
However this time she needs our help,to raise the £800 odd pounds fee to get through her course.
Lisa Devine first put the idea to me a few weeks ago and along with Tom South and they decided to ask the Celtic family,if you will help her achieve her dream.
They are hoping between us we can raise this amount even if you can only spare a couple of pounds.
Babs, being Babs, only agreed to this being asked if she could also do something and has decided to donate any excess funds to children's charities and so in keeping with the educational theme she agreed to do a readathon of 3 Celtic books in 12 hours yesterday.
Two of the books were supplied by CQN and the other one by Matt McGlone.
Here's how she got on, words from now on are from Babs…
HERE SHE GOES…
I'm all set!
There's approximately 1000 pages between the 3 books. I'm up since 5am so I hope I don't fall asleep lol
The Go Fund Me page is still open for donations.. Wish me Luck xxxx
https://www.gofundme.com/hh2zxfb8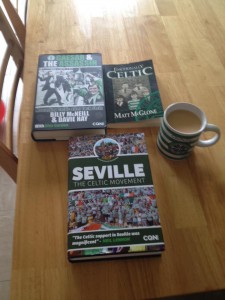 1. CAESAR & ASSASSIN FINISHED
Caesar & the Assassin finished in 3 hours and 15 mins. A fantastic book by Billy McNeill & Davie Haye with Alex Gordon.. For anyone who loves to read about Celtic during that era it's packed with highs and lows. Players came and went.. Charlie Nicholas Frank McAvennie, Paul McStay, Tommy Burns, Davie Provan and so on.. I felt I was at each game that is reported in the book and I felt so much for Billy when he was let go by the club that he obviously adored.. One thing that never changed was the opinion of other clubs regarding our supporters.. Faithful through & through.. Anyway out of 10 I would give this 8/10…
Right onto book no.2.. Xxxx
2. EMOTIONALLY CELTIC READ
Book 2 completed in 1 hour and 50 mins.. Emotionally Celtic.. Well I'm emotional after reading it. Whether you love/hate Matt McGlone he's brutally honest about the former board and their arrogance regarding our Club and its supporters.. But as we all know thanks to Fergus McCann the club was saved with 8 minutes to spare.. I enjoyed reading about Matt's early life and his description of working in a Glasgow store dressing mannequin's had me crying with laughter..
Out of 10 I'll give it 8.5/10.. Now off to the final book.. Back later
3. SEVILLE – THE CELTIC MOVEMENT COMPLETED!
That's it I've finished..
Book number three Seville the Celtic Movement… My favourite of the three books.. The writing, the stories of that amazing day in 2003.. Sums up exactly who we are – pg 225:
"Celtic- a name that was meant to be inclusive from the beginning which said that everyone and anybody was welcome and which has meant and always will mean that those who follow this club are not and never will consider themselves THE people but A people-a body of support-a brotherhood or family or a club in which we are all members"
Well over 80,000 descended on Seville many without tickets or accommodation.. In fact many slept on benches! That is dedication that was rewarded with UEFA awarding the fans with the Award of the Best Fans in the World..
So 9 hours, fifty cups of tea, a lunch break and a few loo breaks later I've completed my Readathon of 3 Celtic books.. All 3 books have made me realise even more how much of a Family we truly are.. Hail hail xxxx
PS, You can support Babs here
https://www.gofundme.com/hh2zxfb8
PPS Happy Birthday Henrik, pic from the Seville book…
Click Here for Comments >