You and I know how fans of other Scottish clubs feel about their performances in Europe; at best, it is a source of national frustration. Everyone else is cleared out of Europe in the qualifiers by teams who themselves seldom reach the Europa League proper.
All of this matches the Scotland national team, who only this year started to look competitive. A malaise has crept in, everyone comes to expect failure and copes without undue distress (for the most part).
In this respect, we have nothing to lecture Belgian football on. The Belgian national team is one of their nation's best ever, a decent outside shout for next year's World Cup. But domestically, Belgian football has rapidly fallen apart.
Anderlecht, like Celtic, are their country's last remaining competitor in European football. Brugge were bumped from the Champions League qualifiers by Basaksehir, then the Europa's by AEK Athens. Oostende lost to Marseille, no particular surprise there, but Gent exited the Europa qualifiers to Altach, currently seventh in the Austrian table after nine games.
The pain of humiliation in European club football is being felt acutely right now in Belgium, while their most successful club, Anderlecht, acts as the flag bearer.
Anderlecht's fall from grace has been steep. On the way to winning the domestic title, they produced one of the greatest wins in their European history last season, 1-6 away to German club FSV Mainz on the way to a 3-2 aggregate quarter-final defeat to eventual Europa League winners Manchester United.
Now they sit seventh in the table, nine points adrift from Brugge, having sold their top talent from last season, and sacked their manager this month. This is a dysfunctional team in a newly-dysfunctional league. They fear Celtic.
So far, so encouraging, but you and I have seen this movie before. Larsson, Sutton and Hartson had Anderlecht on the canvass in 2003. Dominating possession in Brussels with the home team down to 10 men, but we still contrived to lose the game to a team we would sweep aside with ease at Celtic Park.
There are reasons to be hopeful. Our previous two away games in the group stage, (Manchester City and Borussia Monchengladbach), produced highly credible draws, we looked like a team who knew how to survive in this environment, but you and I would be delighted with a draw tomorrow night.
Notwithstanding the fact that a draw would be a satisfactory result, this is a game we should look to win. Anderlecht's deficiencies are many and evident. They cannot buy a performance right now. If Brendan and his players secure three points, they will take a huge step towards European maturity. Don't bet against them.
Celtic FC Foundation, Great Scottish Run
A number of us will be treading the streets of Glasgow in Celtic FC Foundation regalia on Sunday with the Great Scottish Run. I am doing the 10k (either because I fancied the shorter distance, or because I forgot to register for the Half in time…. hopeless).
Being able to do things for the Foundation is a significant part of my Celtic relationship. It is appropriate to follow in the footsteps of those who 130 years ago decided to form a football club to help those in need.
What the Foundation does will never grab the headlines of what the football team does, but it is difficult to imagine a football result having as profound an impact on people's lives as the work of the Foundation, when it feeds the hungry, or provides respect to the downtrodden.
If you are able to support the work, please do so at this MyDonate page.
Thank you.
——–
The CQN Podcast: A Celtic State of Mind (EP14) Champions League Special
A Celtic State of Mind offers an insight into the culture of Celtic Football Club, the city of Glasgow, and fans of the reigning invincible Scottish champions.
Each episode includes interviews with 'Celtic-minded' figures from the world of sport, music, film, art, broadcasting, literature or politics.
Ahead of the crucial Champions League match against Anderlecht, 'A Celtic State of Mind' goes behind the Champions League curtain for Celtic's opening match against PSG.
Kevin Graham provides pre and post-match discussion with members of his CSC, as well as in-match analysis in what will be a regular Celtic State of Mind feature.
Enjoy!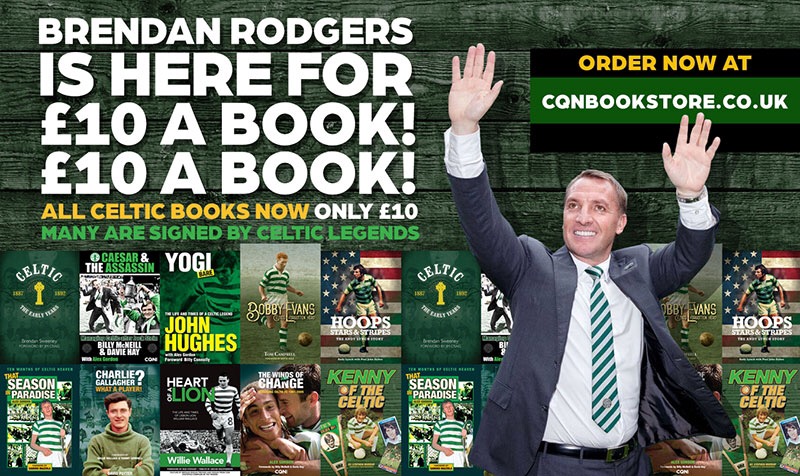 Click Here for Comments >