FORMER Celtic stars Craig Bellamy and Roy Keane have been pinpointed by ex-referee Mark Clattenburg in his list of difficult players.
The one-time top-flight official ranked the Welsh international striker at the top of his most awkward professionals he had to deal with during his 17 years as a whistler.
And Clattenburg was clearly not a fan of the Republic of Ireland legend when he was in charge of games involving Manchester United.
BELLAMY "was the most irritating" on and off the field.
KEANE, he insisted, was not to be trusted.
Clattenburg picked out his five worst players to have officiated – and he he didn't hold back during an interview with The Sun.
He revealed: "I used to find Jens Lehmann such hard work. He was always difficult because he'd always whinge about people stepping on his toes in the penalty area.
"I found (Rio) Ferdinand difficult to referee during that Fergie era because he was always trying to play mind games.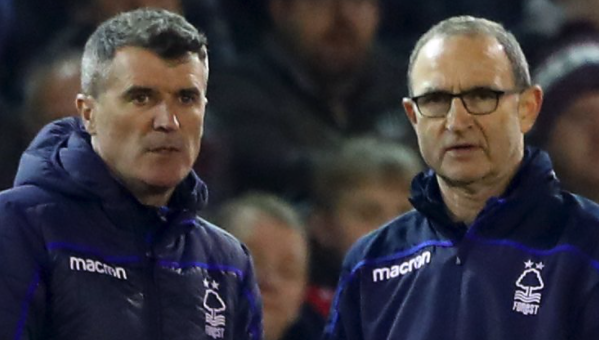 TOP MEN…Roy Keane and Martin O'Neill.
"Pepe was a guy who was always difficult because he'd try to frame stuff and wind attackers up to get them sent off, which is not always a great thing when you're trying to referee a football match.
"Roy (Keane) was physical, hard and you couldn't trust him. Look at the tackle on Alf-Inge Haaland for example. You never knew what he was going to do next.
"The worst one – and I've thought it for years – was Bellamy. He was just the most irritating player on the pitch – and he was irritating off it."
Sir Bobby Robson claimed the pacy attacker was "the gobbiest footballer I've ever met" during their time working together at Newcastle.
Martin O'Neill took Bellamy on loan to the Hoops in January 2005 from St James's Park, but no long-term deal could be struck and he joined Blackburn Rovers in the summer.
Old Trafford icon Keane was signed by Gordon Strachan in January 2006 and helped the team win the Championship and the League Cup before retiring at the age of 35 following six months at his boyhood favourites.
Bellamy, who also featured for Liverpool, Manchester City, Coventry City and Cardiff City is now a coach and has joined his former Etihad team-mate Vincent Kompany at Anderlecht.
Click Here for Comments >