LISBON LION Bertie Auld has been diagnosed with dementia, Celtic have announced.
The club great, 83, is being cared for at home by his family who have requested that their privacy be respected at this time.
Celtic, in a statement, said: "Bertie Auld`s family would like all Celtic fans and football fans in general to keep Bertie in their prayers as they confirmed today that he is suffering with dementia.
"The family would like to thank everyone for their huge support and request privacy during this difficult time.
HISTORY BHOY…Bertie Auld is on the ball as he plays his part in the unforgettable European Cup Final triumph over Inter Milan in Lisbon in 1967.
"Bertie is being well cared for at his own home, surrounded by all the family. Everyone at Celtic would like to add their best wishes to Bertie and his family.
"Bertie is a true Celtic icon, one of our greatest sons and someone the Club and our supporters love and respect dearly.
"We will continue to give Bertie and his family all our love, care and our ongoing full support at this hugely challenging time."
Author Alex Gordon, who co-wrote the Lion's autobiography, 'A Bhoy Called Bertie', which was published in 2008, told CQN: "I had been aware of Bertie's condition for a while, but, out of respect to my good friend and his family, I left it to them and Celtic to make a formal announcement.
"It is so sad and I can only reflect on all the many remarkable memories this cheeky wee chap from Maryhill has bestowed upon me and all the other Celtic supporters worldwide.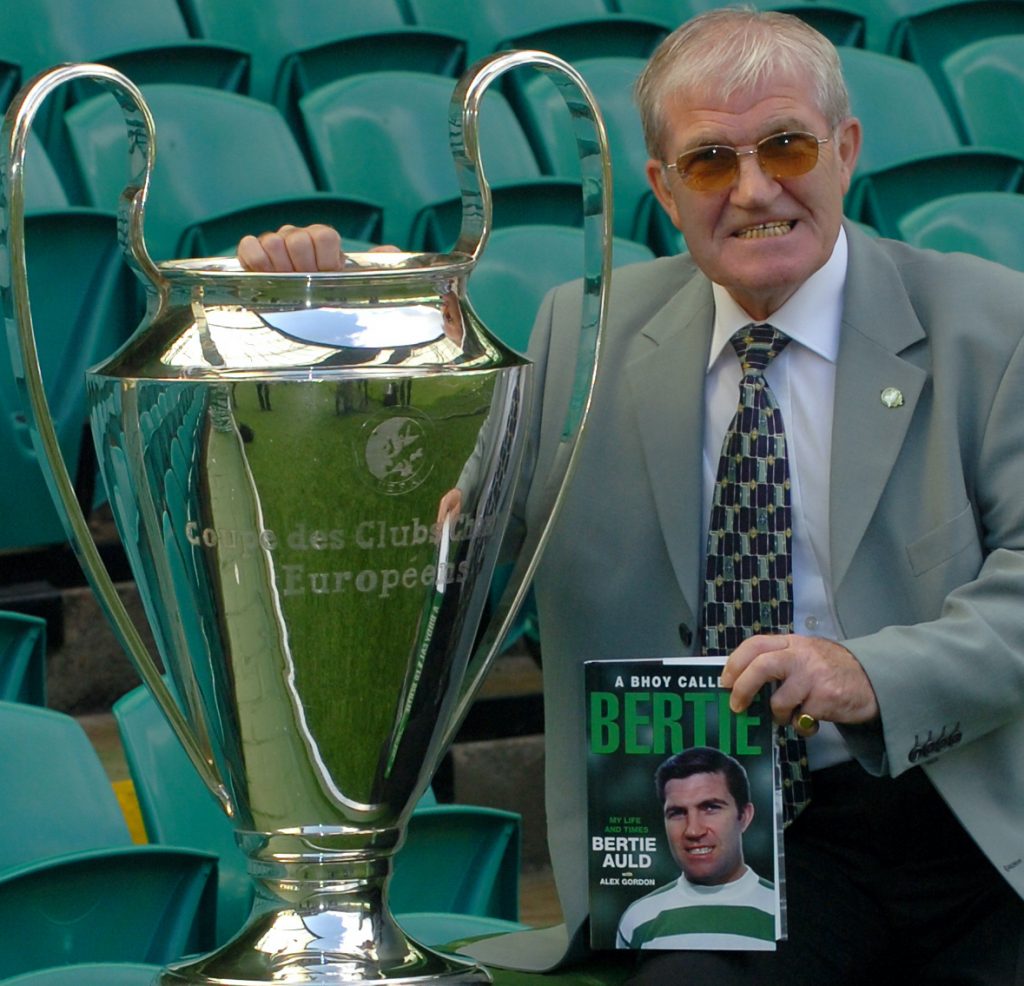 READ ALL ABOUT…Bertie Auld with the European Cup at the book launch of his autobiography, 'A Bhoy Caled Bertie'.
"Bertie loved those fans. Even in private moments when he would pop in to my place for 'a cup of tea and a biscuit' as he passed on his way home coming out of Glasgow he would regale me with even more tales of those followers who geniunely meant so much to him.
"He always called them 'Celtic's Twelfth Man' and I can tell you Wee Bertie meant those words, delivered straight from his heart."
Auld had two spells at Celtic, with a break at Birmingham City in between, and is already in club history as one of the 11 players who defeated Inter Milan 2-1 in the 1967 European Cup Final in Lisbon on May 25.
He also played for Hibs and had a spell as manager at Easter Road. He also managed Partick Thistle and Dumbarton and, on the international front, made three appearances for Scotland.
Click Here for Comments >