LISBON LION BERTIE AULD popped round to visit Alex Gordon today to obligingly sign a limited number of copies of his latest Celtic book, 'That Season In Paradise – Ten Months of Celtic Heaven' which is published by CQN Books.
That Season in Paradise centres on the most illustrious campaign in Celtic's history when they won every single trophy for which they competed – including becoming the first British club to conquer Europe in season 1966/67.
Here's what one reader has said about That Season in Paradise:
"This is an absolutely sensational book, a must-read for any Celtic fan. Alex Gordon, in his latest offering about the Parkhead club, delves deep into the greatest season in the team's history when they won everything in sight.
"We all know about the big games, Lisbon, the Cup Finals and the league decider, but there is in-depth coverage of the confrontations that paved the way for Jock Stein's men to conquer everyone at home and abroad.
"I particularly liked the tribute to Joe McBride, who just missed out on becoming a Lisbon Lion. It's a book that takes you on a trip of a lifetime, the ultimate feelgood experience for those of a Celtic persuasion."
Bertie Auld played a starring role that season and on that wonderful afternoon in Lisbon and we're delighted to say that, at the age of 78, he is still as fit as the proverbial fiddle.
'That Season In Paradise – Ten Months of Celtic Heaven' is published by CQN Books at £15.99. If you'd like a copy signed by Lisbon Lion Bertie Auld and author Alex Gordon please order HERE 
Your book will be posted straight away so there's plenty of time for pre-Christmas delivery.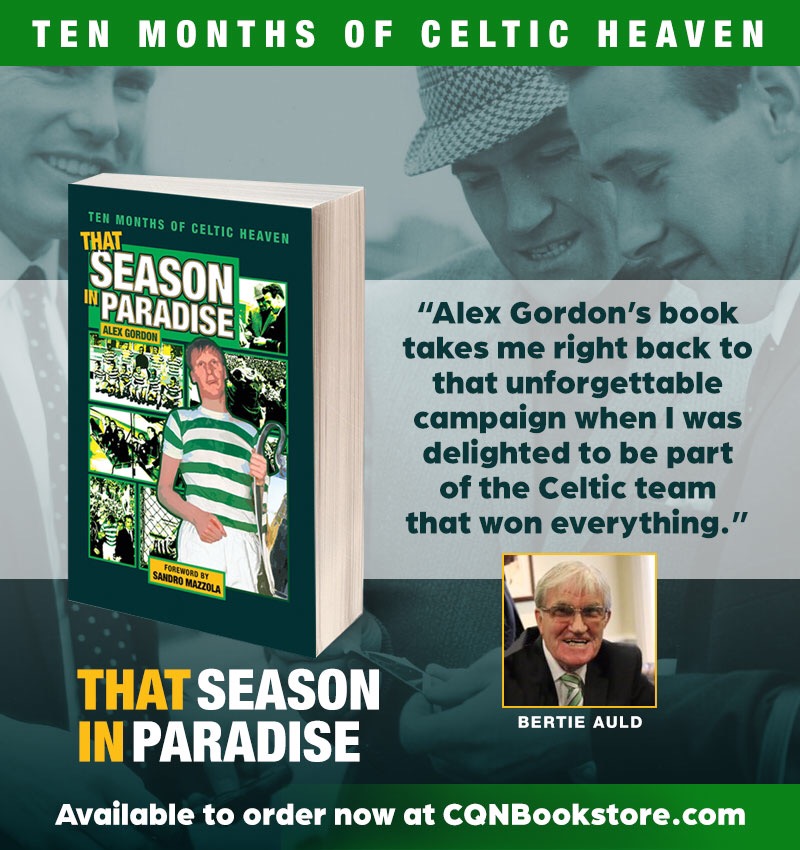 Click Here for Comments >