FORGOTTEN Bhoy Saidy Janko is racing back to peak fitness to revive his Celtic career and play a major part in Ronny Deila's emerging Quality Street Gang next season.
The Swiss Under-21 international defender, who joined the Hoops in a £1million deal from Manchester United in June, has been sidelined since October with a knee injury.
Janko, though, wants to be back in time for the campaign run-in with a league and Cup double up for grabs.
The 20-year-old right-back or defensive midfielder said: "I'm feeling really positive.I just love being back on the pitch, even if I'm just running.
"This has been the hardest four or five months in my life. I've never been seriously injured before, so when you come back you really appreciate the football.
"The relief of getting back is unbelievable. You can't replace that feeling. There have been players out for a lot longer than me and I couldn't imagine what it'd be like for them. Injury is the worst for a player, but I'm so glad to be returning."
Janko added: "I just want to get back to training, but the fitness coaches need to hold me back and tell me to be patient and relax.
"I would play on Saturday if it was my choice, but it takes some time to get back fit.
"It's not easy at the moment and we have a lot of pressure on us. Everyone expects us to win the title, but there are good sides in this league.
"This is a good period for me to come back. If I'm fully fit I'll just do my best and try to help us win the title."
—————————————
CQN SPECIAL OFFER!
We have reduced the price of a selection of our Celtic books on CQNBookstore.com
The Winds of Change and Caesar & The Assassin are reduced to £13.99 each, Seville The Celtic Movement and The Quality Street Gang are now only £9.99 each. The Jock Stein book, Willie Wallace & Tommy Gemmell's books are all just £6.99 each.
Order ANY book or DVD and we'll send you a copy of the 2015 CQN Annual absolutely free and we will add a wee dram for you to enjoy when you're reading!
We also have the Neilly Mochan book and DVD from Paul Dykes available and much more.
Order now at www.CQNBookstore.com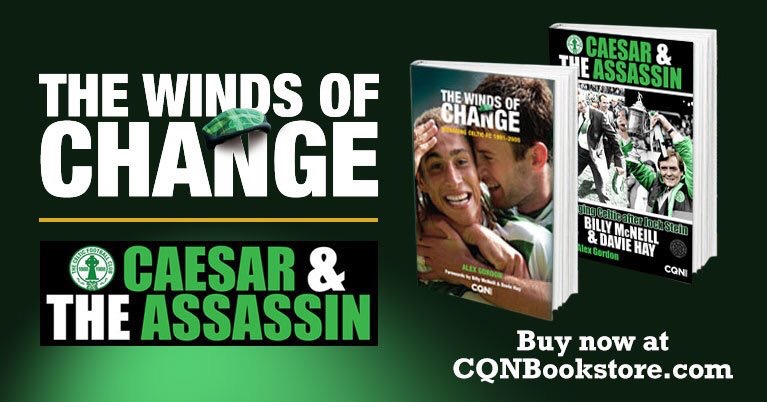 Click Here for Comments >