LISBON Lion Jim Craig celebrates his 80th birthday today.
The dependable right-back was one of the quiet men along with John Clark in that wonderful European Cup-winning line-up.
However, Craig did have his moments with legendary boss Jock Stein when the defender candidly admits the gaffer would have much preferred he "kept his trap shut".
Author Alex Gordon interviewed the Hoops hero at length in his publication, 'Lisbon Lions: The 40th Anniversary', which was published in 2007.
In another CQN EXCLUSIVE, Alex delivers an edited extract from the book.
I FULLY admit to making life difficult for Jock Stein. I am also sure he found me a bit awkward. Either way, it made sure life as a Lisbon Lion was never dull.
Right from the start, Big Jock could never get his head round the fact that I had a job outside football. I was a qualified dentist – surely the only one who has ever won a European Cup medal! – and he wasn't prepared to accept that I could concentrate 100 per cent on being a footballer while I had outside interests.
I told him many times that I could, indeed, do both jobs equally well, but he was never convinced. It would be fair to say we had a few run-ins during our time together.
Don't get me wrong. Big Jock was a very talented man. An exceptional, ground-breaking manager. Football to him was everything and if he thought you weren't eating, drinking, sleeping football, too, he believed there was something wrong with you. You got the impression you should park your brain at the door outside Celtic Park and pick it up on your way home.
TAKE OFF…Jim Craig throws himself into a challenge on Inter Milan winger Mario Corso in Lisbon.
I had other interests, but I would defy anyone to say I wasn't committed to the Celtic cause. When I pulled on that green and white shirt I was as ready to go as anyone. Jock and I had a problem, though, because of our differing attitudes. I'll admit I could be deliberately destructive. I had an inquistive mind – still do, I hope – and I would ask questions. This was something that was new to Big Jock and something he didn't embrace with any enthusiasm, believe me.
I was the guy who would query this, that and the next thing while most of my colleagues bit their tongues and kept quiet. He would point to the tactics board and go through a lengthy routine. Some of us took it in and others didn't. How could you tell Jimmy Johnstone how to play? I would ask a few questions, make a point or two and Big Jock, plainly, didn't welcome such intrusions.
He was a meticulous planner; probably the first of his kind. He would go through our line-up and tell us exactly what he expected us to do. He rarely dwelt on the opposition. He concentrated mainly on us and what we should do on the day.  I thought it was only right and proper that I should ask a question or two just to clear up any possible misunderstanding.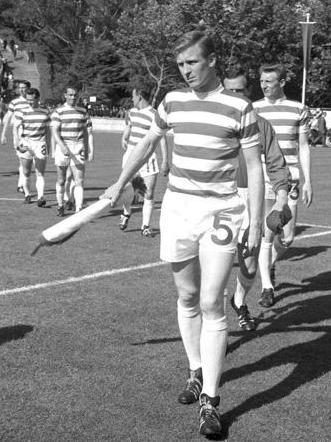 LEADING THE WAY…Billy McNeill is at the front with Jim Craig at the rear as the team takes the field at Lisbon.
If Plan A wasn't working, what was Plan B? Jock didn't like that. He was a big fan of the master/servant relationship and, naturally, I didn't agree with that mode of thinking. For a start, I was halfway through my dental studies and that's a job where, quite literally, you have to think on your feet.
You have to make decisions very quickly. You are very much your own man. So, I have to admit when I turned up at Celtic Park and found I didn't have a mind of my own, it was extremely difficult to accept.
Big Jock would wave you away with that big left hand of his. "Oh, just do as you're told," he would say. Okay, he was the boss, but that didn't mean I had to touch my forelock every time I spoke to him. In fact, I was never a massive admirer of authority figures. I'm afraid that still applies!
But I was a seeker of knowledge and I don't think that is a bad thing. I wanted to know what was going on inside Big Jock's head. I'll also admit that I did sometimes go over the score and I'm sure he knew it.
For instance, there was one particular day when the boss was going through his usual routine before a big match. We were all taking it in, listening to his instructions, but I noticed one individual who looked as though he couldn't give a stuff. When Big Jock was pointing to the blackboard, this guy was looking at the ceiling, clearly totally unimpressed by proceedings.
I won't name the player, but, suffice to say, he was never a great believer in tactics and such like. He played totally off the cuff and that's what made him such an entrancing, exciting individual. Football, to him, was completely instinctive. You could say he was a free spirit. I guess you'll have worked out by now who I am talking about!
PRIZE GUYS…Billy McNeill and Jim Craig with the European Cup at a reunion.
At the end of this talk-in I had, as usual, a few questions to put to the manager. Again I was waved away. "Just do as you're told," I was instructed for the umpteenth time. However, as we were filtering out of the room, Big Jock got a hold of me and pulled me back in.
"Okay, what is it now?" he asked. I told him I knew what I was supposed to do, but did everyone else take in what he was saying? He knew what I was talking about okay and he just laughed. I reckon he, too, realised there was little you could do with this player. You could hammer all sorts of instructions into him, but he would just go out and do his own thing, anyway. And he did it very well, too, I hasten to add.
Big Jock, as everyone knows, was a huge admirer of attacking football. He always believed in entertaining the punter. We could be three goals ahead, but he would demand four. If we were four in front, he would look for five. Ironically, as a player, he was a centre-half who rarely ventured across the halfway line. As a manager, though, he liked nothing better than his team playing with flair and adventure.
I suppose his philosophy was that attack was the best form of defence. No team was going to score from their own half, after all. However, Big Jock wasn't against letting the opposition know you were on the field. If he thought you were up against a particularly dangerous individual he actively encouraged you to "lean on him". That was a euphemism for giving him a wee dunt just to see how his heart stood up to it.
HAIL HAIL THE OLD BHOYS…the Lisbon Lions line-up in the eighties: Back row (left to right): Jim Craig, Tommy Gemmell, Billy McNeill, Ronnie Simpson, Bobby Murdoch and John Clark. Front: Jimmy Johnstone, Willie Wallace, Stevie Chalmers, Bertie Auld and Bobby Lennox.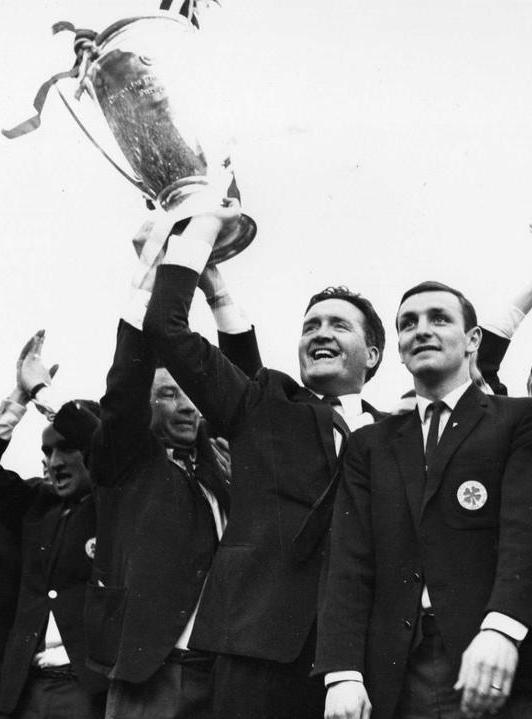 EURO MASTERMIND…Jock Stein with the European Cup after triumphant Celtic returned to Parkhead.
You would be amazed at the amount of players who disappeared off the radar after a fairly solid challenge. I don't think you could ever categorise me as a dirty player, but I can now admit that I could put it about with the best of them.
Not that long ago, they were showing the Jimmy Johnstone film at a theatre in Glasgow when yours truly appeared on the screen with what looked like a fairly vicious tackle on an opponent. Well, I almost separated the guy's torso from his legs and there was a sharp intake of breath among the audience.
To say I was just a tad startled would be putting it mildly. I could hardly believe I was the guy up on that film who had made such a crude challenge. Yes, I was a bit embarrassed, but, anyone who watched me in action back then would say that wasn't typical of Jim Craig. I hope so, anyway.
People have often approached me to say they thought I was the quiet man in the Lisbon Lions line-up and I would accept that was a fair assumption. I'm not a particularly noisy character and in a busy dressing room it was never easy to get a word in edgeways, anyway, with guys such as Tommy Gemmell and Bertie Auld around.
I preferred to do my talking when you could actually be heard although, as I have already stated, Big Jock probably would have been a lot happier if I had kept my trap shut from day one!
Click Here for Comments >