CELTIC hadn't won a trophy in eight torturous years until captain supreme Billy McNeill rose majestically to get his blond head to a left-wing corner-kick from Charlie Gallagher to send an effort sailing into the Dunfermline net.
Jock Stein watched from the dug-out as his centre-half's towering header strangled itself in the net for the Hoops' third goal on a gloriously unforgettable afternoon at Hampden on April 24 1965.
McNeill's breathtaking leap and perfect contact with the swirling cross made the scoreline 3-2 for the Parkhead side and the Scottish Cup was about to be wrapped in green and white ribbons and escorted across Glasgow to the city's east end.
Author Alex Gordon, whose fifteenth Celtic book, '50 Flags Plus One', is devoted to the club's 51 untainted titles, recalls a vivid memory from a triumph that changed the course of history at the club with Stein installed as manager the previous month.
In another CQN EXCLUSIVE, Alex turns back the clock to an eventful afternoon at the national stadium exactly FIFTY-SEVEN years ago with an edited extract from his tribute tome to Billy McNeill, 'In Praise of Caesar', which was published in 2018.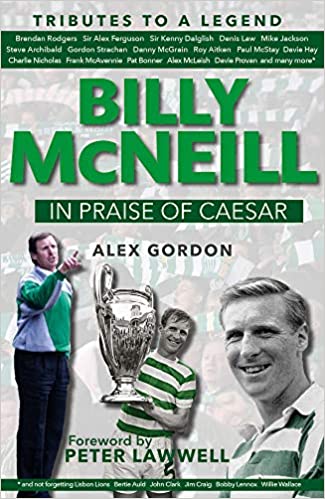 LOU MACARI couldn't bear to look. The minutes were crawling along at a painfully slow and agonising rate. He turned his back on the frantic events taking place on the pitch to focus his attention on the Hampden car park.
'I was fifteen years old at the time,' recalled the former Celtic player and manager. 'I had left Largs that April morning on a coach with members of the local supporters' club to head for Glasgow. We were all thrilled and excited with Celtic due to play Dunfermline in the 1965 Scottish Cup Final.
'I had been seven the last time my favourite team had won a trophy. Trust me, gaining silverware that afternoon meant a lot to a wee boy from the Ayrshire coast.
'My nerves were stretched to breaking point throughout the game. When Billy McNeill headed in Charlie Gallagher's left-wing corner-kick, I was swept off my feet by my mates. When everything settled down, I just wanted the referee to blow for time-up and put us out of our agony and let us get on with our celebrations.
'I was told there was something like eight minutes to play. It felt like eight hours. We were so close to actually winning a trophy, something that had hardly been a common occurrence in the club's barren years.
HEAD BHOY…Billy McNeill leaps to head in the winner against Dunfermline in the epic 1965 Scottish Cup Final.
'I just couldn't watch any more. I stood at the top of the traditional Celtic end, high up on the slopes of Hampden, and gazed down on the car park. I was still facing in that direction when the referee blew his whistle to signal the end of the game and I just felt so overjoyed and relieved. Everyone was hugging each other and it was just great to be a Celtic fan.
'Billy McNeill went up to collect the Scottish Cup and, one by one, the players were handed their winner's medal. And then they went out onto the pitch to accept the cheers of the followers who had been through so much but were united in joy that afternoon. It's a marvellous memory which has not dimmed with time.'
Macari and his fellow Celtic fans had every right to celebrate with vigorous glee at the national stadium on April 24 1965. At long last, their favourites had emerged triumphant when the crunch had arrived. Too often, though, they had failed to rise to the occasion. They were runaway favourites to overwhelm Dunfermline, then managed by Jock Stein, in the 1961 Scottish Cup Final.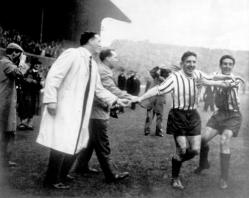 FLASHBACK…Jock Stein congratulates his Dunfermline players after their shock Scottish Cup Final replay win over Celtic in 1961.
They had been held to a goalless stalemate in the first game and collapsed 2–0 in the replay. A young Billy McNeill, then aged twenty-three, was inconsolable at the end of the game.
Two years later, Jimmy McGrory, the club's record goalscorer with 550 strikes from 1921 to 1937, once again led the team to the final of Scotland's blue riband competition. They battled their way to a 1–1 draw with fiercest foes Rangers to force another replay. Yet again, they weren't up to the task and disappointed in an abysmal 3–0 loss. It was torment for McNeill, who watched helplessly as his personal friend, Rangers' strolling minstrel Jim Baxter, took centre stage.
So, it was with these grim memories to haunt them that some Celtic fans headed for Hampden for the grand finale against Dunfermline with optimism falling just short of that of the condemned man heading for the gallows, a game against the bookmakers' favourites who had already won 2–1 at Parkhead in the league earlier in the season.
GRAND FINALE…Billy McNeill rises above Bobby Lennox to thump in the Scottish Cup winner in 1965. Dunfermline keeper Jim Herriot and right-back Willie Callaghan are helpless.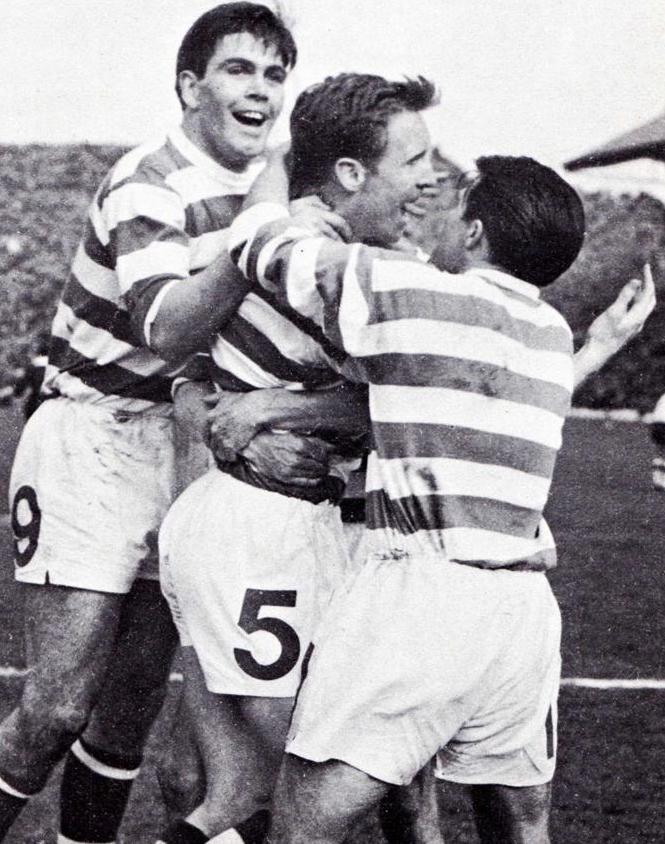 JOY BHOYS…John Hughes and Bertie Auld congratulate matchwinner Billy McNeill.
Celtic's two games before Hampden had ended in cringeworthy defeats, a landslide 6–2 loss at Brockville on April 14 against a Falkirk team that completed the campaign third bottom of the First Division and a 2–1 nosedive against Partick Thistle three days later at Parkhead. Hardly performances to instil confidence before the trek to the national stadium.
John Fallon took his place in goal behind Billy McNeill and John Clark with Ian Young and Tommy Gemmell on the defensive flanks. The keeper recalled, 'A lot of shrewd judges rated Dunfermline the best team in the country at the time.
'Kilmarnock won the title on goal average from Hearts, but the Fifers were only a point adrift at the end of the season. Many thought they had been unfortunate and would channel all their efforts into the Scottish Cup Final.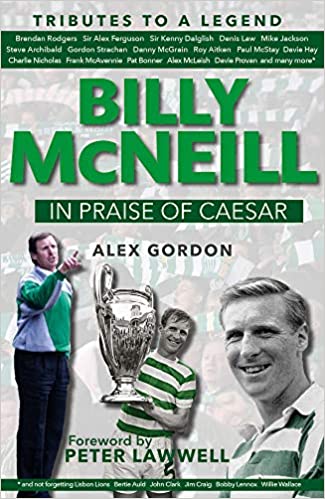 'Jock Stein had just returned the previous month to take over from Jimmy McGrory and things were changing drastically at Parkhead. He liked to play mind-games with other team bosses and, although we had been far from convincing against Falkirk and Thistle, he announced his line-up on Wednesday. Normally, a manager would wait right up until the last minute before his opposite number could see his chosen eleven.
'It was a wee bit of bravado from our boss, a show of confidence in his players. Billy hadn't played in the debacle at Brockville when we were 2–0 down in seven minutes and 4–1 adrift after 27 minutes. He had been injured playing for Scotland and John Cushley was brought in for that match. Absolutely no disrespect to Cushley, who was a sturdy central defender, but he wasn't Billy McNeill.
'Billy played against Thistle the week before the Cup Final, but he still didn't look 100 per cent fit. However, he was determined to play at Hampden and thank goodness for his resolution. We knew it was going to be difficult against a very good Dunfermline team and we didn't help ourselves when they took the lead in the fifteenth minute.
HITTING THE BAR…John Fallon celebrates in a unique style at full-time.
'A ball came into the penalty area and I shouted to Billy to leave it. He duly followed my instructions, but, unfortunately, Ian Young was also in the vicinity and I bumped into him as I tried to punch it to safety. I didn't get enough on the ball to clear the penalty area and it came back to Harry Melrose who popped it into the net. There was no time for an inquest, we just had to get the ball re-centred and set about getting an equaliser as swiftly as possible.
'Bertie Auld duly obliged when a twenty-five yard shot from Charlie Gallagher clattered off the face of the crossbar, spun into the air and there was Wee Bertie racing in to nod the ball into the net from practically the goal-line. A few minutes from half-time, though, the Fifers scored again and I got a bit of stick.
'They worked a short free-kick outside our box and John McLaughlin, a big, powerful centre-forward, lashed the ball goalward. Alarmingly, my defensive wall parted. It simply opened up and his effort zipped low past my right hand. We had it all to do again.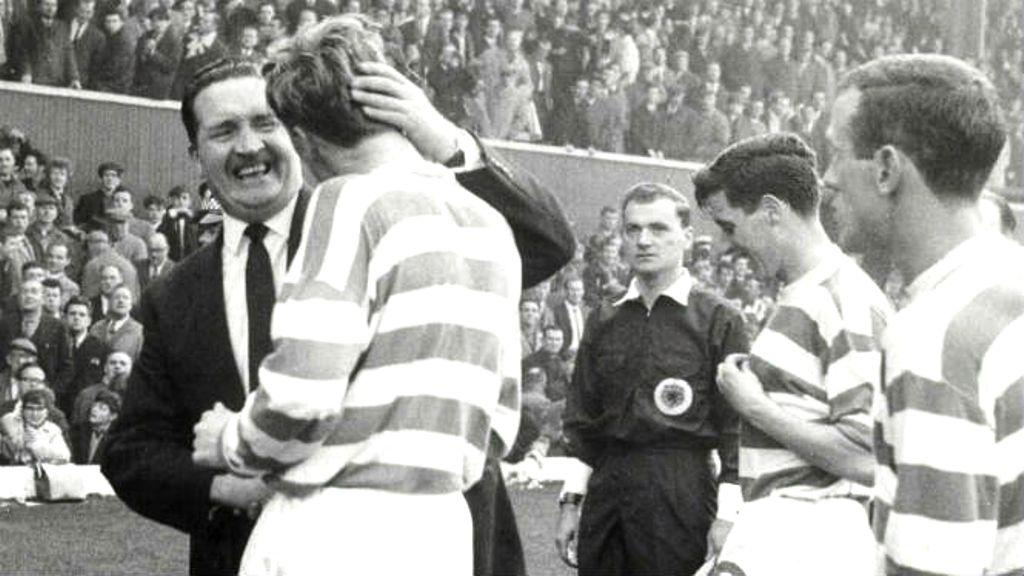 THAT'S MY BHOY…Jock Stein pats skipper Billy McNeill on the head as team-mates Charlie Gallagher and Bobby Lennox head for the Hampden tunnel.
'There was no ranting or raving in the dressing room at the interval. Big Jock was very calm, poised and reassured. He convinced us we would get an early goal and go onto win the game and the Cup. That's the way it turned out, of course.
'Bobby Lennox darted down the left wing before sending in a wonderful low cross and Wee Bertie was there again to ram the ball behind Jim Herriot for our second equaliser. Shortly after that, I pulled off a save of which I am still immensely proud.
'Dunfermline were stung into retaliation and their clever little outside-right Alex Edwards latched onto a pass on the edge of the box. Instantly, he controlled the ball and attempted to chip me. It was heading for the top right-hand corner of my net, but I somehow managed to stretch almost backwards to claw the ball out of the air and hold onto it. If Dunfermline had scored a third goal at that point we might not have been celebrating that evening.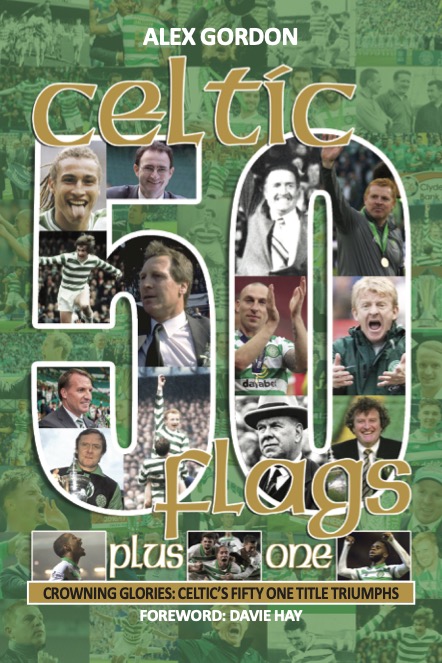 READ ALL ABOUT IT…Alex Gordon's tribute book to Celtic's 51 untainted titles.
'Afterwards, someone pointed out that no team had come back in a Scottish Cup Final after going behind twice. We managed it, but could we have come back a third time? Who knows? One thing is certain and that was the spirit of this team and, naturally, Billy McNeill was our onfield leader. He had the attributes to be inspirational. You took one look at him and you had to admire his stature.
'He stood out in a crowd, always commanding and possibly he got that from his father's army background. And, of course, he made his presence known that afternoon at Hampden when he timed his leap to absolute perfection to head in Charlie Gallagher's corner-kick from the left wing near the end.
'There's a photograph of me hanging upside down from the crossbar and I actually tried to get up to stand on it at the final whistle. However, my studs got caught in the net and I ended up in a heap at the back of the goal. Who cared? Celtic had won their first trophy in ages and Hampden was awash in green and white.
'I hadn't played in the previous Cup Final defeats against Dunfermline and Rangers, but, Billy had and that must have made this victory all the sweeter.'
Click Here for Comments >