CELTIC great John 'Yogi' Hughes passed away on Monday evening at the age of 79 after a short illness.
In a CQN EXCLUSIVE, Alex Gordon, who co-authored the fans' favourite's autobiography, 'Yogi Bare: The Life and Times of a Celtic Legend', which was published in 2014, has selected another chapter from his friend's best-seller.
Please enjoy.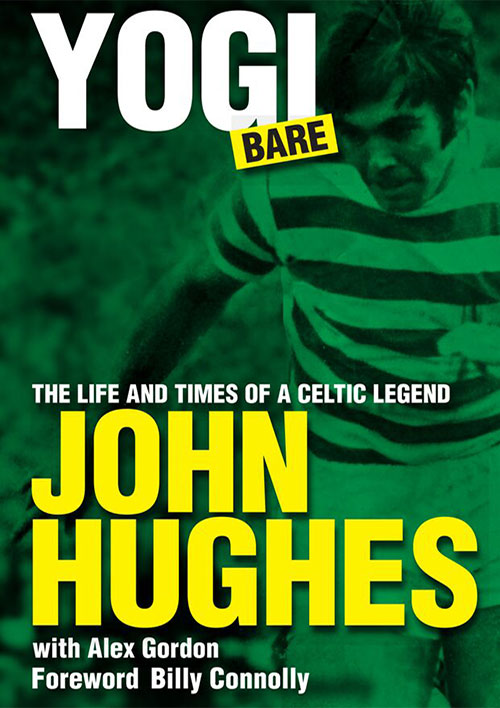 JOHN HUGHES of Juventus. Doesn't sound right, does it? Yet that could have been the case at the start of sixties, remarkably only one year after I had broken into the Celtic first team.
Sounds far-fetched, I realise, but please believe me it is completely true. And I have to admit no-one was more amazed than myself when I first heard the news.
One minute it seemed I was turning out in the harsh, grim world of the juniors for Shotts Bon Accord and the next I could have been playing in the glittering, glitzy top flight in Italy. You could only liken it to a bit-part actor getting jobbing roles at the Theatre Royal before being whisked off virtually overnight to star in a major movie production in Hollywood.
Yes, these things can happen, but you just don't believe for a second they can happen to you.
THE START OF SOMETHING GOOD…teenager John 'Yogi' Hughes puts the pressure on Rangers defenders Eric Caldow and Doug Baillie.
I had made a bit of a name for myself by being promoted to the Celtic first team as a 17 year old and, of course, had scored on my debut in a 2-0 League Cup victory over Third Lanark at Parkhead on August 13 1960. It was a nice way of introducing myself to the greatest fans in the world.
I suppose the game that really caught the imagination was another League Cup-tie against Rangers at Ibrox a couple of weeks later. One newspaper report stated I had been "unstoppable" and I have to say I had one of those games where everything fell into place.
I was playing up front directly against Doug Baillie, who had just been signed for something like £12,500 from Airdrie in the summer. That was a lot of money back then. He was a man-mountain centre-half, a no-frills defender, but I was hardly intimidated.
I had scored a lot of goals for Shotts the previous year and I simply thought I could do it at a higher level. Maybe that was just the confidence of a youngster, but that was my firm belief. I couldn't wait for that Rangers game. I scored a good goal and we won 3-2. My performance and that result sent reverberations around the football world. I thought I had arrived!
TEENAGE TERROR…John 'Yogi' Hughes displays his nimble touch which was extraordinary for a player of his size and stature.
A national newspaper journalist by the name of Jim Rodger caught me coming out of Celtic Park one day. He had worked for the Daily Record before moving to the Daily Express and he was known to everyone as 'Scoop'.
I've since been told he couldn't write his name, but his contacts in the football world were second to none. He wasn't expected to write flowery features for his newspapers, but his remit was to go out and simply uncover exclusive football stories and pass the facts on to someone else to put in a readable form.
He sidled up to me and said: "Son, I've been watching you and I've been impressed. Aye, I think you've got it, son."
I thanked him for his very kind words and was about to walk past him and go to get my bus to take me home to Coatbridge. He took my arm and pulled me closer to me and said very surreptitiously: "Son, there's a very big club looking at you."
I smiled at the newspaperman.
"I'm perfectly happy, Mr Rodger," I informed him.
CELTIC FOR ME…John 'Yogi' Hughes never had any intention of leaving his beloved Celtic.
Let's face it, I was only a teenager not long out of school and was still a big, raw laddie. I was content just to get near the first team dressing room at Celtic. I also knew I had so much to learn.
The journalist leaned forward and said the words I'll never forget. "Juventus, son," he whispered. "Have you heard of them?"
Well, of course, I had heard of them. They were one of the biggest and richest teams in the world and, as far as I was concerned, operated on a different stratosphere. Apart from their obvious reputation, I knew very little else about them. I couldn't have told you they played in Turin, for instance.
Frankly, I wasn't one bit interested; I was living the dream playing for Celtic.
"Think about it, son," said Jim Rodger. "I'll speak to you again."
To be honest, I thought nothing more about it. I wasn't even interested enough to ask what kind of cash they might be offering. Back then, that never even came close to entering the equation.
I was a Celtic player and I was very happy being a Celtic player. What could have been better for a young lad who grew up supporting the club?
PICK IT OUT…John Hughes thunders a drive high past Airdrie keeper Lawrie Leslie in a Scottish Cup semi-final triumph at Hampden.
What I didn't realise, of course, was that Juventus were already searching for a possible replacement for Welsh international John Charles who had joined the club from Leeds United in 1957. He was a big, burly player who became known to the Italian supporters as 'Il Gigante Buono' – The Gentle Giant.
Maybe they saw me as 'Il Gigante Bouno Mark Two'!
Charles cost £65,000 when he switched from England to Italy which was by far a British record transfer fee at the time. He was extremely popular with the Juventus fans and little wonder when you take a quick look at his record. He was top scorer at the club in his first season with 28 goals, an almost unheard-of strike total in the ultra-defensive Italian league.
He was with the Turin outfit for five years in total and claimed 93 goals in 155 games. Juventus triumphed three times in the league championship and lifted the Italian Cup twice. He also had the distinction of winning the country's Player of the Year in his first campaign.
He may just have been a hard act to follow!
Someone must have mentioned yours truly to the Italians and they set the ball rolling through Jim Rodger. That wasn't an unusual ploy back then and is possibly still the case today. Clubs couldn't be seen to be "tapping", as it was known, another club's players. That was beyond the rules.
SEE YOU LATER, BOSS…John Hughes sweeps past Jock Stein in training.
The powers-that-be frowned on that sort of thing and the penalties could be severe. It was a lot safer to get in touch with a trusted newspaperman who would make the initial contact. Now it must be said here that Jim Rodger was an excellent fact-finding professional and I have been reliably informed he never took a single penny for any of the many stories he broke in his long and distinguished career.
He did it simply for the exclusive story. He was behind such transfers as Alan Gilzean leaving Dundee for Spurs, Ian Ure moving to Arsenal from the Dens Park side and Dave Mackay joining Spurs from Hearts. Those were all massive headline-grabbing stories of their day.
I also found out later that Jim Rodger was very friendly with an Italian agent by the name of Gigi Peronace. Like the newspaperman, he had his finger in a lot of pies and was involved in an awful lot of wheeling and dealing in players coming and going. Remember, too, these were the days when there were only a handful of football agents operating throughout the world of football.
Changed days with some current players having an army of advisers on their payroll. Anyway, I was more than a little surprised when I saw Jim Rodger waiting for me outside Celtic Park a couple of days later. He shuffled up beside me and once again took me aside.
"Have you given it any thought, son?" he said from the corner of his mouth.
I had forgotten what he had said by the time I got home after our original meeting.
"Oh, Juventus?" I said, shaking my head. "No, Mr Rodger, I'm not interested."
The newspaperman could see a potential back page splash story disappearing over the horizon.
"I can introduce you to a friend of mine," he added. "He'll be able to outline a few of the financial matters."
I am now aware he would have been referring to Gigi Peronace. As Marlon Brando would say in The Godfather movie a few years later, "Make him an offer he can't refuse."
Once again, I shook my head. "There's no point," I insisted. "I'm not leaving Celtic." He could see that I meant it, too.
The journalist shrugged his shoulders under the big heavy coat he always wore and sighed: "Okay, son, that's your decision. Good luck with your career at Celtic."
And with that he walked off.
CHEERS…John Hughes and author Alex Gordon celebrate after the publication of his autobiography in 2014.
Later that year Denis Law, who was to become a Scotland international team-mate, moved from Manchester City to Torino for £110,000, a mind-boggling fee for a footballer. The same club bought Hibs forward Joe Baker for £75,000.
It was clear the Italians saw Britain as being a suitable market for fresh footballing talent. No doubt Juventus would have been more than delighted with their purchase of John Charles four years earlier. And I believe Jim Rodger was sincere when he made that original overture.
Mind you, it should be pointed out that both Law and Baker hated their time in Italy and couldn't wait to get home after only a year. Denis, in fact, went AWOL before Torino reluctantly allowed him to Join Manchester United for a fee of £115,000.
And do you want to take a guess who was behind that move? Yes, none other than Jim Rodger in tow with Gigi Peronace. And I'm sure the same double-act had something to do with Baker's £70,000 shift to Arsenal around the same time.
But John Hughes of Juventus? No, I have got to admit I have always much preferred John Hughes of Celtic!
Click Here for Comments >