JOHN 'YOGI' HUGHES was one of the most colourful and charismatic characters in Celtic history.
In another CQN EXCLUSIVE series, author Alex Gordon pays tribute to his long-time friend who passed away on August 1 2022.
Alex, who co-authored Hughes' autobiography, 'Yogi Bare: The Life and Times of a Celtic Legend', continues the life story of the man who is the Parkhead club's seventh-highest scorer with 189 goals.
Please enjoy.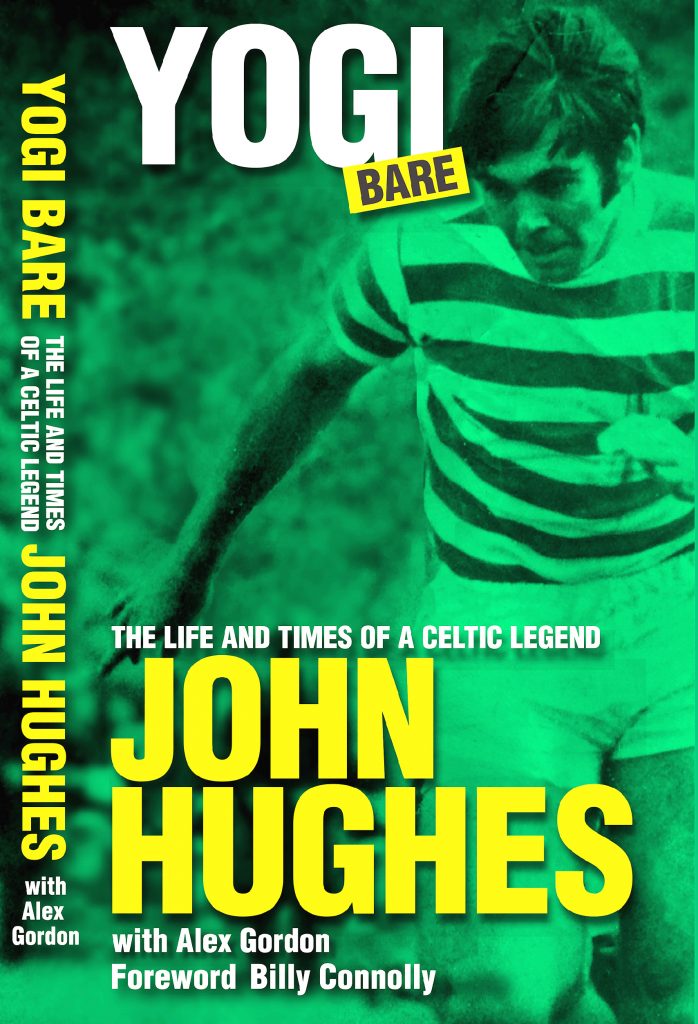 AS I have previously pointed out, I was the club's sixth top marksmen with 189 goals when I was moved on. An upstart called Henrik Larsson then came along, scored a mountain of goals, peaked at 242 and pushed me down to seventh.
Actually, that's a phenomenal strike rate, but, then, Henrik was a phenomenal player. Yet I look at my tally and I know I could and should have scored so many more. Jock Stein always insisted on his players disguising their weaknesses and playing to their strengths.
So, here's something that will undoubtedly surprise you. I may have been 6ft 2in, but I was utterly hopeless in the air. I don't know how many goals I scored with my head, but the total possibly didn't reach double figures. Funnily enough, I never once heard or read anyone saying it was a flaw in my game.
However, I believed it was a massive Achilles Heel. Wee Jinky probably scored more goals with his napper than I did!
AIR WE GO…John Hughes is flying high as he celebrates a goal against Dunfermline at Parkhead with team-mates Harry Hood and Davie Hay about to join in.
Of course, I wanted to do something about it. I volunteered for extra training and let it be known I would welcome coming back in the afternoons. I would have spent a couple of hours just running around in the penalty area with someone in goal and players battering over crosses from right and left.
Heading a ball has got nothing to do with how tall you are. For me, it's all about timing. Denis Law was three inches short of six feet, but look at the goals he scored with flying headers. He had a prodigious leap, could almost hover in the air and when he made contact the ball came off his head like a cannonball.
His timing was as close to perfect you will see for a penalty box operator in a congested area where you have very little room to manoeuvre. But that was all down to practice. Denis just didn't inherit that skill; he worked hard on it in training every day.
I wanted to improve that part of my game and I thought the only way to achieve that was extra training geared specifically to working on my aerial threat – or lack of it, to be more accurate. I put the suggestion to Big Jock.
I was more than a little taken aback when he knocked back the suggestion. I could hardly believe it. I was giving up my spare time to put myself through punishing routines for the good of the team and my manager didn't want to know. As he would do so often, he simply waved me away with one his big shovel-like hands.
'Naw, naw, you don't need to be bothered with that. We score enough goals without you getting headers.'
And that was that. I was completely mystified by the abrupt response, but, once more, there was little worth in debating the point.
UP AND AT 'EM…John Hughes challenges Rangers keeper Billy Ritchie for a high ball in the famous 5-1 victory in the New Year 1966 duel at Parkhead where Big Yogi ran amok.
If jock had permitted me a moment of his time, I could have underlined how many goals I would have scored coming in at the back post, running in from the left. We had guys in the team such as Wee Jinky, Bobby Murdoch and others who could hang up inch-perfect crosses and I've no doubt had I worked and polished that side of my game, then I would have scored a helluva lot more than 189 goals. It could have been a potent weapon for the club, but it was never utilised.
Big Jock didn't want to know and his voice was the only one that mattered in the dressing room.
I scored one of the most crucial goals in Celtic history when I dived full-length in front of Jack Charlton to twist my head and flick an effort past Leeds United keeper Gary Sprake in that unforgettable European Cup semi-final second leg at Hampden in 1970.
The Elland Road side had tied the game 1-1 on aggregate with a whizzbang effort from my wee mate Billy Bremner. That must have given them a powerful surge in confidence, but my goal took the wind out of their sails and, of course, Bobby Murdoch made sure we were in the Final with a quickfire second.
Surely, the importance of that goal emphasised what I could offer when the ball was in the air in the opponents' penalty area. Jock still didn't want to know, though.
He was content when a rare headed goal came along because he was confident the likes of Bobby Lennox, Stevie Chalmers, Willie Wallace and Joe McBride would contribute more than enough in their direct fashion with the ball at their feet. And, of course, we had Billy McNeill for set-plays. Big Billy was magnificent in the air, just about unbeatable, so that contingency was catered for by our skipper.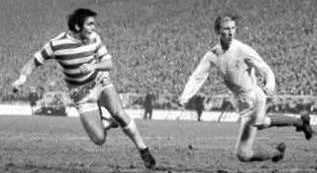 HEADMASTER…John Hughes flies through the air in front of Leeds United centre-half Jack Charlton to bullet in the crucial equaliser in the European Cup semi-final at Hampden in April 1970.
Please don't get me wrong. This is not a Big Yogi versus Big Jock chapter in my life story. I just want the supporters to be aware of the facts. For a start, I think he did me an enormous favour by pushing me out from centre-forward to the left wing. I was happy enough in the central role, but Jock thought I could be more effective when I was taking passes on the half-turn.
I would be off and running within seconds of the pass arriving at my feet. In the main striker's role, though, I would often have my back to goal. Controlling the ball in those circumstances would add vital seconds onto the manoeuvre.
A centre-half could be breathing down my neck, forcing me to push the ball back for a midfielder. At outside-left, though, I could skin a right-back if he got too close. And once I was away, there was no stopping me.
Jinky used to like going back to beat the defender again. And then again. The steam used to come out of Big Jock's ears as he sat in the dug-out. Jinky, of course, was an entertainer and he responded to the crowds, who, rightly, adored him and urged him to go through his full repertoire.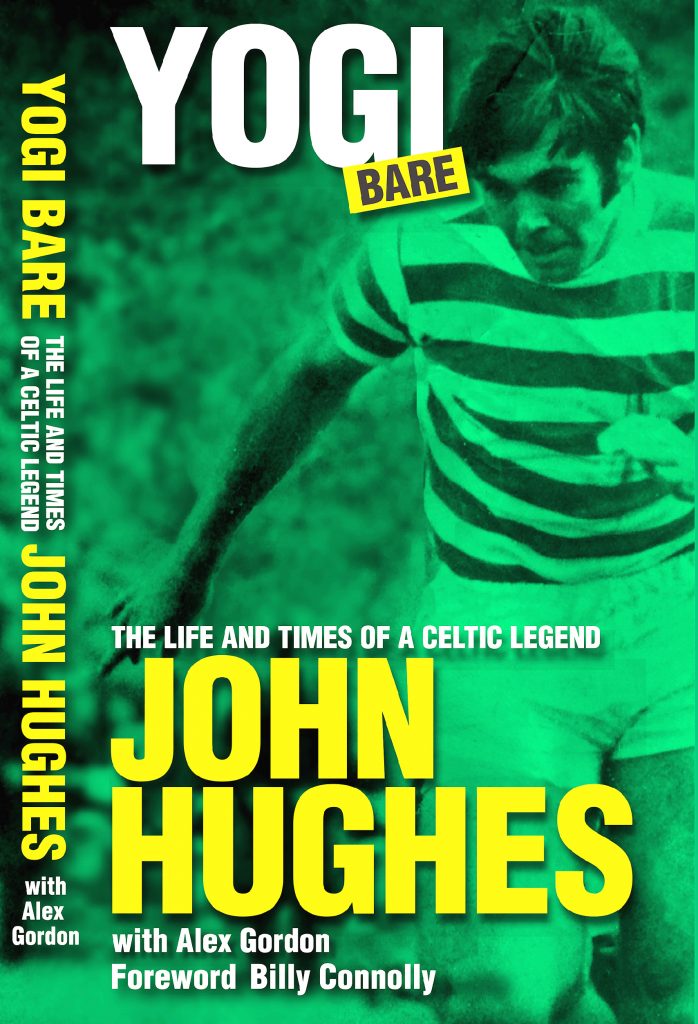 Jock didn't see it that way. He wanted the Wee Man to hit the byline and get crosses into the box. It took awhile for Jinky to understand the wisdom of his boss's train of thoughts. Until then, he would simply put on a show, skipping past tackles as only he could. That's not the way I performed.
Once I was away from the bloke it was up to him to chase me and try to catch me. I was fast and had good ball control, so that was highly unlikely most of the time. It was Jock who noticed that in my play, so, of course, I will be forever grateful for that.
But I still can't help wondering how many goals I would have had in my collection today if I had been allowed to work on my heading ability.
Click Here for Comments >