JOHN HUGHES was the Celtic hero when he was put on the spot TWICE when Celtic faced Rangers in the League Cup Final at Hampden on October 23 1965.
The legendary goalscorer, seventh-highest in the Hoops history with 189 strikes, rose to the occasion in a dramatic Old Firm showdown in front of a remarkable audience of 107,609.
Hughes looked the calmest man in the national stadium when Jock Stein's men were awarded two undeniable penalty-kicks in the first-half of a rollicking confrontation between the Glasgow giants.
The previous year, the Parkhead men had been beaten in the Final of the same competition by the Ibrox side and Big Yogi, as he had been nicknamed by the support, made no mistakes as he fired two behind Billy Ritchie to land the silverware.
In his book, 'Yogi Bare: The Life and Times of a Celtic Legend', co-authored by Alex Gordon, the iconic Celt tells a very revealing story about that particular grand finale.
"I went to Hampden with two wishes in mind," he said. "The first one was to gain revenge for the previous season when we had lost and the other was for Celtic not to be awarded a penalty-kick.
"Although I was the designated spot-kick taker at the club, I realised the immense pressure on me if we got an award. It was a tough enough job in an ordinary league game, but in a Cup Final against Rangers at a packed Hampden Park would have been even more pressure. You have to remember I was only 22 years old at the time.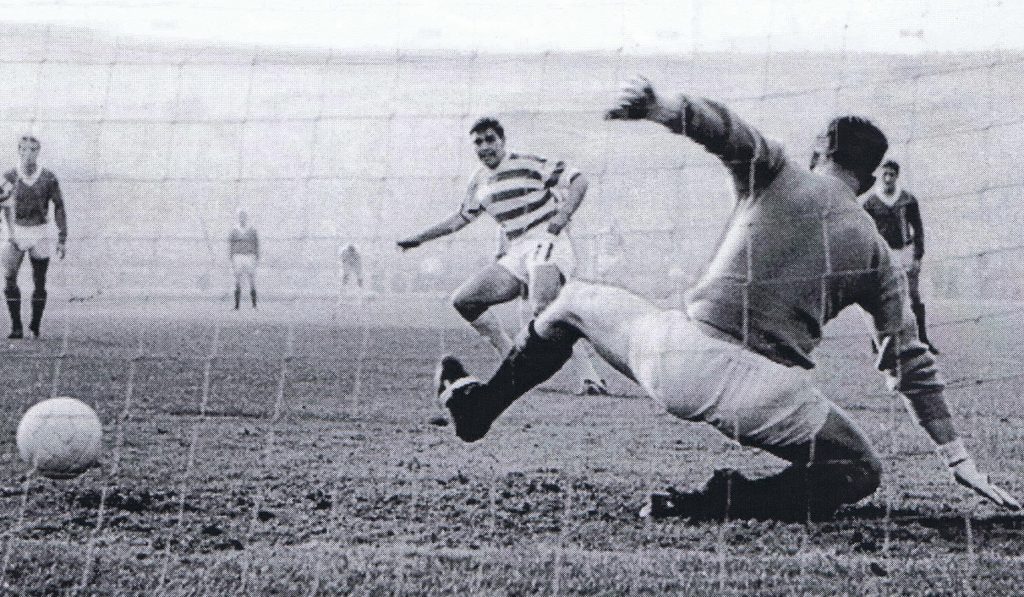 PENALTY No.1…John Hughes sends Rangers keeper Billy Ritchie the wrong way.
PENALTY No.2…Big Yogi opts for power to fire past Ritchie.
"To get two in the same game was unthinkable. Mind you, I wasn't complaining at the full-time whistle.
"Both penalties were given in the first-half and I don't think even the most fervent Rangers supporter could argue with either of the awards.
"The first came when Ronnie McKinnon handled needlessly as a long ball was going out of play.
"Referee Hugh Phillips pointed to the spot and I realised I had a golden opportunity to put us on our way. All sorts of things go through your mind at that point.
"You want to look cool and in control and not show a trace of nerves to anyone as you get ready and I hit it practically down the middle of the goal.
"Thankfully, goalkeeper Billy Ritchie went to his right and I was very relieved when I saw that net rippling behind him.
CHEERS…John Hughes has a drink with co-author Alex Gordon to celebrate the publication of his autobiography in 2014.
"Not too long afterwards, Jimmy Johnstone was brought down after a badly-timed challenge from David Provan and, once again, the ref had no hesitation in pointing to the spot. I immediately thought: Where am I going to put this one?
"Again, you have to give the impression you haven't a care in the world. I went through the same routine and hit the ball to the keeper's right. I figured he might have believed he would have more luck going to his left on that occasion. I hit it with enough force to see the effort come off his right hand and end up in the net.
"I didn't play too badly at all and I was having a lot of success running at Kai Johansen. It was an October afternoon, but, even though it was getting close to winter, the playing surface at Hampden was in excellent condition.
"The two goals gave me an incredible surge in confidence and I really enjoyed the game. So much so that I would have happily have taken a third penalty-kick."
Celtic had to battle all the way for the silverware after right-back Ian Young had diverted a cross past Ronnie Simpson after the interval.
Having gone eight years between 1957 and 1965 without a trophy, it was also a second Hampden success for Jock Stein's side in the space of six months after they had defeated Dunfermline 3-2 to win the Scottish Cup the previous term.
Big Yogi played in that breakthrough encounter, but that's a story for CQN readers for another day.
Click Here for Comments >