JOHN HUGHES earned the tag of the "Unluckiest Lion" when he was forced to watch history being made by his Celtic team-mates in Lisbon.
The versatile forward who combined battering-ram qualities with the deftest of touches will never forget the day he realised he wouldn't get the opportunity to be given the nod from Jock Stein.
Hughes recalled: "Two simple little sentences, 22 words in all, hit me like a wrecking ball.
"'I am sorry, Yogi, there's no way you can play. In fact, I don't think you should even get on the airplane.'
"The words were delivered in a typical matter-of-fact manner by Celtic club doctor John Fitzimons and, after finally digesting them, I was utterly devastated.
"There was no point in asking Fitz for a second opinion because, deep in my heart, I knew his prognosis was accurate. Slowly it dawned on me.
"I would not be fit for selection for Celtic's biggest game in their history, the European Cup Final against Inter Milan in Lisbon on May 25 1967.
"A simple kick on the ankle in the Scottish Cup semi-final against Clyde at the start of April and, almost six weeks later, a dream had been obliterated.
"Don't get me wrong, I never thought for a second I would be an automatic choice to play against the Italians. With Jock Stein around, you never took anything for granted.
"I had played in the 3-1 triumph over Dukla Prague in the first leg of our semi-final at Parkhead, but that would have meant nothing to Jock.
"Nor would it have mattered that I had performed in five of the eight ties leading up to Lisbon.
"So, there was every possibility, even if I had been fully fit, the manager might have gone with the selection that got a goalless draw in Prague to book the historic European spot and then go on and take their deserved place in club folklore.
"I have been asked so many times: 'How did you feel when Jock Stein dropped you from the team to play Inter Milan in Lisbon?'
"I wasn't dropped. I wasn't up for selection in the first place. End of story. Jock didn't have to work too hard on that decision. I couldn't have played even if my life had depended on it.
"I could barely walk. And Fitz was so concerned it would flare up in the pressurised atmosphere of an aircraft cabin that his advice was to stay at home. Believe me, that was never going to happen.
"I would have hobbled all the way to the Portuguese capital to cheer on the team. Remember, I wasn't just a Celtic player, I was also a Celtic supporter.
"And, yes, I felt like an outsider when Celtic conquered Europe. I'm not going to lie about that.
"I was so desperate to be involved, to be out on that lush pitch at the Nacional Stadium and to be playing my part as my team Celtic became the first British club to be acclaimed as the best in Europe.
"How would it have felt to have been on the pitch when the referee blew his whistle for time-up in Lisbon with the scoreline reading: Celtic 2, Inter Milan 1? It goes beyond description."
Hughes, who scored 189 goals in his Hoops career, added: "On the flight to Lisbon I could feel the ankle begin to swell. Fitz was right and there was clearly a reaction to the pressurised atmosphere inside the aircraft.
"By the time we reached our hotel in Estoril I was wondering if I could remove my footwear. I was rooming with reserve centre-half John Cushley and he helped me ease my foot out of the shoe.
"I took off my sock and, at that very moment, liquid spurted out of my ankle. Unfortunately, the injury had become poisonous and the four hours or so on the plane brought everything to a climax.
"Cush managed to find some tissue paper to stem the flow. We called in Fitz and he took a look at my ankle. He didn't waste too much time in summing up the situation. 'Complete rest throughout the summer,' he said. 'Don't even think about kicking a ball.'
"My season was finished. But a new era for Celtic was just beginning. It would be fair to say I had mixed emotions.
"If only I had been fit enough for selection in Lisbon. Fate, though, decreed otherwise.
*Extract from YOGI BARE, John Hughes' biography, signed copies are available on CQNBookstore.com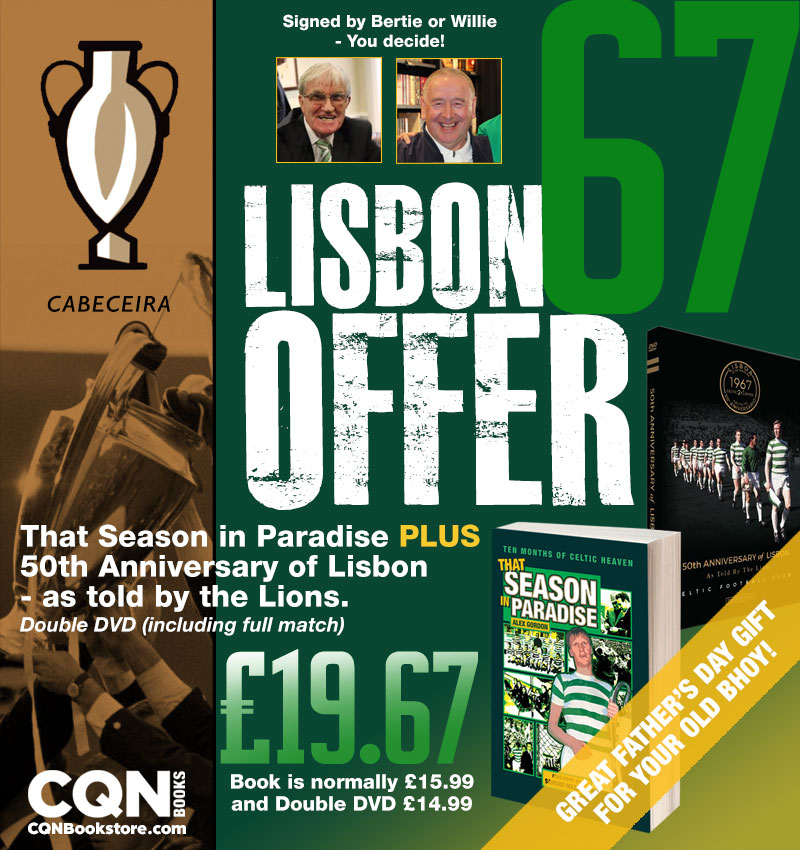 Click Here for Comments >