LISBON Lion John Hughes was surprised to learn he had made a football-playing comeback – at the age of 74.
The Celtic legend discovered from his son, also John, he was supposed to be racing around during the Henrik Heroes v Lubo Legends charity game at Parkhead on Sunday.
Hughes, known as 'Yogi' in his playing days, said: "I received a phone call from John which was just a wee bit baffling.
"He was watching the match on a satellite channel and the TV commentator had identified me as taking part in the event.
"News to me. The guy obviously got me mixed up with the other John Hughes who just happens to be TWENTY-TWO years younger than me!
"Easy to get confused, I suppose. John also picked up the nickname 'Yogi' and played for Celtic.
"He was a centre-half and was at the club for a year after joining from Falkirk in 1995.
"I was a forward and joined from Junior side Shotts Bon Accord in 1960, played for 11 years, scored 189 goals and I'm eighth highest scorer in the club's history.
"So, you can see it would be easy to think we were one and the same!
"I'll have to ask 'Yogi' how I played. I hope he didn't let me down. I've got a reputation to protect."
On a more serious note, Hughes paid a massive tribute to Brendan Rodgers' influence on the team throughout a record-breaking campaign.
He said: "I can't speak highly enough of Brendan and what he has achieved since he walked through that front door.
"What he has done has been quite remarkable and, as he says, he has only started.
"Very early, Brendan managed to get the players into his way of thinking, playing, training and all the other things that helped to turn things around.
"And I believe things will continue to improve and get better.
"Undoubtedly, he will bring in a couple of quality players in the summer.
"You would imagine there are now players out there who would want to get involved with the manager and Celtic.
"We are better equipped now to make an impact on Europe than any other recent season.
"No disrespect to Ronny Deila, but he was a rookie boss at this level and it showed.
"If he had been in charge against Aberdeen at Hampden on Saturday, I think there is every chance Celtic would have lost.
"But with Brendan in the dressing room at the interval to sort things out, I had every belief the team would come out and change the way the game had gone in the opening 45 minutes.
"And that's exactly what happened.
"So, who wouldn't want to play for him?
"Maybe I'll be getting the old boots looked out, after all!"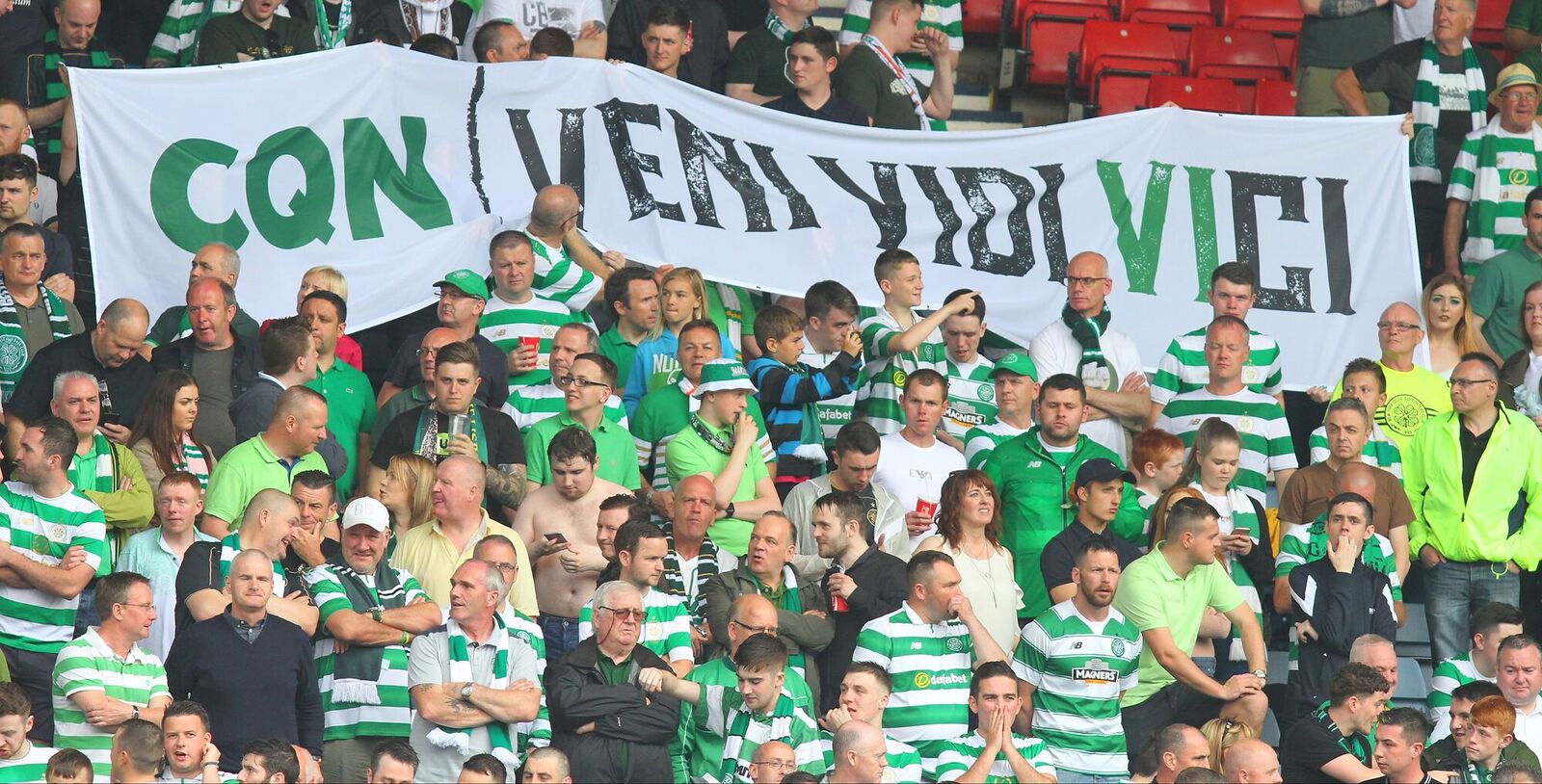 VENI VIDI VICI – CQN'S TRIBUTE TO BRENDAN RODGERS 
The text of the new CQN t-shirt is finalised. On the front it says
INVINCIBLES – SEASON 2016-17
VENI
VIDI
VICI
CELTICQUICKNEWS.CO.UK
And on the back the words are as follows:
"I was born into Celtic."
BRENDAN AFTER SCOTTISH CUP FINAL, 27TH MAY 2017
VENI
VIDI
VICI
(I CAME, I SAW, I CONQUERED) – Available in small, medium, large, XL and XXL. Order yours now
HERE
 – t-shirts arrive Monday next week and will be sent out first class post immediately.
Click Here for Comments >