BILLY HUGHES, brother of Celtic legend John, has passed away aged 70 following a long illness.
The former striker, who was capped once by Scotland, was a key man in Sunderland's famous 1973 English Cup Final victory over Leeds United at Wembley.
Hughes scored 74 times in 287 league appearances for the Wearside club before moving on to play for Derby County, Leicester City, Carlisle and finishing his career in America with San Jose Earthquakes.
He was top scorer in the Black Cats' Cup-winning season with 19 goals and he also netted the club's first goal in European competition the following campaign against Vasas Budapest in the Cup-Winners' Cup.
Brother John, 76, the Parkhead side's seventh-highest goalscorer with 189 strikes, said: "Billy was a battler and he fought the illness right to the end.
"He lived in Derbyshire and I travelled down to see him recently.
"He was his usual upbeat self, despite the illness. I will miss him terribly."
Billy Hughes admitted he came so close to playing alongside his brother at Celtic and explained why he didn't sign for Jock Stein in his prologue to John's book, 'Yogi Bare: The Life and Times of a Celtic Legend,' which was co-authored by Alex Gordon and published by CQN in 2014.
Here is the chapter in full.
JOHN HUGHES isn't just my brother; he's my hero.
You won't find a more enthusiastic fan than me of the player known fondly to the Celtic legions as Big Yogi. I am so proud of what my brother has achieved in life and in football and if anyone deserves legendary status it is him. I know what playing for Celtic in front of those magnificent followers  meant to him. I am also very much aware what it means to him now to be part of that Celtic support. You better believe he is Celtic through and through.
John is almost six years older than me, but, in truth, he is the person I have always looked up to all of my life. He took care of me and was always there when I needed him most. If I required advice, he was the first person I went to. I've always felt safe with my brother around. He is the sort of guy who will go out of his way to do someone a good turn. No-one will ever hear about it. He'll just do it and that's the end of it. Putting this in print may even embarrass John, but I believe it must be said. A lot of people don't know the real John Hughes. He might even appear aloof, but nothing could be further from the truth. Simply put, he shuns publicity. He prefers to be out of the limelight. If he does something for someone, he won't shout about it from the rooftops. That's his style. He definitely won't thank me for saying this, but he is a genuine gentle giant.
On the exterior, he may look big and gruff. It's the inside that counts, though, isn't it? That's where the heart lives and no-one possesses a bigger heart than my brother.
One of my regrets in football was not being able to play alongside John – unless you count fifteen minutes at Sunderland. Yes, I did have the opportunity to join Celtic when I was about sixteen years old, but I opted to go to England. I realised there would have been obvious comparisons with me and John and I thought it better to attempt to make a name for myself elsewhere. On the evening I told Jock Stein of my decision, he shook my hand, wished me good luck and said, 'I respect your decision. Ian McColl is going to be your manager. I've got more football knowledge in my pinky than he'll ever possess.' I wondered what I had let myself in for. Telling Big Jock was the easy part. When I broke the news to our dad I wasn't signing for Celtic, he went ballistic. He was so upset he refused to talk to me for about a year!
I had trained and played for the Celtic reserves when someone came up with a nickname for me. Well, if my brother was Yogi, I had to be Boo Boo, didn't I? I could live without that moniker.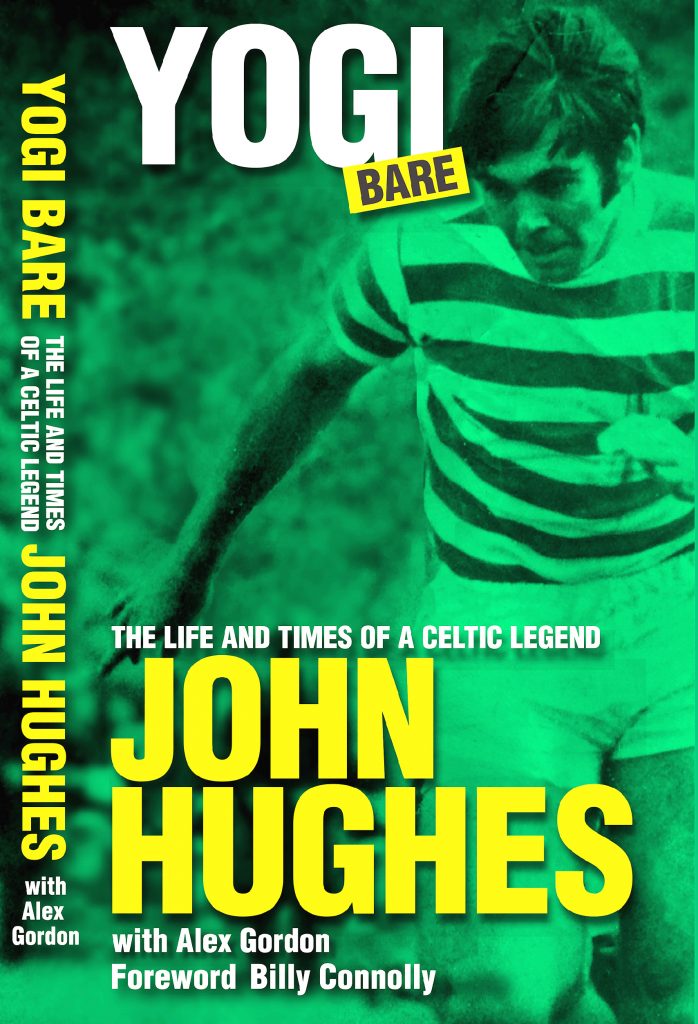 Yes, it would have brilliant to have performed in the same team as my brother. I was eleven when he made his top team debut for Celtic. I watched him when he was only seventeen years old terrorising the Rangers defence in his first Old Firm game at Ibrox. I vividly remember their huge and sturdy centre-half, a bloke called Doug Baillie, being dragged along behind my brother as he clung desperately to his shirt. Celtic won 3-2 and John scored a truly memorable goal. What a great day that was.
One of my proudest moments while watching my brother was around the time I had just signed for Sunderland and Celtic had agreed to play a pre-season friendly at Roker Park. It was August 14 1965 and all the talk before the game was about Jim Baxter who had just joined the club from Rangers and was making his debut. After the game, all the talk was about John Hughes. What a devastating performance from my brother that glorious afternoon. Even I could hardly believe what I was witnessing. Around 10,000 Celtic fans were in the 35,000 crowd on a breathtaking, sunny day. It was the perfect setting and John was simply unstoppable. He ran amok as he scored two fabulous goals and Celtic won 5-0. I had to sit in the stand and keep quiet. I wanted to cheer every time Celtic scored. I wanted to applaud every time my brother was on the ball. At all times, though, I had to remember I was a Sunderland player. Not too sure how the Roker Park faithful would have accepted one of their team's youngsters going wild with delight every time the opposition scored a goal.
Sunderland had a Northern Ireland international right-back called John Parke in their team that day. My brother dismantled him. I think it took my new team-mate a couple of months to recover. Honestly, it was an unbelievable display from John. The Sunderland support had turned out to cheer Slim Jim, but they ended up applauding Big Yogi. Even Jim Baxter admitted after the game that he was in awe of my brother's performance. Sportingly, he said he was the most improved player he had seen in years. I know my brother's confidence received a massive boost four months or so beforehand when he picked up his first medal after Celtic had beaten Dunfermline 3-2 in the Scottish Cup Final. That may just have been the turning point for John. He had become a winner and, thankfully, there were more honours to follow.
I played only once for Scotland at full international level when I came on as a substitute for Graeme Souness in a 1-1 draw with Sweden in a friendly in Gothenburg in 1975. John's career at that level had ended six years earlier, so it looked as though we were fated never to be team-mates. Well, not on a football pitch, anyway. It was a crying shame that we were only brief colleagues at Sunderland when my brother arrived from Crystal Palace in January 1973. It just wasn't fair that John's playing career ended that day because he still had so much to offer. Some of his best days were still in front of him.
I never heard him complain. Not once. He took the blow and got on with it. But that's been the story of my big brother's life as you are about to discover. I hope, by the end, you will have a clearer insight into the personality of my hero…John Hughes, of Celtic Football Club.
Click Here for Comments >