BILLY McNEILL, Celtic's greatest-ever captain, will have a statue unveiled in his name before the home game against Motherwell on Saturday.
It's a 3pm kick-off, but Hoops supporters are advised to get there early with the ceremonies starting at 1pm on Celtic Way.
It will be an afternoon of celebrations – and, hopefully, three points – as the club recognises the legendary centre-half who served Celtic with such admirable distinction as an inspirational skipper and a manager on two occasions.
During his playing days, with Jock Stein acting as his manager and mentor, McNeill won nine League titles – all in succession – seven Scottish Cups, six League Cups and, of course, he led the Hoops to the European Cup success in Lisbon in 1967 when the all-Scottish team defeated much-vaunted Inter Milan.
As team boss, McNeill delivered a Centenary League and Scottish Cup Double in 1988 and added another three championships, two Scottish Cups and one League Cup.
Over the years, fans have questioned the spelling of his nickname – is it 'Cesar' or is it 'Caesar'? CQN has the answer.
Originally, it was the former when McNeill was the only player at Celtic Park with a car and he used to ferry around team-mates such as Bertie Auld, Pat Crerand and Mike Jackson plus his very good personal friend Jim Baxter, of Rangers.
Why Cesar? At that time, there was the famous so-called Rat Pack, a collection of Hollywood movie stars led by Frank Sinatra who was joined by the likes of Sammy Davis Jnr and Peter Lawford. They were driven everywhere by an actor by the name of Cesar Romero.
The Celtic youngsters became Scottish football's answer to their slightly more famous counterparts in the movie world.
However, as McNeill's stature in the game grew, he shed 'Cesar' for the more appropriate 'Caesar'.
As Wee Bertie has often said: "Well, what would you prefer? A Grade B actor who acted as a chauffeur for Sinatra and Co? Or an iconic Roman Emperor?"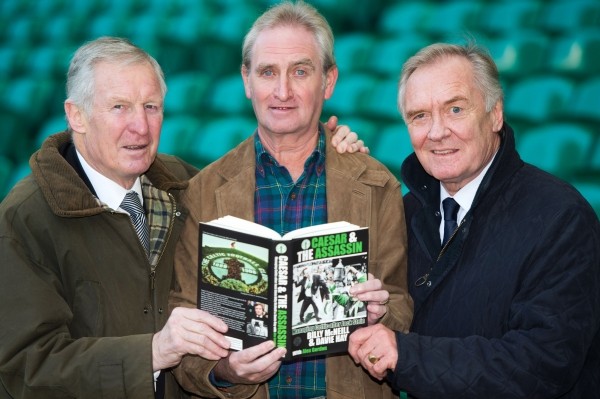 Technically, both are correct, so it's entirely up to yourself which you prefer to use and it appears Celtic have remained faithful to the original.
Big Billy, latterly, preferred the Roman version and when you look at that remarkable image of the Celtic skipper holding aloft the European Cup atop a podium on a sun-kissed day in the Portuguese capital on May 25 1967 – the first British club to conquer Europe – it's understandable.
The main thing, though, is to honour this man who gave so much to Celtic Football Club.
Remember to get there early!
And it you are in the Kerrydale Suite pre-match on Saturday watch out for the CQN team with the likes of Tom Boyd and others joining us to sign copies of either The Winds of Change or Caesar & The Assassin (if you haven't got this book you better hurry as stocks are very low). Order at
www.qnbookstore.com
or click on the link below – you receive a FREE copy of the hilarious Unrepentant Internet Bampots with orders of Winds of Change until midnight tonight.
Click Here for Comments >