MIKE JACKSON has spoken of his heartbreak at losing Billy McNeill, his great personal friend of over 60 years.
The Celtic legend passed away on Monday at the age of 79 following a brave battle against dementia.
Jackson, who teamed up with McNeill as youngsters in their early days at the club before his move to St Johnstone in 1962, was distraught at the plight of his best mate.
The former midfielder, speaking to the Celtic View, said: "I was up to see him every other day, but it was a blessing that God took him. As much as I'd love him to be here with me, it's a relief for him.
"He was such a lovely, big, principled man. I was the best man when he and Liz got married. I first met him in 1957 and we all trained together at night, three nights a week at Celtic Park.
"Everything came from there and since 1957, we've been best pals. My kids and their children are like brothers and sisters – just one great big family. As friends, we were in each other's pockets all of the time and the friendship has continued right down to our children and I'll miss him awfully – it was so sad.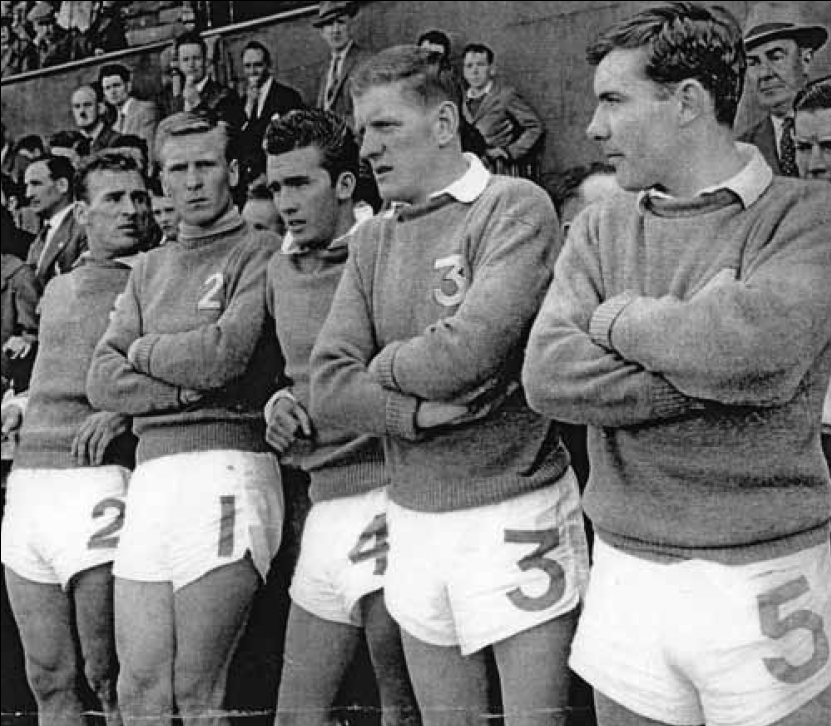 HIGH FIVES…a young Celtic team taking part in a five-a-side tournament in the early sixties: left to right: Pat Crerand, Billy McNeill, Mike Jackson, Jim Kennedy and Dunky McKay.
"He was a born leader, even back in the early days arranging holidays. The first time a crowd of us went away on holiday, it was to the Channel Islands. There was the likes of John Divers and Jim Conway there at the time, and Billy organised all of that.
"We were saying: 'Where will we go?' Billy said: 'We've never been to the Channel Islands, let's go there'. And a year later he was saying: 'We'll go to Spain'.
"Billy organised everything for those trips."
Jackson, who will celebrate his 80th birthday in August added: "I was honoured to be the best man at his wedding and that friendship had gone right down to our children.
"I lost my wife 18 years ago and I was never out of the McNeill house as it was a second home to me.
"He was such a nice man and it was a pleasure and an honour to have known him."
Jackson became part of the celebrated Celtic Rat Pack that was football's equivalent of Frank Sinatra's Vegas group that includes actors and singers such as Dean Martin, Sammy Davis Jnr and Peter Lawford.
McNeill and Jackson were joined by John Colrain, a talented Irish centre-forward, Pat Crerand, who moved to Manceshester United, and Bertie Auld.
"Great days," recalled Jackson. "We were just a bunch of kids all playing for the team we loved.
"Unfortunately, we had to go our separate ways and no-one ever wanted to leave Celtic. Thankfully, Billy remained.
"Who could ever imagine Billy McNeill in the colours of another team?"
Click Here for Comments >