THE irrepressible Gordon Strachan celebrates his 66th birthday today.
The former Celtic boss, who joined club's immortals Willie Maley and Jock Stein when he completed a hat-trick of league titles in 2008, was one of the most colourful gaffers in the Parkhead dug-out.
Strachan, who also won two League Cups and a Scottish Cup in his four years in charge, had an unforgettable meeting with two Lisbon Lions back in the early days of his playing career at Dundee.
In another CQN EXCLUSIVE, we take a trip back in time to provide an edited extract from Tommy Gemmell's best-selling autobiography, 'All The Best', co-written by Celtic book author Alex Gordon, when a teenage Strachan had a day out with Jimmy Johnstone during the Parkhead legend's brief stint at the Dens Park club.
Please enjoy.
JINKY and Gordy may sound like a comedy double-act. But when those two got together it was no laughing matter. Certainly, I didn't see the funny side. Morecombe and Wise they weren't. Okay, maybe I can afford to smile now, but that wasn't the case back in 1977.
I thought I had pulled off the signing coup of the century when I tempted my old Lisbon Lion team-mate Jimmy Johnstone to Dundee during my first few weeks as boss of the Dens Park club. He had left Celtic two years earlier in 1975 on a free transfer, first to San Jose Earthquakes and then onto Sheffield United.
After his stint in England Jinky was up for grabs again. He was only thirty-two years old at the time and I had every faith there was still mileage in those little legs of his. I believed he could do a real turn for Dundee and help me settle into management at the same time.
I contacted my wee pal and the whole town was buzzing when the news leaked that there was the possibility of the great Jimmy Johnstone signing for Dundee. Ten years earlier he had been my Celtic colleague when we beat Inter Milan to win the European Cup on a glorious day in Lisbon.
WELCOME TO DUNDEE…Lisbon Lions Tommy Gemmell and Jimmy Johnstone team up on Tayside.
A few weeks after the deal was done and dusted, I thought it would be a good idea to pair Jinky with Gordon Strachan in training. Wee Gordy was another who appeared to be in awe of Jinky and I thought his natural enthusiasm would spark my pal.
It appeared to be doing the trick for a few days, too, until Gordy injured a toe which became infected. A few days' rest was required.
I recall Jinky picked up a strain of some kind around the same time. Bordedom kicked in big-style, unfortunately, with the Wee Man. He couldn't even get to training in the morning and there were many other distractions. Jinky had taken a liking to his new team-mate and it was reciprocated by a fresh-faced teenager.
I never had any doubts about Gordon's dedication and application. I also knew he was a youngster who kept his word. I was told Manchester United had offered him a trial before he actually signed any contract at Dundee.
However, because he wouldn't go back on a promise, he rejected United and put pen to paper on schoolboy forms at Dundee, left school at fifteen and became an apprentice on the ground staff in 1972.
Actually, I first saw him when I joined the club from Nottingham Forest in the summer of 1973. I got to the ground a couple of weeks ahead of the pre-season schedule and I spotted some kids having a five-a-sides game behind one of the goals.
'Can I join in?' I asked.
'Are you any good?' responded Strachan with a cheeky grin.
'I'll do my best,' I said.
WATCHING BRIEF…Tommy Gemmell keeps an eye on his pal Jimmy Johnstone during training.
I was hugely impressed by him right away. He was just a wee boy, really, but he had so much ability. He was always looking for the ball, always wanting to be in the thick of the action. He was non-stop and that endeavour never left him at any stage in his career.
From a raw kid to a veteran at Coventry City via Aberdeen, Manchester United and Leeds United, playing into his forties, he never lacked enthusiasm. Ron Atkinson, the manager who took him from Pittodrie to Old Trafford in 1984, once said, 'There's no-one fitter at his age – except, maybe, Raquel Welch.'
Now that's a compliment.
So, I had nothing to worry about Gordon as far as his professionalism was concerned. And when I paired him with Jinky I genuinely believed they would feed off each other. I also told Gordon to push the Wee Man and I thought Jinky would respond. Well, it looked sound enough in theory. Things can often go slightly awry in practice, as we all know.
Anyway, one day Jinky, with nothing to do, invited the injured and sidelined Gordon out for lunch at the Queen's Hotel in the city. Innocent enough and there was no way my young player would knock back such an invite from a true football legend. Jinky was always good company and had a steady line of anecdotes. Wee Gordy was hooked.
The drink was flowing by the time lunch was over and done with. Now, Gordy was no drinker. He was a lightweight and I was aware of that, but it's easy sometimes to lose inhibitions once radical thought is dismissed as the alcohol goes to work. Gordy would have been trying to keep pace with Jinky without even realising how much he was consuming.
He always admitted he wasn't in the same league as Jinky as a footballer. He discovered that day he wasn't in the same league as Jinky as a drinker, either. Not too many were, in fact.
DUNDEE DAZZLER…Gordon Strachan in his early days at Dens Park.
A barman at the Queen's later told me my two players had consumed four bottles of wine with their meal. The bright thing after that would have been to go home and have a bit of a kip. Indeed, I later found out that they went to Strachan's home, had a few more drinks and then fished out a ball and had an impromptu kickabout with some local kids in the street. That sight must have bewildered passers-by.
After that, it was off to the pub. And then another pub. They must have been fairly puggled by this stage because someone thought it would be a great idea to get a taxi to Errol and have a few more in the Central Hotel. Not a particularly good idea considering the hotel was only fifty yards across the road from the Commercial Hotel, where the proprieter, of course, was a certain Mr.T. Gemmell Esq.
I noted Jinky hadn't returned, but wasn't overly concerned. He could have been fishing by the Tay for all I knew. That notion was knocked on the head when one of my regulars came in.
'Hey, Tommy, did you know two of your players are over at the Central trying to drink the place dry?' he asked. Not for the first time my heart sank.
'Jinky and who else?' I responded. 'Wee Gordon Strachan's with him. He's totally blootered. Wee Jinky's no' much better.'
I was fuming. How stupid could they be? It was bad enough going on a pub crawl, but to do it just across the road from their manager was unbelievable. I marched across the road, just in time to see a sloshed Strachan staggering throught the door. He weaved unsteadily towards me without lifting his head.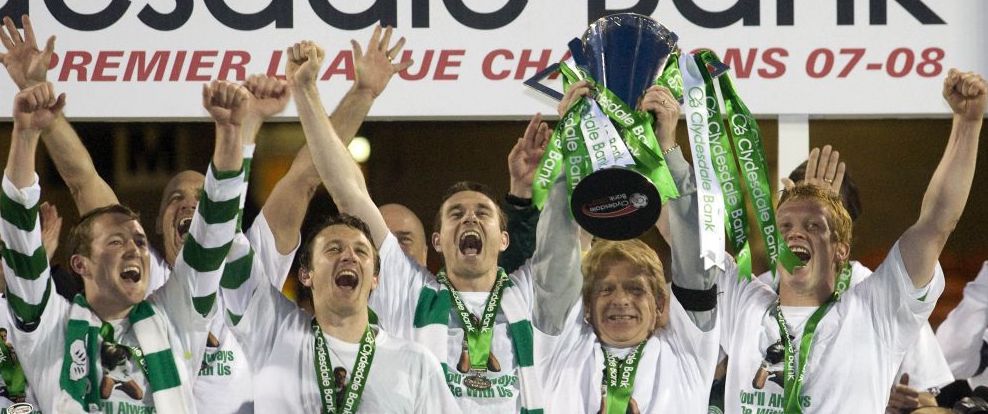 HAT-TRICK HERO…Gordon Strachan celebrates his third successive title at Tannadice in 2008.
'Where the hell are you going?' I bellowed.
'Where the hell am I going? I don't even know where the hell I am,' slurred Strachan.
'Do you know who you're talking to?'
'I don't even know know who I am.'
I wasn't sure if he was trying to be funny. Then he focused, blinked one eye, and managed to make out my image and burst into tears.
'Sorry, boss,' he uttered. 'Sorry, sorry, boss. I don't suppose you could get me a taxi?'
'Get over the road,' I ordered. 'I'll deal with you in a moment.' I then went into the bar to give Jinky a piece of my mind. The wee bugger had scarpered. The sixth sense that came to his aid so often on the football pitch worked just as well when he was blotto off it.
'You've just missed him, Tommy,' the barman informed me. 'He left a couple of minutes ago.' I caught up with Strachan and all the time he was crying, 'Sorry, boss, really, really sorry. Can you get me a taxi?'
HAPPY BHOY…Gordon Strachan back at Celtic Park last season.
There was little point in giving Strachan a dressing down. He was obviously out the game. I made sure he got home in one piece – he would now be his wife Lesley's problem – and I awaited with the greatest of interest when Jinky might grace my establishment with his presence.
Eventually, there was a racket at the front door. It was about two o'clock in the morning. I opened the door and there was the Wee Man. Putting it mildly, he was the worse for wear. Before I could say a word, he looked up, bleary-eyed and muttered, 'Ach, we were only having a wee bit fun.'
I got a hold of him and huckled him to his room and chucked him into his bed. As I closed the door behind me I heard a muffled, 'Ach, it was only a couple of effin' drinks.'
You can't keep things like that quiet for long in a hamlet such as Dundee. Ian Gellatly, the chairman, would have heard about it minutes afterwards. The following day, he asked me how we were going to deal with it.
'Leave it to me,' I said. To be honest, I wasn't interested in fining the pair or suspending them. Once they had properly sobered up, I had a good old-fashioned heart-to-heart with both. Gordon Strachan swore it would never happen again.
As far as I am aware, that remained the case throughout his career. At least, Jinky did him a huge favour that day.
Click Here for Comments >