CELTIC hero John Hartson celebrates his 48th birthday today.
By an amazing coincidence, the legendary goalscorer marked his 31st landmark with a title-winning strike for the Hoops in 2006.
The Welsh powerhouse became a fans' favourite right from the off after arriving in a £6million deal from Coventry City in the summer of 2001 as Martin O'Neill added him to his prolific striking double-act of Henrik Larsson and Chris Sutton.
PARADISE…Celtic players take a lap of honour after Birthday Bhoyo John Hartson's title-winning goal against Hearts on April 5 2006.
Hartson fired in 110 goals in his five exceptional years at the Hoops, but one of his most memorable must surely be the fabulous effort that secured the club's fortieth crown.
Author Alex Gordon highlighted the wonder strike in his fifteenth Celtic book, '50 Flags Plus One', the tribute publication which covers all of the team's untainted title successes in their glorious history.
In another CQN EXCLUSIVE, Alex takes up the story of another spectacular milestone in club folklore with an edited extract from the publication.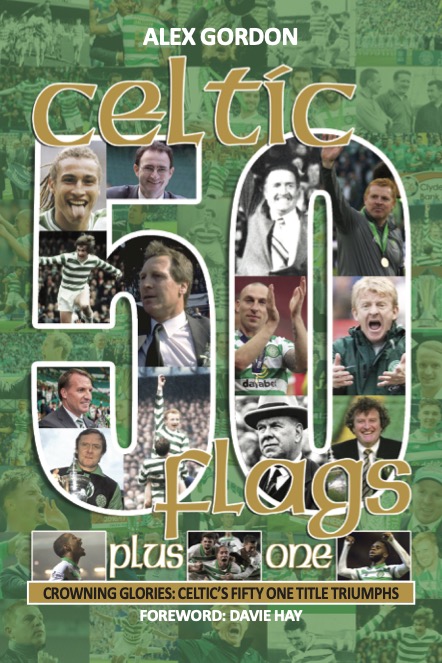 ON the evening of April 5 2006, in front of an audience of 59,699, Celtic were on the brink of winning their fourth title in six seasons and their fortieth in history. Hearts were the visitors on a cool, still night in the east end of Glasgow and, with six games still to play, Gordon Strachan realised his team were a mere ninety minutes away from success in a fairly astounding turnaround in fortunes.
The sparky, quirky character admitted with typical candour: "We want it badly – and we want it tonight. This has been our priority for so long. Now the players can get a reward for all their efforts."
There was only one goal in it. But what a strike! The move had not been constructed from any football manual, but it was effective. Only three minutes had gone when Artur Boruc bypassed his midfield with a mighty punt straight down the pitch and it took a slight touch off John Hartson onto Maciej Zurawski running alongside about three yards away. He knocked it quickly back to the Welshman, who was celebrating his thirty-first birthday.
He whacked it first-time on the drop from thirty yards and Craig Gordon was alarmed as the ball took a flick off the surface just in front of him. The keeper stretched every sinew of his six-foot four-inch frame and got the merest of touches with the fingertips of his right hand, but his display of impressive athleticism was in vain.
The ball whipped behind him and Gordon Strachan was about to add the championship to the League Cup in his first season as Celtic manager.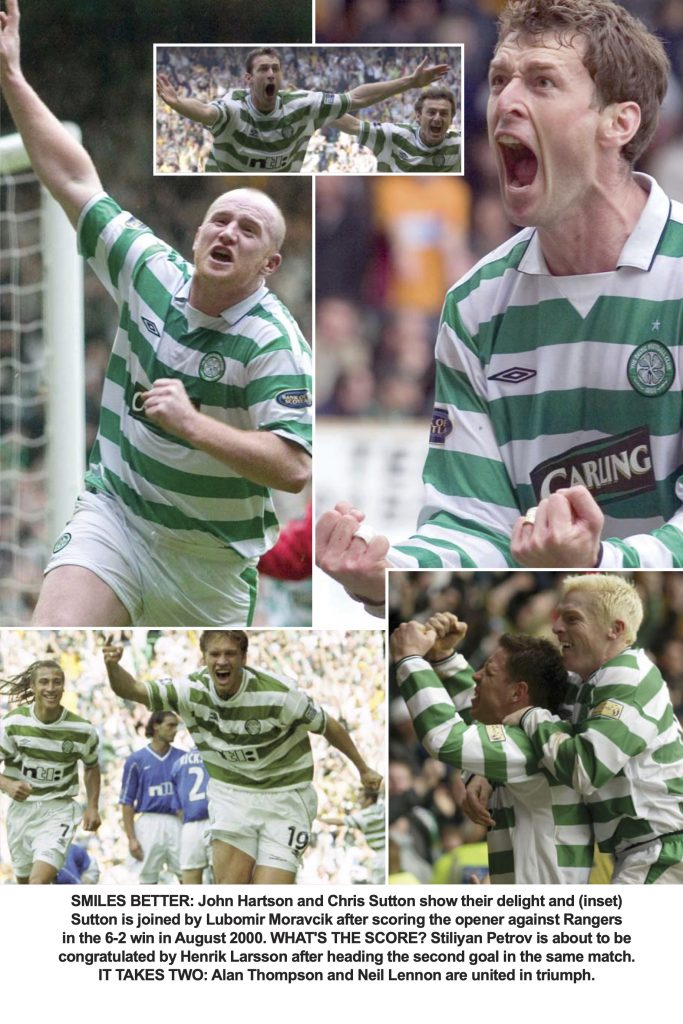 Hearts, vying with Rangers for second position, fought back like spirited dervishes, but Boruc was in defiant mode. There was a swagger about the new Celtic goalkeeper, more than a little "gallus", in Glasgow parlance. He strutted around his penalty box and exuded mega confidence. More importantly, he had the qualities to back up his conviction he was the real deal. He could walk the walk, talk the talk and stop the shots.
Afterwards, Strachan said: "To have won the trophy and be twenty points clear is scary. Nobody could have dreamt that following the start we had. After we got beat by Dunfermline here, we've gone sixteen games – fourteen wins and two draws – and that's not bad going.
"I don't care who you are, to keep up with that you need to be a good side. These players have been fantastic. We're not saying we are a great side. Far from it. What we're saying is that we are a side that is improving all the time."
With a sparkle in his eye, he added: "We wanted to try and get the championship back after last season. And we wanted to get respectability back after the start to the season. And we've done that. Over the season, we've been involved in some great games.
"It was exciting tonight, but it was not a great game. Hearts did very well and will be great adversaries over the next couple of years."
HAIL THE HERO…John Hartson shares the goal celebrations with the joyous fans.
Three days after the championship celebrations, Shunsuke Nakamura sparkled in the Ayrshire sunshine as he swept a trademark free-kick from twenty-five yards high past Alan Combe for the opening goal in the 4-1 win over Kilmarnock. Hartson tapped one in for the second before the Japanese ace completed a swift one-two interchange between Shaun Maloney and Dion Dublin before rolling in the third and Dublin helped himself to the fourth.
It was party time in Paradise a week later on April 16 when comedian and lifelong Celtic fan Billy Connolly, in front of a crowd of 60,047, presented the team with the Premier League championship. It would be fair to say there was a lot more colour and flair in the award ceremony than there was during the game which ended 1-1, Maciej Zurawski nullifying Steven Fletcher's first-half goal for the visiting Hibs team.
Strachan admitted: "We never dreamed of this. I thought we could win the championship, but not as early as we did. It has been a wonderful effort from everyone here. I already know we need to improve in this league alone because Hearts and Rangers are getting stronger. We'll need to get better and, hopefully, we can also do well in Europe."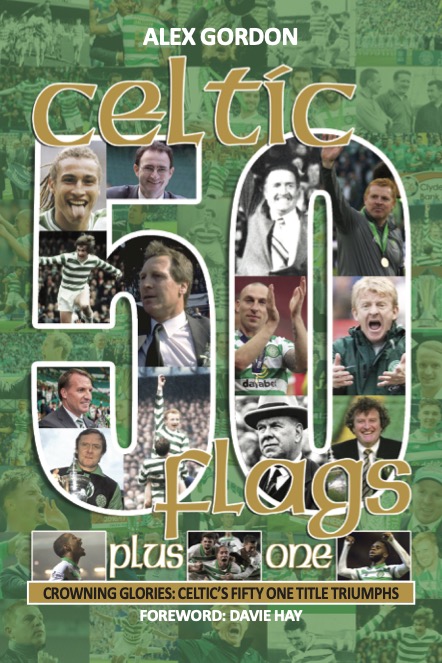 On Wednesday, May 3, the curtain came down on Celtic's season at Parkhead, the league title had returned to the trophy room after a twelve-month vacation across the city. Kilmarnock were the visitors and Maciej Zurawski and Stanislav Varga were the second-half scorers in a 2-0 routine win.
Roy Keane was handed the honour of captaining the team with Neil Lennon enjoying a night on the bench. It was Keane's last appearance for Celtic.
Peter Lawwell, the Celtic chief executive, was swift to lead the applause for the manager and exalted: "This is a massive job and Gordon has performed magnificently in his first season. It's been a transitional year for us. He's had to rebuild a squad and get the wage bill down."
Alex's book, '50 Flags Plus One', his fifteenth on the Parkhead club, is written with the insider knowledge by an author who worked in national newspapers for three decades and was also sports editor of the Sunday Mail when it was the biggest-selling journal in the country.
Click Here for Comments >