BOBBY EVANS, immediately recognisable for his mop of red hair and tireless energy in every game, was the best right-half in Scotland (and probably in Britain too) between 1948 and 1956.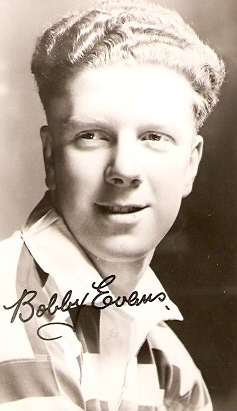 Despite playing in notably inconsistent Celtic sides, he won every available honour in the domestic game. Bobby also represented Scotland forty-eight times in the Home Internationals, European 'friendlies' and the World Cup, and he was often an inspirational captain for his country.
He remained outstanding for both Celtic and Scotland until 1960 when, after sixteen years at Celtic Park, he moved to Chelsea in a sudden transfer that remains mysterious to this day.
Spells with Newport County, Morton, Third Lanark and Raith Rovers followed, but he will always be remembered and acclaimed as Bobby Evans of Celtic.
This biography by perhaps Celtic's most acclaimed writer Tom Campbell. Tom with Pat Woods penned The Glory and The Dream for Celtic's Centenary season and this remains the benchmark for all other Celtic books. It has yet to be bettered.
In Bobby Evans – Celtic's Forgotten Hero, Tom Campbell pays homage to the career of an outstanding and sportsmanlike performer, who 
played when footballers were genuine members of the working-class, plucked for a few, short years out of obscurity and rewarded with acclaim but with little else. C
onsequently, after retirement, Bobby slipped away quietly into football obscurity like so many others.
An inspirational figure of the fabled 7-1 team, Bobby Evans was also part of legendary Celtic sides that won the Saint Mungo and Coronation Cups. 60 years on from that record-breaking League Cup victory over Rangers, the time has come for Celtic's forgotten hero to take his place among the pantheon of greats.
Bobby Evans was a Celtic hero for many of the Lisbon Lions. That banner you ofter see in Lisbon that said 7-1 EASY tells you all you need to know about the high regard that the 7-1 side enjoyed among our support.
It's important that we tell the story of our heroes. In Bobby Evans – Celtic's Forgotten Hero, CQN has the finest Celtic storyteller, so Bobby Evans will be forgotten no longer.
Foreword is by Bertie Auld, a former teammate of Bobby Evans and a special thanks to Paul Dykes for editing the book for Tom.
Order your copy of this very special piece of Celtic history now exclusively from CQN Bookstore
HERE
or click on the ad below.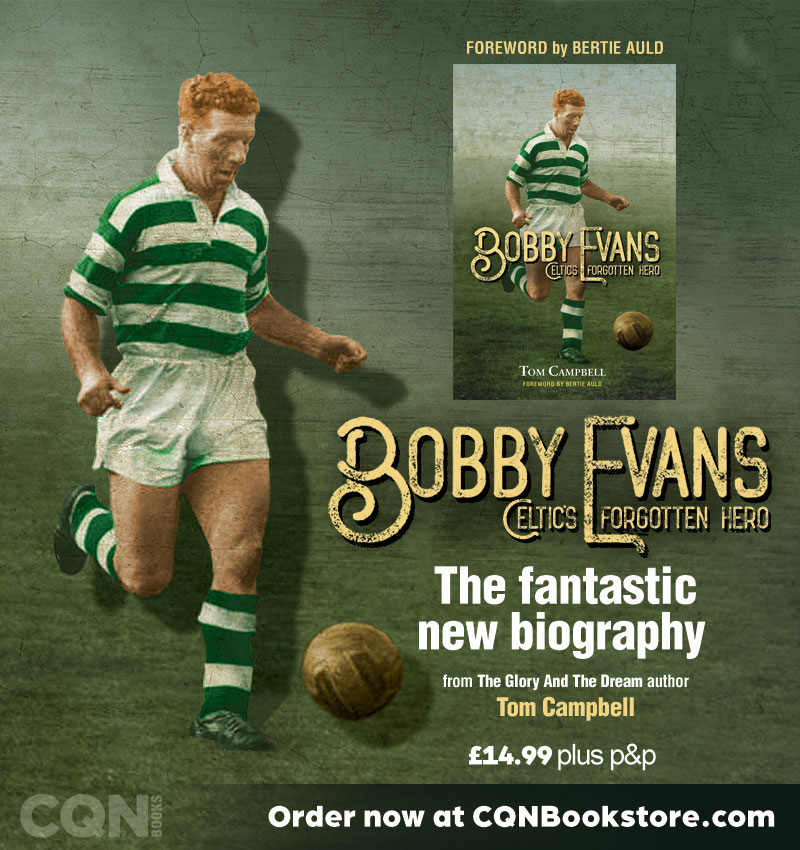 Click Here for Comments >