BOBBY MURDOCH

was the epitome of a Celtic player; a skilled ball artiste blessed with breathtaking qualities. He brought flair and adventure to proceedings when he wore his beloved green and white hoops of his favourite team.
Author Alex Gordon interviewed the player many times over the years and Murdoch's inluence on Celtic features prominently in his tribute books such as 'Lisbon Lions: The 40th Anniversary', 'Celtic: The Awakening', 'That Season in Paradise' and his fifteenth Hoops publication, '50 Flags Plus One'.
Exactly 62 years ago, Bobby Murdoch realised a schoolboy dream and signed for the Parkhead club.
In another CQN EXCLUSIVE, Alex looks at the player's phenomenal career in the east end of Glasgow.  
"NAW, I'm no' interested. I'm no' leaving Celtic."
The words belonged to Bobby Murdoch when he was given the news Boca Juniors, at that time a South American superpower in football, were willing to pay lavish amounts of money to transfer his extraordinary skills to Argentina.
It was 1967 and Murdoch, along with his peerless midfield ally Bertie Auld, had someraulted onto every top club's radar with his outstanding contribution in the historic European Cup triumph over the much-vaunted Inter Milan in Lisbon.
THE VINYL SAY…a teenage Bobby Murdoch at home in Rutherglen with his record collection.
A world suddenly stood to attention as it took notice of a natural leader of men that glorious day in the Portuguese capital on May 25. The scouts at Boca were interested to see how Murdoch, an unassuming lad from Rutherglen, would cope with the rigours of the suspect South American temperament when Jock Stein's men were paired with Racing Club in the World Club championship Final.
Celtic may have lost after three bruising, bitter battles against a team of thugs masquerading as sportsmen and the less said about that the better, but Boca had seen enough of Murdoch to know he could cope with football in their country and at their level.
The only snag was that they had overlooked the player's outright devotion of Celtic Football Club. "Naw, I'm no' interested," he said. And he meant it, too.
BY THE LEFT…Bobby Murdoch thumps in a piledriver against Inter Milan in Lisbon.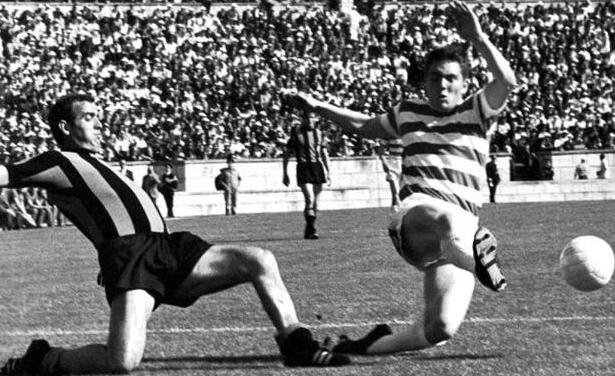 BY THE RIGHT…Bobby Murdoch stretches to cut off a pass to Inter Milan dangerman Mario Corso.
On October 23 1959, Bobby Murdoch, at the age of 15, signed for his boyhood idols. Three years later, he made his debut and scored a goal in a 3-1 league win over Hearts. Playing in the old inside-right position, wearing the No.8 on his shorts, he began to earn a reputation.
However, it was master tactician Jock Stein who saw the true potential of Murdoch and moved him back a step to play deeper in midfield. He saw the worth of  a player who could spray passes with breathtaking accuracy from inside his own half as opposed to a player racing after the ball in the opponents' territory.
Murdoch responded to the new role and, dovetailing with the inimitable Bertie Auld, became the springboard for so many of Celtic's successes of a glorious era.
EURO STAR…Bobby Murdoch enjoys the European Cup success with his big pal Tommy Gemmell joining in. 
He scored 102 goals in 485 games before moving to Middlesbrough in 1973. He left his beloved Hoops with winners' medals from eight league championships,  four Scottish Cups, five League Cups and, of course, the European Cup when he played with a foot injury sustained early in the game against Inter Milan to help mastermind the unforgettable 2-1 triumph in Lisbon on May 25 1967.
It would be a fruitless search if you looked for someone who played with or against Bobby Murdoch to unearth anybody who did not rate this guy, on and off the field.
IT TAKES TWO…Jock Stein and Bobby Murdoch beam brightly with the newly-won European Cup in Lisbon on May 25 1967.
He never felt the need to kiss the jersey or milk the celebrations. Just look at his devastating first-time strike against Leeds United in the European Cup semi-final at Hampden in 1970. Murdoch simply blitzed a low drive past the scrambling David Harvey, Celtic were 2-1 ahead on an epic and emotional evening at the national stadium, 3-1 up on aggregate and they were heading for another Final at Europe's top table.
Bobby's chest just about burst through his shirt with pride. He punched the air, was mobbed by his ecstatic team-mates and then retreated back to his midfield berth to see the job through to the end. That was so typical of the man and the player. Celtic came first.
HAMPDEN HERO…Bobby Murdoch salutes his goal against Leeds United in an epic European Cup semi-final in 1970.
Jimmy Johnstone, rightly in so many eyes, picked up the award as Celtic's Greatest-Ever Player, voted by the people who matter most, the supporters.
But even Wee Jinky, in a remarkably poignant and moving speech at the awards ceremony in a packed Glasgow hotel, said: "Thank you, I'm overwhelmed. But there is another bloke who should be standing here just now getting this accolade. You know who I'm talking about. Bobby Murdoch."
The applause must have lasted about five minutes. Wee Jinky, with a few off-the-cuff words, brought the house down.
Bobby Murdoch passed away on May 15, 2001 at the all-too-early age of fifty-six.
When will we see his likes again? Alas, possibly never. Bobby Murdoch was a geniune one-off, a flawless diamond whose great claim to fame was: "I used to play for the Celtic."
Click Here for Comments >