This article was researched and written by CQN'er SunnyJim:
On the morning of Sunday, August 27, 2000, I was up early. I was nervous & pre-occupied. At around noon that day, Celtic were due to play their first derby match of the season against our then permanent rivals & occasional nemesis. Celtic had installed yet another new manager and made some new signings, but Rangers had again outspent us, and freely so, under Dick Advocaat. They had dominated us and the Scottish game for 15 years, so along with many Celtic fans, I looked forward to this game more in hope than in serious expectation.
Some 13 years or so later we would learn that Rangers were only able to sustain their dominance of Scottish footballduring this period through wholesale institutionalized cheating on a truly industrial scale. By the time this match kicked off, they had already embarked on the first of two official club "employee remuneration" schemes, the tax law breaking Discount Option Scheme (DOS).
In the process, they cheated their own fans and bankers, but more significantly, every other Scottish football club, player & supporter. Of much more long term significance, they cheated their creditors, chief amongst whom was Her Majesty's Revenue & Customs. Hubris, mendacity and greed would reap a dreadful harvest for all connected with and invested in that club. A mere twelve years after this fixture that club would be dead. On that Sunday morning though, even the most fantastically deluded Celtic fan would not have dared to predict such an outcome.
In 2000, Celtic fans were confused, angry and frustrated at the apparent ability of Rangers to sign just about anyone they wanted. In truth though, and mostly amongst ourselves, we blamed our parsimonious board, our CEO and their whole biscuit tin culture for not speculating the way the Metals Magnate did. The rebels might have won in 1994, but for us fans it still seemed as though we only specialized in being gallant runners up. We complained that if Rangers could do this so effortlessly, then why couldn't Celtic.
This moan centred on the notion that our club too must have similar amounts of money potentially at their disposal. Inevitably, before the glorious revolution that produced the "internet bampot" era, many of us were swayed by the lies peddled by the lazy and partisan media: a media bloated on a diet of hospitality largesse, misinformation and anti-Celtic propaganda. "Celtic" we were advised, "were badly run & second rate, compared to Rangers who were the epitome of success led by David Murray and his magical midas touch".
But that Sunday at a sun drenched Celtic Park, it all began to unravel for Dick and 'the richest, most powerful club in Scotland." [1]
Martin O'Neill's Celtic took the field at Celtic Park for his first game against Rangers and we could not have imagined how things would unfold. The game started with three Celtic goals in the first 11 minutes and remarkably, Henrik Larsson scored none of them. He did contribute two of his own in the second half, the first a glorious lob over Klos.
Just in case you have forgotten, or need reminding, the game can be found here.
For Celtic fans, this victory truly signaled the real start of the MON era. We laid down a marker for all other clubs in the country and went on to have a truly great season: winning the league by a large margin and for good measure, Henrik picked up the European Golden Boot for scoring 53 goals in all competitions. For Celtic fans it was the start of another golden era.
I have the game on DVD, but I watch the highlights of that game on YouTube so often that I've had to put the link on the toolbar of my PC. A breathtaking game of such huge, pulsating significance for Celtic fans: from Chris Sutton's opening goal to his great run and finish as he scored our last goal of the afternoon – and everything in between.
Chris Sutton's performance in his first game against Rangers was the stuff of legend, but another relatively new signing also impressed that day. Bobby Petta, who had under-whelmed up until then, looked like he had been re-invigorated by Martin O'Neill's arrival. His hapless foil that day was Fernando Ricksen, something that at the time only increased the pleasure of the day for Celtic fans. Ricksen was substituted half way through that first half and Bobby's place in Celtic lore was established: a Celtic player who forced the withdrawal of his direct opponent during the first half of a game.
As it transpired, this match and the Champions League Qualifier away leg against Ajax were probably Bobby's best performances for Celtic. He moved on a few season later and gradually faded out of the professional game. He returned to Glasgow, opened a fitness club business there, but still plays, currently for Rossvale Juniors in Bishopbriggs.
Fernando Ricksen recovered from the indignity of being substituted in that game to became a fans' favourite with his club. He too retired from football but for very different reasons.
-O-
Chris Rolfe is 33 years old and plays "soccer" for Washington's DC United in the MLS. He has ten caps for the US national team, including one against Scotland in a 1-1 draw at Hampden in November, 2005.
On 30th April 2016, Rolfe was injured in a tackle with Rodrigo Ramos during the first half of a game against the Chicago Fire. He was accidentally struck in the face, and although it seemed innocuous enough at the time, he was subbed on 72 minutes.
He has not played football since because he suffered a concussion injury in that clash.
In 2011, Major League Soccer (MLS) adopted an official concussion protocol after a series of high profile concussion injuries during games.[2] For example, current MLS match commentator & former US internationalist, Taylor Twellman, was forced to retire from the game in 2009 after failing to recover from a concussion injury sustained during a game. Several other MLS players have similarly been forced to retire due to the complications from concussion injuries. Further permanent player retirements are likely this season.
The MLS protocol requires that each MLS team appoints a neuro-psychologist as part of their medical team. Any players suspected of any concussion injury has to be evaluated and treated using three testing protocols. Players must pass cognitive tests and be symptom free before returning to the field, which in some cases can take weeks or months, and only after approval by the team doctor AND the neuro-psychologist. In some cases though, such as for Twellman, there is no return to the field ever again. Doctors simply advised him that it was too dangerous for him to continue playing.
For Chris Rolfe, return to football is still a possibility but in a recent Washington Post interview he admits to experiencing episodes of disorientation in public places.[3] He had no idea before his injury that a concussion is actually a Traumatic Brain Injury (TBI).
The governing body for all of soccer/football in the USA is US Soccer. Aware of the implications of children sustaining a TBI, it has gone even further than simply instructing coaches & managers what they must do when a concussion is sustained or suspected. They have introduced a programme mandating the age at which children can head the ball. Yes, you read that correctly. Boys & girls playing school or club soccer in the USA are NOT ALLOWED to head the ball, because the risk of them sustaining a TBI is too high![4]
The US Soccer requirements for those running the game for young players in the USA are:
·         Improve concussion awareness & education among youth coaches, referees, parents and players.
·         Instill uniform concussion management and return to play protocols for youth players.
·         Modify substitution rules to allow players who may have suffered a concussion during games to be evaluated without penalty.
·         Prohibit heading of the ball for children 10 and under and limit the activity to practice only for ages 11 to 13.
-O-
About a year ago I cut the chord. I stopped paying for satellite/cable television and now use digital antennae & streaming services. Celtic TV is a prime streaming source, Netflix another. On Netflix last month, I watched Will Smith in the movie "Concussion" and as much as I was impressed by his acting & the whole production, I couldn't understand what it was about the movie that kept nagging at me, literally, for days afterwards. Then, about a week later, as I again watched my favourite Celtic game that has a Celts 6-2 victory score line, I realized exactly what had been bugging my sub-conscious.
I was shocked.
Celtic fans all remember the first minute in that game, when Bobby Petta ran onto a through ball from Lubo. Fernando Ricksen matched him stride for stride, and as Bobby cut inside and headed towards their goal, the Rangers player slide tackled him. Bobby went down and we all howled for a free kick. Unimpressed, referee Stuart Dougal awarded a corner kick, from which Chris Sutton duly scored the first of his two goals that day.
When I watched that clash between Petta and Ricksen from this new perspective, I saw something I knew I had seen before, but had never fully understood. As Ricksen slid in and Petta attempted to hurdle him to get to the ball, Bobby's right knee struck the back of Fernando's head, heavily. Ricksen immediately crumpled and got up slowly holding his head. He wore a dazed expression and was clearly in some distress, but he played on. The footage is so telling that I couldn't believe that I hadn't understood his real predicament so clearly in all the previous viewings. I watched it again, and let it run on this time.
As Ricksen runs into the middle of his penalty area to await the corner, the camera catches a telling image. He is still rubbing his head and looking off into the middle distance with glazed eyes, uncertain and confused. How could I have so colossally mis-interpreted this? It was obvious that Fernando Ricksen had just sustained a substantial concussion injury – the back of the head being one of the most vulnerable to what forensic pathologists would describe as 'blunt force trauma'. He had a TBI – a traumatic brain injury.
Chris Sutton scored, but, when I viewed the footage this time, I couldn't take my eyes off the Rangers number 2. As Moravcik sent the corner in, Ricksen's positioning was aimless and he drifted around providing no real help to his team. This all occurs within 30 seconds of him being heavily concussed. That day though and for years since, I simply attributed his apparent poor play and our monumentally important first goal to the MON & Petta factor.
Minutes later, as we all know, Moravcik swung in another corner from the same side and Stilyian Petrov made it two with his far post diving header. But now I am compelled to watch this goal, again from my new perspective. When I do, I see what had always been there too, but had again remained unseen to me. Fernando Ricksen is still drifting around and once again making no contribution to his team's defensive efforts.
In the re-run, Sky commentator Davie Provan was scathingly critical about the Rangers marking, particularly from Ricksen, and actually states that "Ricksen fell asleep". In fairness to Provan, neither he nor we knew at that time that Fernando Ricksen shouldn't have been on the field at all. This Rangers football player was neither baffled by the pace and skill of Bobby Petta nor overwhelmed by Celtic attacks. He was disoriented, confused and not functioning at all coherently. He was displaying all the classic signs of a recent head trauma victim – that blow to the back of his head.
On 11 minutes Paul Lambert made it three from a sweet cutback from Moravcik, and, once again, the Rangers defence was all over the place. After 22 minutes, Dick Advocaat substituted Ricksen. We loved his substitution, as in our eyes, he had just been Petta'd and had been forced off the field. It never occurred to me, other Celtic fans or even Rangers fans I suspect, that Ricksen had just sustained an injury to his brain. I don't know what happened when Ricksen left the field, but my hope now is that he was immediately medically examined and received treatment before half time.
For years, I had delighted at how Fernando Ricksen had been so tormented by Bobby Petta during the first 22 minutes of that game that he had had to be replaced. The truth now shocks me, and if I am honest, it also embarrasses me. This man was badly injured and, if it had occurred under a realistic concussion protocol, his removal from the field of play in the first minute and before we opened the scoring, would almost certainly have been mandatory.
In 2000 though, neither officials nor coaches, neither fans nor players, nor indeed our maligned and clueless media knew very much about the serious dangers of remaining on the field after any concussion injury. Back then, the prospect of leaving the field due to a concussion would likely have been ridiculed. I am now often astonished at how little of this we appreciated back then, a mere sixteen years ago!
How much do we still not know that we don't know?
-O-
Fernando Ricksen is now stricken with the incurable neurological disease, Motor Neuron Disease (MND) or Amyotrophic Lateral Sclerosis (ALS), the same disease that struck down Jimmy Johnstone & John Cushley.
Although the cause of the disease is still unknown, some recent research links it directly with sports with a high incidence of repetitive concussions
For Example:-
Researchers estimate that based on the number of retired (US)National Football League (NFL) players with MND/ALS, players are 8 eight times more likely to suffer from it that in the general population.[5]
In a study by University of Turin, researchers established that the rate of MND/ALS in professional soccer players in Italy was 6.5 times the rate found in the general population.[6]
Tellingly, MND/ALS is not the only brain disease to be directly linked to sports where repeat concussions are commonplace.
Chronic Traumatic Encephalopathy (CTE) was previously known as "dementia pugilistica" or "punch drunk syndrome", because it was most commonly found in those with a history of boxing.  It is a progressive, degenerative brain disease found in individuals with a history of head injury, often sustained as a result of multiple concussions.
In the USA in 2002, Dr Bennet Omalu, a Pittsburgh forensic pathologist and neurologist conducted a post mortem on former Pittsburgh Steelers NFL player Mike Webster. In trying to establish the cause of Webster's death, Omalu discovered clear evidence of dementia pugilistica in Webster's brain. He subsequently outlined his findings in a jointly written medical paper which renamed the disease as Chronic Traumatic Encephalopathy.[7] Simply, the previous term used to describe the disease had much less validity since Mike Webster had no history of involvement in boxing. Omalu examined the brains of a further four deceased NFL players and found clear evidence of the same disease in all of them.
The NFL grudgingly, and not without some serious resistance, have now conceded that CTE is directly attributable to the repeated concussions suffered by NFL players. They have agreed a billion dollar settlement with the players union and have set up a trust for the benefit of players who have been and will be diagnosed with CTE.
Sadly, a diagnosis of CTE can only be conclusively made postmortem, and more recently, diagnoses of CTE have been made after microscopic examination of the brains of two ex soccer players.
Patrick Grange was a semi-professional soccer player from New Mexico, USA and when he died in 2012 at the age of 29 he was officially regarded as a victim of MND/ALS. After representations from his family, Dr Ann McKee, Professor of Neurology & Pathology & Director of the Boston University's Chronic Traumatic Encephalopathy Center agreed to re-examine his brain tissue. She found the telltale signs in his brain tissue: Patrick also had CTE. He became the first soccer player in the world known to be diagnosed with CTE.
Patrick played soccer from a very young age and was renowned for his prodigious heading ability. That heading ability is of course double edged, because it places such players at greater risk of concussion, and yes, Patrick had suffered a few serious concussions while playing for his High School and College. Although Dr. McKee established that the damage found in his brain corresponded to the part of the head he would have used for headers, she cautioned against broad conclusions. On the other hand, she believes that the damage to Patrick's brain which she identified as CTE was at the core of the MND/ALS that killed him. In other words, the CTE, regardless of how it came about was key to the development of ALS in Patrick's case.
"We think the precipitating factor in his case was most likely the trauma. First of all he was absurdly young when he developed this disease. And he had considerable evidence of this trauma-induced tauopathy, or CTE."[8]
The news that US soccer player Patrick Grange had been diagnosed of CTE generated a great deal of publicity, but was of particular interest to one family in England, the Astles.
In the 1969-70 soccer season, West Bromwich Albion (WBA) legend & England international Jeff Astle striker was the top goal scorer in the then English First Division. For younger folk, the First Division was the equivalent of the English Premier League, the pinnacle of the professional game in England. Jeff Astle was a one club man, staying at WBA for his ten best years. Although WBA never won the title, and it's fair to say they were never serious contenders either, it makes Jeff's scoring record even more impressive.
To become top scorer that season, Astle was in competition with players such as George Best, Peter Osgood, Allan Clarke, Joe Royle, Francis Lee, Jimmy Greaves and Ron Davies – all goal scorers of the highest caliber and most with genuine title contending teams. However, not only did Jeff score more than the others, he scored the vast majority of his goals with his head.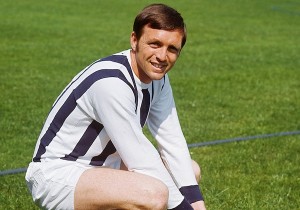 Later in life, the effect of this repeated heading of the ball resulted in Jeff developing a severe neurological disorder. Jeff died aged 59 in 2002, after suffering from what his family had been told was a form of early onset Alzheimers Disease. In 2002 however, the coroner ruled that he had died from an "industrial disease", his brain damaged by the repeated heading of heavy leather footballs. That verdict was the basis for the Astle family's sustained campaign on behalf of Jeff Astle, called "Justice for Jeff".
Twelve years later, in March 2014, Jeff Astle was officially recognized as the first British professional footballer to be confirmed as having died from CTE as result of repeat concussions sustained while playing. The precise diagnosis of the cause of Jeff Astle's death only became clear after assistance from Dr Willie Stewart, consultant neuro-pathologist at Glasgow's Southern General Hospital. The Astle family simply asked Dr. Stewart if he would re-examine samples of Jeff's brain tissues to positively establish the cause of his death. He was able to confirm that Jeff Astle had suffered from CTE, and in his opinion had a brain more of typical man aged 90, than aged 59. [9]
Back in 2002 when Jeff Astle died, the Football Association (FA) and the Professional Footballers Association (PFA) had agreed to carry out a 10 year study into the effects on players of repeatedly heading a football. Regrettably, the study sample was confined to around 30 youth players, and since none of them progressed into the professional game, the project was never completed. It just faded away. By comparison, the University of Turin research project mentioned earlier in this article, studied 7,325 players of varying ages to reach their conclusions about the prevalence of MND/ALS amongst soccer players in Italy. Not surprisingly, the Astles were more than disappointed at the lack of serious support and genuine commitment from the FA & the PFA.
In 2014 thankfully, the FA and the PFA eventually worked with the Astle family to set up the Jeff Astle Foundation where the aim is to raise awareness of the risks of concussion and provide guidance for avoiding, reducing or coping with it.
In Scotland the picture is a little less clear. I can find no mention of concussion on the Scottish Premier Football League (SPFL) website. However, in May 2015, the Scottish Football Association hosted the partnership launch of new guidelines for concussion across Scottish Sport. Those partners were Sports Scotland's Institute of Sport, the Royal College of Physicians & Surgeons, the Scottish Rugby Union and the Universities of Glasgow & Edinburgh. The launch prominently promoted the slogan
"If in Doubt, Sit Them Out".
The full text of the guidelines, called the "Scottish Sports Concussion Guidance", can be found at the Sport Scotland website.
The Scottish Schools Football Association offer their own concussion advice page and also refer readers to the same "Scottish Sport Concussion Guidance" (link above).
This is an excellent document and essential reading for anyone with children actively involved in sports.
The Brain Injury Association in the UK also has its own extremely helpful website offering advice and support.
Of course, the key issue for all of us is striking a healthy balance between the enjoyment of contact sport against the risk of sustaining serious injury. With an arm or leg break, it's easy to see that a player can't continue to play, but with a concussion which presents (to an unqualified person) no visible sign of injury, players are most often allowed to continue. This is when they are most vulnerable to repeat concussions, which dramatically increases the risk of a life threatening brain injuries.
At the adult amateur level, players are often extremely reluctant to leave the field after being concussed, and, with no trained medical personnel around they usually continue playing. At the professional level, the absence of any mandatory and enforceable Concussion Protocol a full 16 years after that game in 2000 is hard to accept. As we saw recently in the controversy involving Jose Morinho and the Chlesea team doctor, the health & welfare of players can easily come a distant second to other priorities during games.
Children's football & sport is another matter altogether. Children want to please parents and coaches but also want to have fun while emulating their sporting heroes. They are almost entirely dependent on appropriate adults making the correct choice on their behalf. For the reasons already outlined, children are at vastly increased risk of sustaining a traumatic brain injury from repeat concussions. Thus, it should be mandatory rather than advisory that any child sustaining a concussion injury has to be removed from the field or court. The repercussions of not promptly removing them for assessment will often only become apparent years later as the cumulative effect of these injuries casts a shadow over their lives.
Sadly, not all concussions sustained by children while playing sport have a delayed reaction. While playing school rugby in Carrickfergus in January 2011, 14 year old Ben Robinson sustained a concussion injury but continued to play on. He collapsed just before the end of the game, lapsed into unconsciousness and diedtwo days later in hospital. His brain had swollen after the last concussion. His father Peter Robinson, was part of the May 2015 launching of Concussion Guidelines for Scottish Sport.[10]
Since Ben's death, his family have called on the Government to introduce compulsory concussion education to minimize the risk of a similar tragedy ever happening again. His father Peter said recently,
"As fare as I'm concerned at a professional level they have the protocol and they have the professional staff to take care of the players. I'm talking about schools and club level and providing the information from the bottom up. These volunteers need to be provided with information so they can act appropriately."[11]
Peter Robinson has himself done much to make things better. He worked closely with Glasgow's Dr Willie Stewart (the same doctor who assisted the Astle family) & others to help compile the Sports Scotland Concussion Guidelines now adopted by the SFA.[12]
Fernando Ricksen continues his personal battle against MND/ALS, and has his own magazine site, a fundraising site and several fans' sites dedicated to highlighting his plight. He continues to show great fortitude in living as full a life as his condition permits, with the love and support of those close to him. We do not know if the concussion he sustained that day in August 2000 was a factor in the pathology of his variant of MND/ALS. We DO know that repeat concussions are quite simply a series of traumatic brain injuries that have been proven to produce terminal neurological illnesses in soccer and football players.
Fernando Ricksen's official fundraising site is here.
A prominent fans site is here.
I still enjoy watching the 6-2 game but see that incredible opening period in a vastly different light now. I sometimes speculate that if a serious SFA/SPL Concussion Protocol had been in place in August 2000, Fernando Ricksen would have been taken off and replaced as soon as he was concussed.
Who knows how the game that day in August 2000 might then have ended up.
SunnyJim.
[1] Copyright Scottish Print Media circa 1990 – 2011
[2] ESPN Online, via AP, January 2012. http://www.espn.com/sports/soccer/news/_/id/7436065/mls-medical-staffers-target-concussion-protocol
[3] KnowConcussion Website, accessed July 2016. http://www.knowconcussion.org/2016/07/29/lost-in-a-supermarket-a-soccer-players-daily-struggles-after-concussion/
[4] MLS Online Site, November 10, 2015.  http://www.mlssoccer.com/post/2015/11/10/us-soccer-announces-player-safety-initiative-after-resolving-concussion-lawsuit
[5] BU Today, Boston University, Caleb Daniloff, August 2010, quoting Dr Ann McKee, Center for the Study of Traumatic Encephalopthy. http://www.bu.edu/today/2010/head-trauma-linked-to-als-like-disease/
[6] Oxford University Press, 2005. http://brain.oxfordjournals.org/content/128/3/472
[7] National Center for Biotechnology Information online, "Chronic Traumatic Encephalopathy in an National Football League Playe" http://www.ncbi.nlm.nih.gov/pubmed/15987548
[8] New York Times, Feb 2014, John Branch. http://www.nytimes.com/2014/02/27/sports/soccer/researchers-find-brain-trauma-disease-in-a-soccer-player.html?_r=0
[9] Independent Online, April 2015, Simon Hart. "Jeff Astle Day: Jeff died not knowing he'd been a footballer".   http://www.independent.co.uk/sport/football/news-and-comment/jeff-astle-feature-jeff-died-not-knowing-hed-been-a-footballer-10166214.html
[10] SFA website, 20 May 2015. http://www.scottishfa.co.uk/scottish_fa_news.cfm?page=1848&newsID=14788
[11] MailOnLine, September 7, 2013. Sam Peters. http://www.dailymail.co.uk/sport/othersports/article-2415108/Peter-Robinson-My-son-Ben-died-concussion.html
[12] New York Times Online, December 13, 2015. Ken Belson. http://www.nytimes.com/2015/12/14/sports/rugby/tragedy-forges-alliance-for-change-in-concussion-protocol.html?_r=0
Click Here for Comments >