KENNY DALGLISH left Celtic for Liverpool in a £440,000 on this date forty years ago.
Here is the real story of the deal on the evening he quit Parkhead after a stellar career in the hoops.
This is an edited version of a chapter as it appeared in Alex Gordon's newspaper memoirs, 'Jinx Dogs Burns Now Flu', which was published by Ringwood in 2015…
THE NIGHT KING KENNY LEFT CELTIC
Kenny Dalglish did, in fact, play one more game for Celtic; a friendly against Dunfermline at East End Park on August 10 1977.
The guessing game of 'will-he-or-won't-he?' was now into overdrive. Of course, I have heard all sorts of fanciful notions put forward about the player's move to Liverpool.
They are rare and varied and, mainly, ludicrously inaccurate. Transfers and all the subterfuge, innuendo and nonsense that go with them can often take on an absurd life of their own. Some of the 'informed sources' who know all about such-and-such, the inside story are wearisome characters who would be better off dwelling on a desert island where they could bore the hell out of a coconut.
Here is the REAL story about the night Kenny Dalglish left Celtic for Anfield for £440,000, at that stage the highest transfer fee in Scottish football history.
I was Chief Sports Sub-Editor of the Daily Record and working that evening while hoping to get away at the back of 10.30pm. I had been in since 2pm and had worked through my break. I was beginning to wilt a little.
However, it was obvious something was going on as far as Dalglish was concerned. For a start, although he had played against Dunfermline, the player had been stripped of the captaincy; Danny McGrain was the new Celtic skipper and it was easy to comprehend it was not a one-off appointment.
As the clock ticked and tocked its way towards 10.30pm, I was told to be prepared for a 'stunning exclusive'. Apparently, we were sharing the story with the Daily Mirror and that meant only one thing to me; Jim Rodger, known as 'The Jolly', was on the case.
We would need to make quick changes in the editions. Via 'The Jolly', I was given a clue – Dalglish was signing for Liverpool. The fee had yet to be confirmed. The back page and the main sports spread were redrawn and a slot was allocated on the front page for a huge cross reference.
Sports photographer Eric Craig had taken a superb snap of Dalglish following McGrain onto the pitch at East End Park. It was a clever photograph; the deposed skipper behind the new leader.
'The Jolly' and the Daily Record's Ken Gallacher were the only two reporters who were aware that Liverpool manager Bob Paisley and his chairman John Smith were tucked away in the crowd; two anonymous faces under bunnets who were about to capture Celtic's prize asset.
Dalglish returned on the team bus to Parkhead and then went to his father-in-law's pub, The New Orleans, in Rutherglen for a drink with goalkeeper Peter Latchford. A telephone call told him to return to Celtic Park.
Shortly afterwards, the record deal was completed and Dalglish was warned not to breathe a word to anyone. It would have been a bit of a surprise, then, when the newly-transferred player arrived at his home at Newton Mearns on the south side of Glasgow after midnight to be confronted by Eric Craig, camera at the ready.
Eric possessed a velvet tongue and persuaded Dalglish to pose for some pictures. That was the final piece in the jigsaw. We had our exclusive, Eric had his pictures, Kenny had his transfer and Liverpool had their man.
Everyone was happy. Except, of course, the Celtic fans who would learn the following morning they had lost their best player.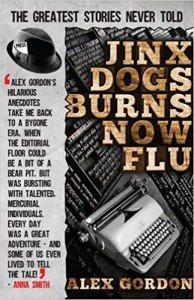 http://ringwoodpublishing.com/non-fiction/jinx-dogs-burns-now-flu-by-alex-gordon/
Listen to the new CQN Podcast below…
Click Here for Comments >